Latest posts by Total 3D Printing Team
(see all)
One of the biggest barriers to entry for the 3D printing industry is the cost of purchasing a reliable, quality 3D printer. A lot of people I talk to would love to own a personal 3D printer, but they simply can't afford one. However, with the rapidly advancing industry and many companies creating powerful machines with open source software and hardware, the high-cost barrier is beginning to dissipate.
Enter the Anet A8 3D Printer. The machine is shipped as a kit meaning it is completely unassembled. This gives the user a chance to build their own printer and create something special. It is based on one of the best 3D printers available, the Prusa i3 Mk2.
The best part is the printer is extremely budget friendly. You will be able to find this machine for about $150 dollars (check this listing for the latest live prices) online.
Now we have a budget-friendly 3D printer that produces high-quality prints time and time again. Just about everybody can now own an awesome machine. Below we will go into further detail of what is included with this 3D printer kit.
We hope to answer all your questions as I am sure you are skeptical of this machine as we first were. You will find the core features, key specs, pros and cons, as well as a few budget-friendly alternatives to the Anet A8. Feel free to comment and let us know what you think of this machine.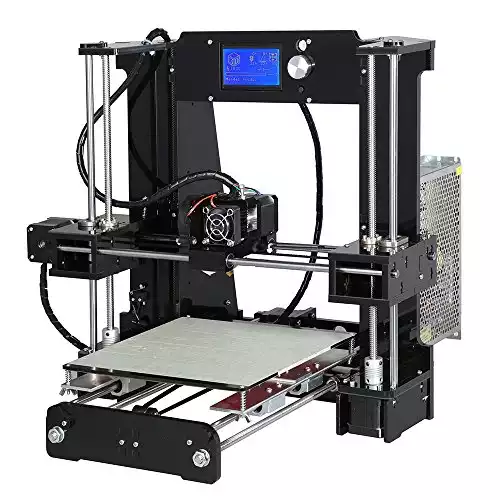 ANET A8 3D Printer | Amazon
Made from piano-black laser-cut acrylic frame. To maintain the garage-built feel and the handmade charm.
Buy at Amazon.com
We earn a commission if you click this link and make a purchase at no additional cost to you.
Cores Features of Anet A8
DIY Kit: The printer comes almost entirely unassembled when it arrives. This means you will have an unforgettable learning experience as you piece your 3D printer together. Step-by-step instructions come loaded on an included SD card.
Within the files on the SD card, you will find links for instructional videos. Overall, the assembly process sounds like a fun experience, and it will give you a great sense of accomplishment when it is completed.
Design: We are big fans of the simple and sleek design of the Anet A8. An acrylic frame gives it a hand-made industrial feel, which looks great in your workspace. One of the best parts is the all-metal pulley system which means better performance and more durability. All rods, gears, bearings, and connectors are stainless steel parts, which allows for more precise and smoother printing.
Also, it comes with quick-release feed gears linked to the extruder for seamless filament feeding. Overall, the build and design of the Anet A8 are quite impressive for the price you pay.
Easy to Follow Instructions: The assembly process may be difficult for some of the more beginner users, but anyone can build it. We have heard the assembly process takes around 4 – 6 hours, but be sure to go slowly and take your time, patience is key when building this printer. Luckily, with such a large online following and support system you will have all the help you need.
Multiple Filament Types: The Anet A8 is compatible with 6 different types of filaments, listed below in the key specs. Your options for printing and creating are almost endless. Everything from standard PLA to wood or even luminescent filaments will work on this machine. Through testing, we have heard the PLA seems to work the best when you first get the printer running.
The printer may require a few upgrades and tweaks to handle different temperatures of the other filament options, but all the information for these upgrades is easily found online.
Key Specifications
Here are the key specs of the Anet A8 3D printer:
Build Area

8.6" x 8.6" x 9.5"

Print Speed

100 mm/s

Filament Types

ABS, PLA, Wood, Nylon PVA, PP, Luminescent

Layer Resolution

100 – 300 microns

Layer Thickness

0,05mm – 0,35mm

Positioning Accuracy

12 x 12 x 4 microns

Max Extruder Temperature

500 °F / 260 °C

Max Heated Bed Temperature

205 °F / 96 °C
Dual Extruder
No

Nozzle Diameter

0.4 mm

Print Bed Leveling
Manual
Print Bed Details

Heated bed with aluminum surface
Display
LCD Screen
Firmware
Open

Source

Warranty

None

Our Score

8.4/10

Price

$163.99 (For the latest prices and discounts, check here)
Pros of the Anet A8
Now let's go over some of the best features of this printer.
Large online support community: Everything from easy to follow tutorial videos released by the company and individuals to massive forums and Facebook groups. There's a good chance if you are in need of spare parts or you ran into a problem, someone else might have experience with the same problem and put the solution online. If you can't find the solution then don't be afraid to ask.
We have found the online community is very friendly, welcoming, and ready to help. Even if you are not having any problems we highly suggest you frequent the online communities. We are always finding new tips and tricks to update the machine and continuously improve the performance of the printer.
Price: This is part is impossible to ignore. You can have a reliable printer that can go toe-to-toe with some of the big names with any print for around $150. We have seen it as low as $130 and up to $170. How crazy is that? I often hear the main reason someone has not bought their own 3D printer is that they can't afford it.
The Anet A8 can fit into almost any budget and helps lower the barrier to entry for this industry. With a price like this one, the printer makes a great gift for someone else or something special to treat yourself with.
Value for money: This goes together with the previous point. Most people would expect a $150 printer to print like a $150 printer, but that is not the case with the Anet A8. This printer handles prints as well as some $800 and even $1000 printers we have seen. It might be missing some of the high-tech ins-and-outs and preassembled parts that you don't necessarily need.
If you just want a standard printer that creates beautifully crafted, flawless objects for a fifth of the price, the Anet A8 is the perfect printer.
Self-assembly: You should note that the DIY aspect is both a pro and a con for our review. We want to make sure you fully understand both sides of the DIY argument. As for it being a positive feature, who doesn't love to build their own things? I mean we are all 3D printing enthusiast who love to create. The self-assembly will test your engineering skills and give you a great experience.
It is fairly simple but will require some time to finish it. Step-by-step instructions assist you the whole way. Be sure to not try and take any shortcuts or you will run into trouble further down the road. Once you have your printer completed you will feel very accomplished as you have created the machine that now does the creating for you.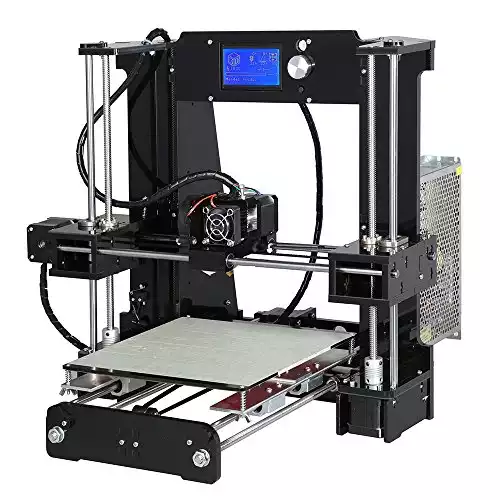 ANET A8 3D Printer | Amazon
Made from piano-black laser-cut acrylic frame. To maintain the garage-built feel and the handmade charm.
Buy at Amazon.com
We earn a commission if you click this link and make a purchase at no additional cost to you.
Cons of the Anet A8
While the Anet A8 has many positives, we must go over some of the negative aspects too.
Self-assemble: As we touched on earlier, the self-assembly will test you and may be more challenging for some. We have heard the assembly taking some users up to 12 hours to complete and others only 3 hours. It all depends on your patience and ability to follow instructions. While DIY is a lot of fun and rewarding, we are buying these printers to have them do the building for us.
I know many engineers and designers who prefer to spend their time creating a model and actually printing rather than using hours to build, tweak, and upgrade the machines. So, whether self-assembly is a pro or con really depends on the individual user and the experience they are looking to get out of their printer.
No enclosure: This is a minor issue as some people prefer an open machine to a closed machine. We prefer at least an option for a fully enclosed printing environment. In our own and our users' experience, we have found the enclosure helps to minimize warping and remove some other outside environmental factors that may affect the final print.
Replicas: We need to warn you all about knock-off Anet A8 printers. Many shady factories produce identical printers but use much lower quality parts. We have heard reports of people receiving a printer and the screws are just rods as they were never threaded.
When ordering an Anet A8 be sure to only order from officially licensed retailers, such as GearBest or Amazon. This will save you a lot of time and frustration when assembling, and the machine will be much safer to operate than a knock-off printer.
Some Alternatives to Consider for the Anet A8
While most printers in this extreme budget range typically don't match up against the higher-end printers, there are a few others that meet the same printing standards as the Anet A8.
1. Monoprice Select Mini
This machine is just over $200 (check this listing for the latest live prices) on Amazon. Also, it comes preassembled, which takes out the DIY aspect of the Anet A8. Since it is a mini, it does have a smaller build print volume, but depending on what you want to print this may not be a major issue for you.
2. Folgertech 2020 Prusa
This printer is also based on the Prusa i3 Mk2, is slightly more expensive than the Anet A8 at around $270 (check this listing for the latest live prices) and is another DIY printer. Where this one differentiates itself is with a metal frame model as opposed to an acrylic one of the Anet A8. Some people prefer a metal frame as it will be more stable and durable than an acrylic frame which doesn't contribute much to the stability and the print quality.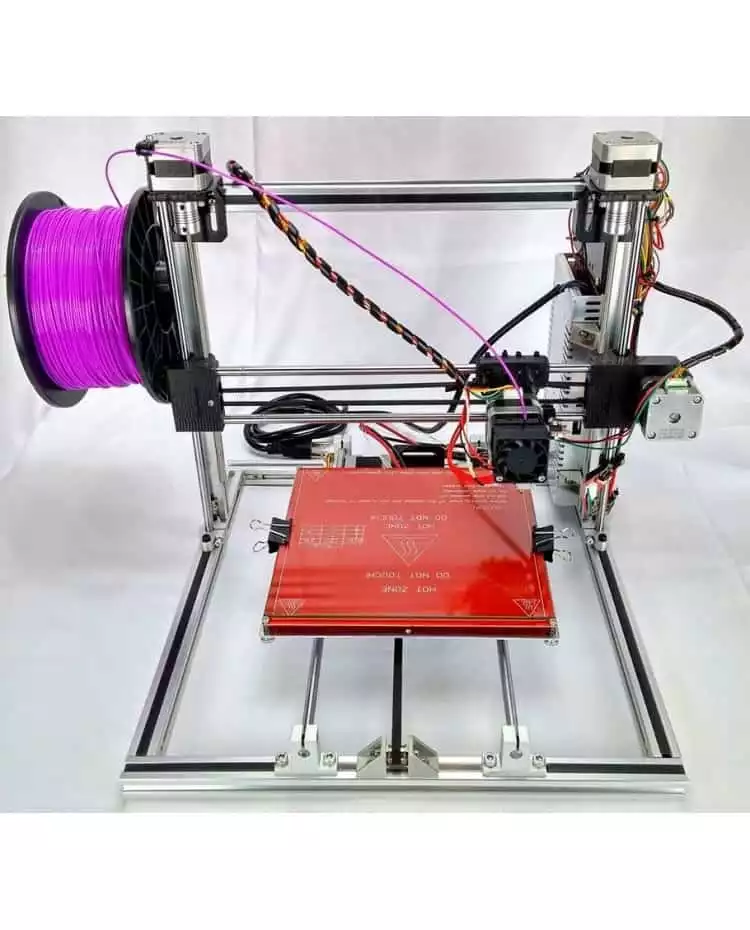 Folger Tech RepRap 2020 Prusa i3 3D Printer Kit | 3D Printers Bay
The kit comes with everything you need to assemble the machine (with the exception of an 8"x8" glass surface). With the use of a few simple tools and a little bit of time you too can get started 3D printing the world's next big idea.
Check Price
We earn a commission if you click this link and make a purchase at no additional cost to you.
Final Take – Anet A8 Review, Is It Worth Every Penny?
To sum up this printer review, we can clearly see that it is possibly the best value for money 3D printer we have seen available on the market. We must say that the Anet A8 is worth every penny of the $150 you will pay. It is based off one of the best and most popular printers and is priced at a fraction of the cost. The printer is easy to assemble. However, the process does take some time, but it is a fun experience.
You will learn more about your printer and troubleshooting than many experienced 3D printers know about their machines. You can easily upgrade your machine by either purchasing or printing new pieces. The online community is more than willing to lend a hand with anything you may need. Once tuned correctly, the Anet A8 creates objects just as well as the more expensive printers.
If you are a creative, adventurous person who loves to create and build your own tools, this is a must-have printer for you. It is reliable, durable, and fun to use. Just be sure you are purchasing yours from a legit retailer and you will not regret your purchase.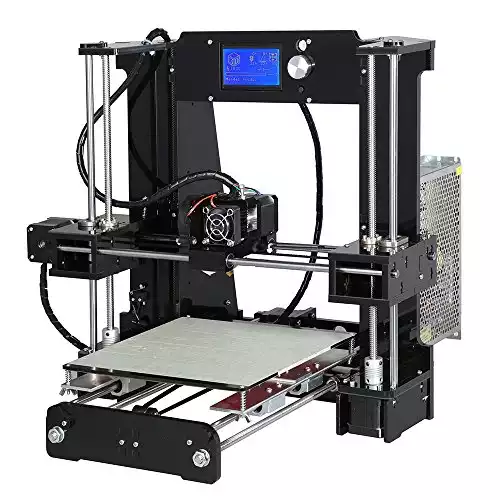 ANET A8 3D Printer | Amazon
Made from piano-black laser-cut acrylic frame. To maintain the garage-built feel and the handmade charm.
Buy at Amazon.com
We earn a commission if you click this link and make a purchase at no additional cost to you.