Latest posts by Jodie Chiffey
(see all)
Glowforge vs Epilog: Which Laser Cutter is Better?
In this Glowforge Pro v Epilog Zing 16 Laser comparison we're going to find out which of these two laser cutter models is better. While we normally put our focus on 3D printers, laser cutters are important too. They are ideal for cutting shapes and creating different objects as well as engraving on different materials.
In fact, having a laser cutter either as a hobbyist at home or in your workplace can open up a range of possibilities when working with woods and metals.
In this comparison we'll look directly at the features both of these laser cutters have, what their overall specs are, pros and cons and we'll find out which one you should choose.
My Bottom Line Up Front Summary: Overall, I definitely learn towards the more widely compatible and versatile Glowforge Pro here. If you just use Windows and you don't want an internet connection, the Epilog laser engraver is still a very worthwhile fallback.
Main Differences Between Glowforge vs Epilog
The main differences between Glowforge and Epilog are:
Glowforge has an internal closed-loop cooling system, whereas Epilog uses air-cooled laser tubes and fans to regulate the temperature.
Glowforge can be used on many platforms as it is cloud-based, whereas Epilog can only be used for Windows.
Glowforge requires an internet connection, whereas Epilog does not.
Glowforge has a 45w laser, whereas Epilog has a 30w or 40w laser.
Our Pick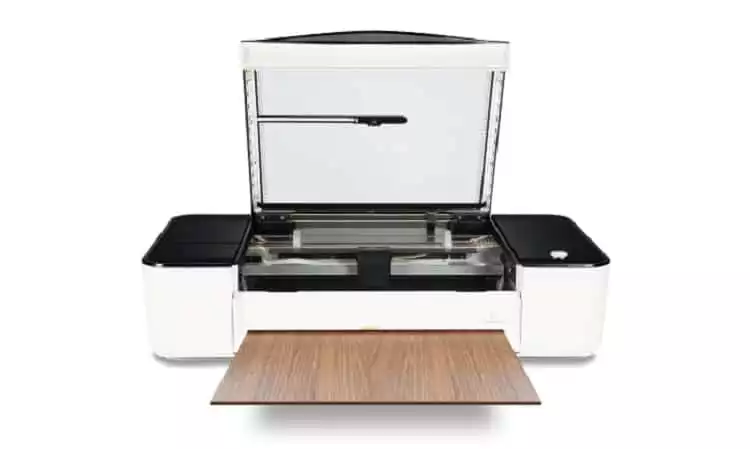 Exploring Glowforge and Epilog features
Cutting
OK, so the primary reason you're looking at these two models is for laser cutting. So, how do the laser cutters from Glowforge and Epilog match up?
The Epilog Zing 16 Laser has two laser options – 30w and 40w. The engraving area is ideal as a desktop laser cutter as well and the dimensions are 16" x 12" (406 x 305 mm). We've always found the Zing 16 Laser to be very fast and precise when cutting objects. Epilog is often seen as a more 'traditional' brand to use however this means that they are dependable. As far as a desktop laser cutter goes, the Epilog laser engraver Zing 16 is not only reliable but can cut and engrave into a wide range of materials too.
You'll find a stronger laser on the Glowforge Pro – 45w – and it is a step up from the other Glowforge models such as the Basic and Plus. Like the Zing 16, the Glowforge cuts at a very good speed but also combines this with precision and accuracy. Soft materials like leather and certain woods can be cut into easily and you can engrave other materials like metals too. The bed dimensions are 11″ x 19.5 (279 mm x 495 mm).
Overall you won't find many materials that both of these laser cutters are not able to handle.
Cooling
One important aspect of any laser cutter is its cooling system. The process of laser cutting and engraving means that the machine can get very hot so it needs a cooling system in order to regulate the temperature. This prevents overheating, allows the machine to operate for longer, and improves efficiency too.
The Epilog Zing 16 Laser uses air-cooled laser tubes in order to ensure that the temperature is kept consistent and doesn't overheat. There are also cooling fans and cooling vents that are located on the side of the machine as well. You don't need any additional cooling systems in place with the Epilog Zing 16 and the technology used in the lasers in addition to the cooling vents and fans do a good job of keeping the temperature down.
The Glowforge is a little different as you'll know if you've read our previous review of the Glowforge laser cutters.. You don't need an external cooling system with the Glowforge Pro but it does have its own internal cooling system which helps to regulate the temperature. It is a closed-loop system and it uses air from the room that the laser cutter is placed in to ensure the machine doesn't overheat.
The cooling system on the Glowforge works between temperatures of 60 degrees Fahrenheit (16C) and 75 degrees Fahrenheit (24C)
Software
In order to cut accurately and engrave different types of material, laser cutters need to use the software much in the same way that a 3D printer does.
The Zing Laser uses the Epilog Job Manager to control cutting, engraving, and all the jobs you send to the machine. It is natively installed on your computer and the Epilog Dashboard is also provided as a CD or you can download the drivers.
The good thing is that you don't necessarily need to be connected to the internet in order to use the Zing 16 Laser from Epilog. You can also buy additional software from Epilog such as PhotoLaser Plus Software which is used for photoengraving.
Glowforge uses cloud software in order to control the machine and ensure accurate cutting. You will need to be connected to the internet to use it because it is all done through the cloud and a web app. There are upsides and downsides to this.
On one hand, the cloud technology is continually updated and if you have a decent internet connection things should run smoothly. On the other hand, internet service interruptions can disrupt the process. The cloud software does some with a wide range of presets which makes your life a lot easier with this machine.
Platforms
One of the big differences between the Epilog and Glowforge is the platforms that the machine and the software can be used on.
Glowforge is cloud-based so can be used on any platform to access the web app as long as you have an internet connection. So regardless of whether you have a Windows computer, Mac, Linux you can use the Glowforge Plus. It can also be operated via a tablet or Smartphone as well.
The Epilog Zing 16 Laser is a bit different. The laser itself is compatible with Windows 32-bit or 64-bit XP, 2000, Vista, Windows 7, Windows 8, and Windows 10. The Job Manager software works with Windows 7, 8 or 10.
Specifications for Epilog and Glowforge
| | |
| --- | --- |
| Epilog | Glowforge |
| Cooling: Air-cooled laser tubes and fans | Cooling: Closed-loop cooling system |
| Software: Epilog Job Manager | Software: Cloud-based web app |
| Beam Power: 30w or 40w | Beam Power: 45w |
| Tech: CO2 Laser tube | Tech: CO2 Laser tube |
Our Pick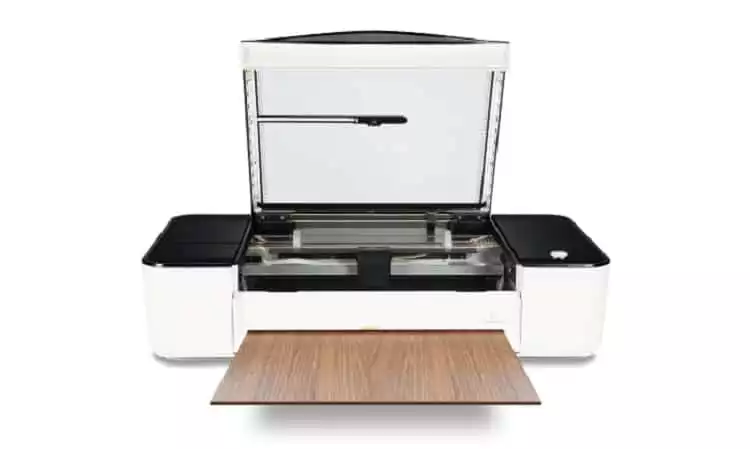 Comparing Epilog and Glowforge Pricing
Laser cutters have become more affordable in recent years which is mainly the result of the technology advancing and more manufacturers coming onto the market. It is a similar situation to the number of affordable 3D printers that are now available which wouldn't have been even just a few years ago. This is evident when looking at the glowforge laser price and the epilog laser price.
So, how do the Epilog Zing Laser 16 and Glowforge Pro compare with their pricing?
The reason we have put these models against each other is that they are similarly priced.
The Epilog Zing Laser 16 won't cost the earth and you get a pretty high-quality laser cutter at an affordable price. The cost gets you the laser cutter itself in addition to a 2-year warranty and the software to operate it. You get access to online training and support options as well. There are a number of accessories and upgrades that you can add-on if you wish. This includes a vector cutting grid, DC3 portable exhaust unit, air assist pump, and a laser fume filtration system.
The Glowforge Pro is a bit cheaper than the Epilog Zing Laser 16 (check Wellbots for deals and pricing). You can add an additional air filter if you wish which means you won't need to keep the machine next to an open window to get rid of the fumes. The cost gets you the actual laser cutter, one year of warranty as well as access to their various support and training information.
Epilog v Glowforge ease of use
As most laser cutters these days are aimed at the wider market as opposed to niche technical groups, they need to be easy to use. Many hobbyists and other enthusiasts now use a Glowforge or Epilog laser engraver at home and they have managed to adapt to ensure that operating these laser cutters is as straightforward as possible.
The Epilog is fairly easy to use so you shouldn't have any problems with cutting and engraving with this machine. We'll look at some of the support options below but in a general sense, this laser cutter is among the easier to use on the market. The print dashboard and the software won't take long to get to grips with and overall it is designed in a way that means you won't need a massive amount of technical knowledge to start cutting – all great benefits considering the friendly epilog laser price.
Ease of use is pretty similar to the Glowforge. The web-based cloud software is user friendly and the fact the updates are all delivered via the cloud too means you don't need to worry about getting the latest version yourself. Again, we'll explore the support options for Glowforge below but there isn't much difference between using this and the Epilog if you are a beginner.
What support is available for Epilog and Glowforge
Having a good level of support is vital if you want to get the most from your laser cutter. Even if you are fairly experienced with using these devices, things can still go wrong.
You get various support options with Glowforge and they can be contacted in various ways such as by live chat, direct email, contact form and they have social media accounts as well.
If you need any quick answers you will find a FAQ section and the Community support has active users who can answer questions and provide guidance. You'll find forums that offer tips and tricks, technique inquiries as well as how to get the most from your laser cutter with free designs.
Epilog has a wide range of support options as well. You can contact them by email and they have a live chat function for sales. Other options include submitting an online ticket, phone support, screen share support, and by fax. You can access the full manuals and documentation online for their laser cutters and they also provide a Knowledge Base alongside their Facebook group too. So, you get a number of support and help options with Epilog.
Pros and Cons
Epilog Pros and Cons
Pros
High-quality laser cutter for creating designs and engraving
Reasonable cost that is affordable to businesses and hobbyists
Doesn't need an external cooling system
Wide range of different support options
Straightforward and easy to use machine
Don't need to be connected to the internet
Cons
Doesn't have a platform lift system on the laser cutter
Zing 16 Laser is only available for Windows
Glowforge Pros and Cons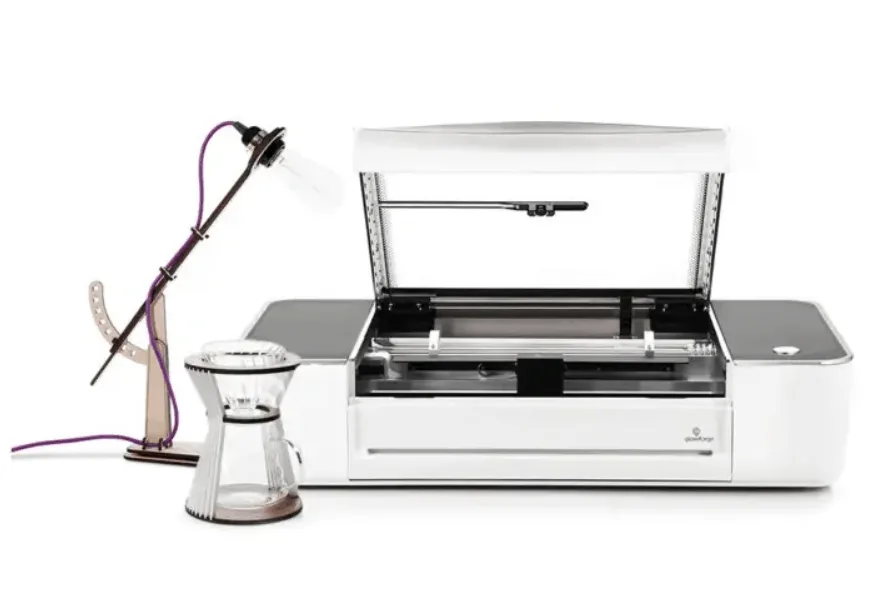 Pros
Straightforward to use but a powerful laser cutter
Compatible with a wide range of different materials
An internal closed-loop cooling system
Support options are very good
Uses the cloud which can be easier for some
Cons
Doesn't have an LCD screen which can be a downside
Cloud-based which might not be ideal depending on your internet connection
Our Pick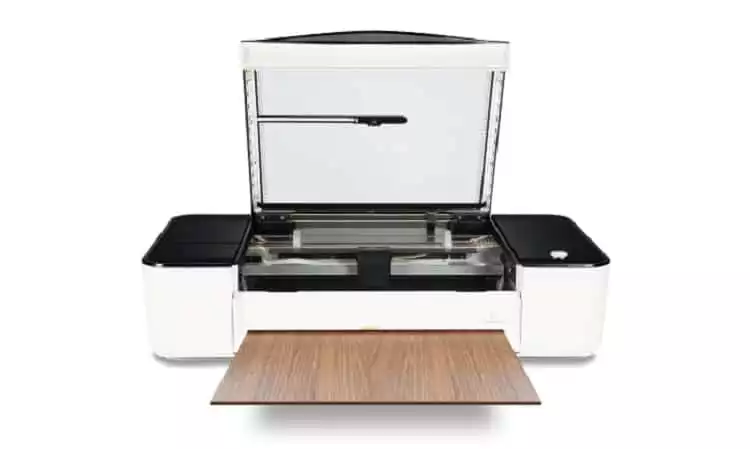 Are there any alternatives?
LightObject Falcon
The LightObject Falcon is another laser cutter that you can consider. It is in and around the same price bracket and has a 60w CO2 laser. You can upgrade up to a 120w although the cost will rise quite significantly. There are also various other upgrades you can add on such as a rotary attachment.
The LightObject Falcon comes with RayCam software and overall it is easy to use even for beginners. If you want to consider something else other than the Epilog and Glowforge, LightObject is another manufacturer that makes great laser cutters of high quality and a reasonable price tag.
Triumph Laser Marker & Engraver
The Triumph Laser Marker & Engraver is somewhat of a bulkier and bigger device than the Glowforge and Epilog laser engraver but does a very good job at cutting and engraving. It comes with a 30w laser (there is also a 50w option) which isn't as powerful but can still cut and engrave into a variety of different materials.
It has a working area of 150mm x 150mm and the laser should have a lifespan of 100,000 hours. You also receive software with this laser cutter and it integrates as well with popular CAD and other design programs.
FAQs About Glowforge and Epilog
Can I use these laser cutters without internet access?
You can use the Epilog Zing 16 Laser offline however the Glowforge Pro requires an internet connection as the software used on this laser cutter is cloud-based.
What operating systems can I use the Glowforge Pro on?
You can use the Glowforge Pro on any platform as it uses a cloud-based web app. It will work on Windows, Linux, and Mac systems as well as Smartphones and tablets.
What operating systems can I use the Epilog Zing 16 on?
The Epilog Zing 16 is Windows-based. The device can be used on Windows 32-bit or 64-bit XP, 2000, Vista, Windows 7, Windows 8, and Windows 10. The Job Manager software works with Windows 7, 8, or 10.
Will my laser cutter overheat?
Both of these laser cutters have cooling systems. The Epilog uses air cooling laser tubes in addition to fans to reduce the temperature while the Glowforge has a closed-loop cooling system. Overheating can occur if the laser cutter is used for long periods of time however with these cooling systems in place the temperature should be regulated.
Can I cut any material with these laser cutters?
They can both cut soft material such as acrylic, leather, and some woods with ease whereas hard materials such as glass and certain woods can be engraved. You can find information about what materials each one can cut in the product information.
Do I get a warranty with these laser cutters?
Yes. Epilog offers a two-year warranty with their laser cutter whereas Glowforge gives you a one year warranty with their device.
Our Verdict – Which Laser Cutter is Better?
Now that we have looked in-depth at these two laser cutters we need to make a choice – which one do you choose?
They are quite similar but have certain differences in their features which means we can pick one above the other.
Bottom Line Summary: Out of these two laser cutters I am going to recommend the Glowforge Pro here.
There are a few reasons for this. I need to point out that one of the drawbacks with the Glowforge is that it is cloud-based so you do need good internet access to use it. That being said, I prefer the fact that it is compatible with more operating systems than the Epilog laser cutter.
I find the Glowforge very easy to use and even as a beginner you won't have any issues. I'm not implying the Epilog is really hard to get to grips with, I just think the Glowforge is easier and their active community is a great help. You can even save a bit of money with the Glowforge Pro as well as it is priced a bit cheaper.
These are two very well made laser cutters that are ideal for small businesses and enthusiasts alike but the Glowforge Pro just edges it for me.
Our Pick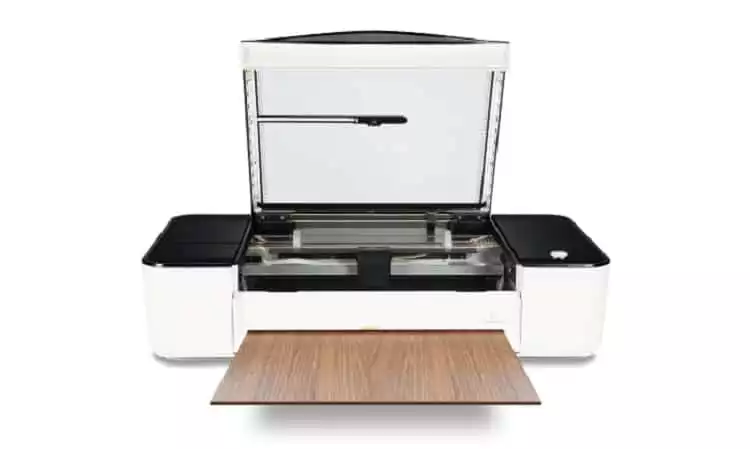 Further Reading on Laser Cutters: