Latest posts by Justin Caldwell
(see all)
As 3D printers continue to rise in popularity, you may find that you want to join in the fun of printing your own objects from the comfort of your own home.
While there are plenty of options out there, one of the most popular choices is the Glowforge 3D laser printer.
This exciting printer started in Seattle as a Kickstarter project that garnered plenty of attention and funding. Glowforge captured investments from many venture capitalists, topping more than $70 million for its 3D laser printer.

So what is Glowforge? And what does the Glowforge 3D laser printer have to offer its users? What features are available and how well does it work? We'll jump into these questions and more as we explore everything about the Glowforge 3D printer.
Before we go into our full Glowforge Review, let's take a moment and discuss what you may want to consider before you buy a 3D printer.
Buying Considerations for Our GlowForge Review
If you're planning on your hard-earned money on a 3D printer, you want to be sure that it has exactly what you want and need. Otherwise, you're just wasting your money. Here are some items to think about when you're looking at 3D printers.
Cost
One of the most important factors you should consider before buying a 3D printer is the price. This number is going to be different for everyone depending on budget, so be sure you're looking at a 3D printer that's in your price range.
Capability and Features
With a 3D printer, you can create a wide variety of objects and items. Does the printer you're considering offer the features you need to print what you want?
Speed
How fast do you need your objects printed? 3D printers can take anywhere from a few minutes to several hours to complete a print job.
Quality
How well does the printer create objects? Can it create objects that require fine precision and detailed accuracy? Some printers provide high-quality prints while others are not as reliable. Be sure you find a printer that won't create poorly made objects.
Maintenance
Is it difficult to perform regular maintenance on the printer? There are some printers that are designed to allow the user easy access to all areas so upkeep is quick and simple. On the other hand, there are 3D printers on the market that make maintenance difficult and challenging for any user.
Glowforge 3D Laser Printer – What is Glowforge?
Now that you have a solid idea of things to consider before you buy a printer, let's take a closer look at the Glowforge 3D laser printer.
Out of the Box
The first thing you'll notice when you open the box containing the Glowforge 3D printer is that the company takes its products seriously. The design is amazing, with a breathtaking exterior that shows Glowforge takes pride in its work.
It doesn't take long to unbox the device, and once you do, you'll realize why this 3D printer is one of the highest-rated on the market. With a Glowforge 3D printer, you'll be completing complex and detailed jobs before you know it.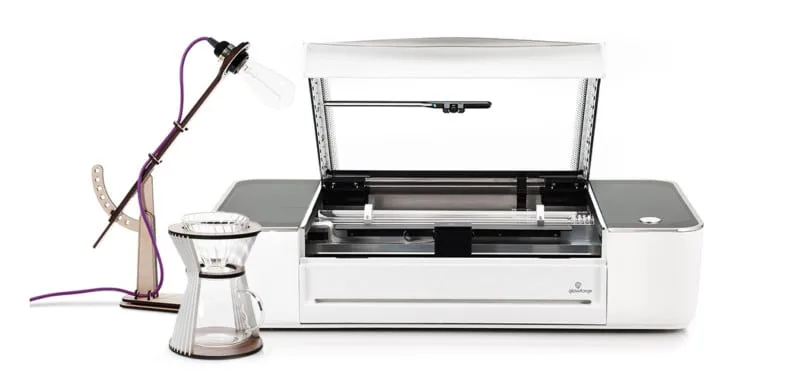 Setting Up
Getting your Glowforge 3D printer setup isn't too much trouble. The manufacturer says you'll be printing within half an hour of taking it out of the box. Arguably, the most difficult part of the process isn't getting set up but choosing which object you want to print first.
Really the only thing you need to do is plug the device into a standard wall outlet, then connect it to your wifi network. Additionally, be sure you keep it within a few feet of a window so you have a place for the exhaust to go.
It really is that simple, but there are a few additional steps you need to take to ensure everything is just right before you start printing. First, slide in the crumb tray until the feet fall into place. Once that's done, insert the printer laser head by sliding the metal plate into its slot.
Next, push the arm toward the rear of the device. Find the orange cylinder and slide it into the head of the printer. You'll know it's in the proper position when you hear it make a clicking noise.
Now, you're ready to connect the exhaust. Attach one end of the exhaust hose to your 3D printer, then place the other end so that it's pointing to an outside window or vent. This helps to keep the fumes from gathering in your home or office.
That's all you really have to do for set up. Plugin your 3D printer, connect to wifi, then let the laser cutting machine calibrate. When it's done, you can select an object and start printing.
Features
There is no shortage of features when it comes to the Glowforge 3D printer. This machine is fully capable of printing nearly any object you want no matter how advanced, detailed, or intricate. Let's take a closer look at some of the more prominent capabilities of this printer.
The Glowforge 3D laser printer is designed with small and home offices. This machine is perfect for your desktop at home or on a work table in your office. With its compact design, the Glowforge is ideal for individual use.
One of the most prominent features you'll notice with the Glowforge Machine is how sturdy the device is. It is made of high-quality glass, plastic, and metal, so you know it's sturdy and robust. As a result, you're not going to run into any issues with reliability throughout the life of your 3D printer.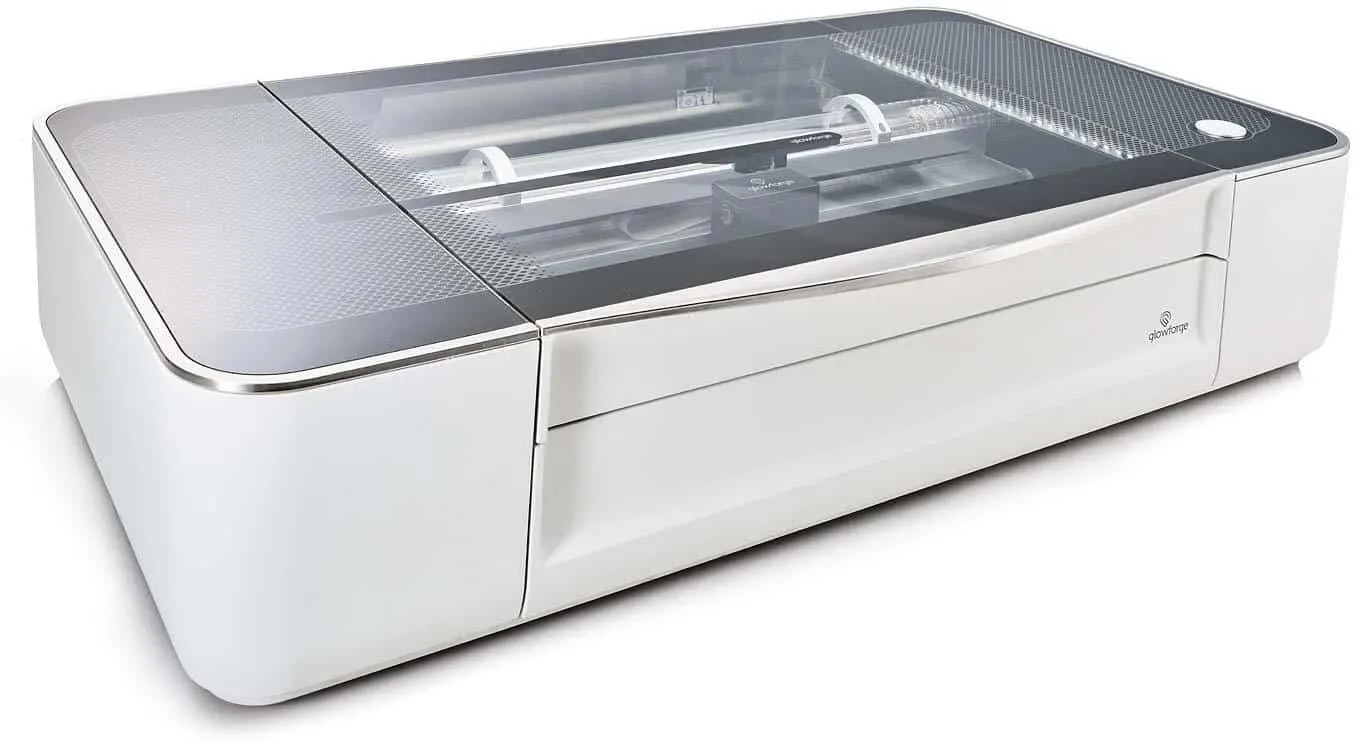 Whether you're new to the world of 3D printing or an experienced veteran, Glowforge has created a device that is easy for anyone to use. The learning curve is short, which is perfect for anyone who wants to learn about 3D printing but doesn't have a lot of knowledge about it.
If you're into the laser engraving portion of this device (engraving machine), you'll have no shortage of materials with which you can work. It is compatible with a wide range of options, including leather, glass, fabric, wood, and cardboard. You can also use aluminum and titanium if you're into using metal materials.
The Glowforge 3D laser printer is built with safety in mind. The laser engraving machine can be damaging if you don't take the proper precautions, which is why the Glowforge machine was built with an enclosed design.
This helps to protect both users and the device itself by preventing users from reaching in and hurting themselves while the machine is in operation.
When you're running your 3D printer, you want to be sure that fumes aren't gathering in areas that can make it difficult to breathe. That's why Glowforge uses a built-in air compressor that clears out fumes as it runs. This also helps to safeguard the lens while you're printing an object.
Automatic Optical Adjustments
Speaking of the lens, Glowforge offers one of the most unique features you're not likely to find with other 3D laser printers. While other 3D printers require their users to manually adjust the lens, the Glowforge printer does it automatically.
Additionally, the baseplate that comes with the printer is honeycomb-shaped, which allows for better heat displacement and transfer between the air and the materials.
The Glowforge 3D printer comes with a built-in water cooling system that helps to alleviate the need for extra coolers or water pumps. This helps to ensure that the system won't overheat while operating, which means you're spending less on maintenance and upkeep of the device.
As you can see, there are a number of exciting features that make the Glowforge 3D printer one of the best in its class. With a user-friendly interface and sturdy craftsmanship, this 3D printer is ideal for anyone who wants to explore the world of 3D printing.
Glowforge Specs
While the Glowforge 3D printer isn't the smallest on the market, you still may wind up needing to make room for it. It measures 965mm x 527mm x 210mm. This gives users a work area of roughly 455mm deep by 515mm wide, along with a laser cutting area of 279mm deep and 495mm wide.
Users will also notice the custom carbon dioxide glass tube for laser use. This can be used continually at 10,600nm. It pulls 45 watts, so you might notice a slight uptick in your electric bill if you use it regularly.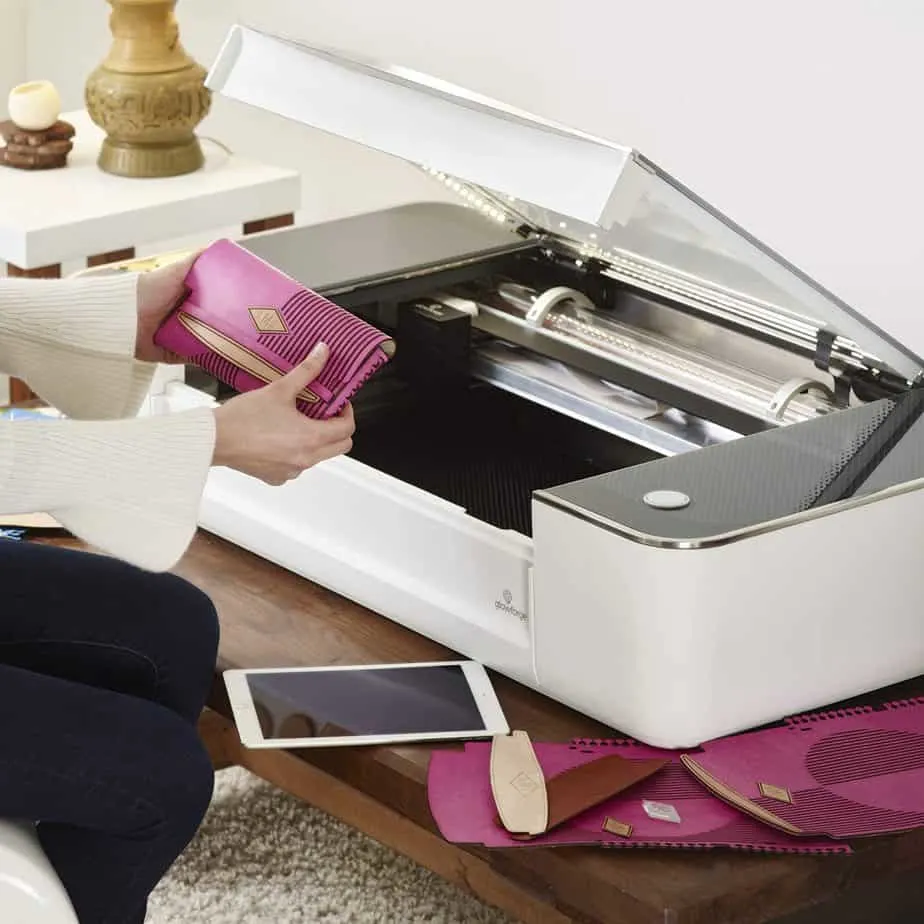 Laser Engraving
The Glowforge 3D printer also has laser cutter features and functionality. As stated previously, you can use a wide variety of different materials if you want to laser engrave. These include metals, cardboard, wood, and many others.
Quality
The quality of 3D objects printed with the Glowforge printer is excellent. You can rely on this printer to print out stable and sturdy objects on a regular basis. It is precise and accurate, which means you aren't printing out objects that may fall apart in just a few days' time.
Software
If you want to use software with your Glowforge 3D printer, the manufacturer does offer a cloud-based option. However, you can also use third-party platforms like Powerpoint, Adobe Illustrator, or CAD.
Using these programs, you can create popular objects and items when you're ready to start printing. It might go without saying, but this type of software availability is why your 3D printer should always be connected to your wifi network.
Remaining connected ensures that you receive the latest updates and fixes that keep your 3D printer running the way it should.
Glowforge 3D Printer Alternatives
No Glowforge review would be complete without talking about the competition. If the Glowforge 3D printer doesn't offer the features and functionality you need, you might consider one of the following options.
Monoprice Select Mini – Best for Those on a Budget
If you're on a budget but really want a 3D printer, this is a pretty good option. For those that have never owned a 3D printer, this is a great way to learn more about them and get your feet wet without putting a dent in your wallet.

The speed and print quality with the Monoprice Select Mini is excellent, however, you'll want to purchase additional filament as this printer runs through it quickly.
Flashforge Adventurer – Best for Novices
Those looking for a 3D printer that's easy to use should take a look at the Flashforge Adventurer. This printer is easy to set up, assemble and will have you printing in less than half an hour.

You'll get solid print quality and speed, so you won't be sacrificing much in that area. Just open up your box, get your materials together, and get going. There's not much else to this 3D printer, which makes it one of the best if you're a DIY enthusiast or an amateur painter.
XYZPrinting da Vinci Jr. Pro Model- Best for More than Printing
This ambitious 3D printer takes things a step further by giving its users the ability to laser engrave materials as well. Using specialized carbon-fiber filament, the da Vinci Jr. Pro Model gives users a multifunctional device that can do more than print.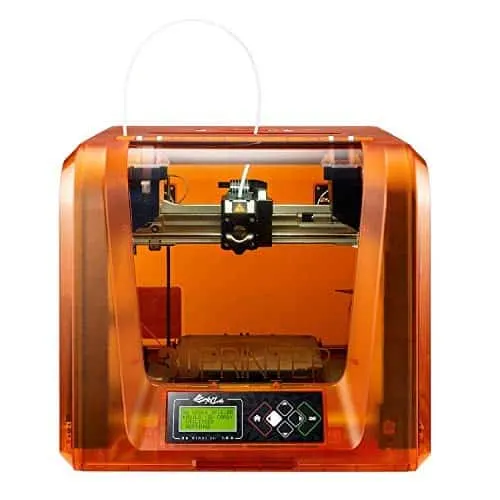 However, a lack of wifi on this 3D printer can be a hassle if you like to use software platforms the reside in the cloud. Additionally, the non-heated bed can become an issue if you print frequently. Overall though, this is a decent option if you're in the market for a multi-functional 3D printer.
SOL Laser 3D Scanner – Best for Printing Replicas
If you need an easy way to replicate items, you can do so with the SOL 3D scanner. Basically, its built-in camera and rotating base allow it to build a 360-degree replica, which you can then edit using its 3D software.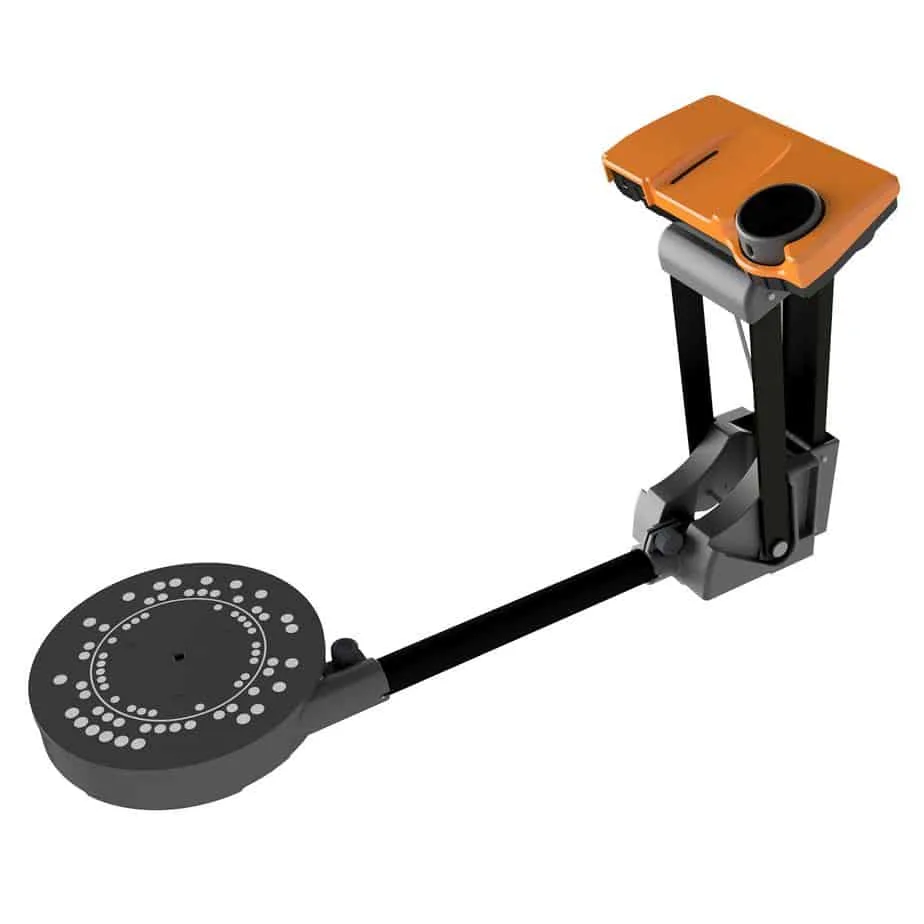 All you have to worry about it scanning the object and then importing it into the 3D printer to be printed. One cool feature of this 3D printer is the ability to receive text alerts when the next step in the printing process is reached.
Anycubic Photon – Best for Those that Prefer Resin
For those of you that are dead set on using a resin 3D printer, the Anycubic Photon is probably the best option for you. Resin printers provide high-quality objects while focusing on intricacy and accuracy.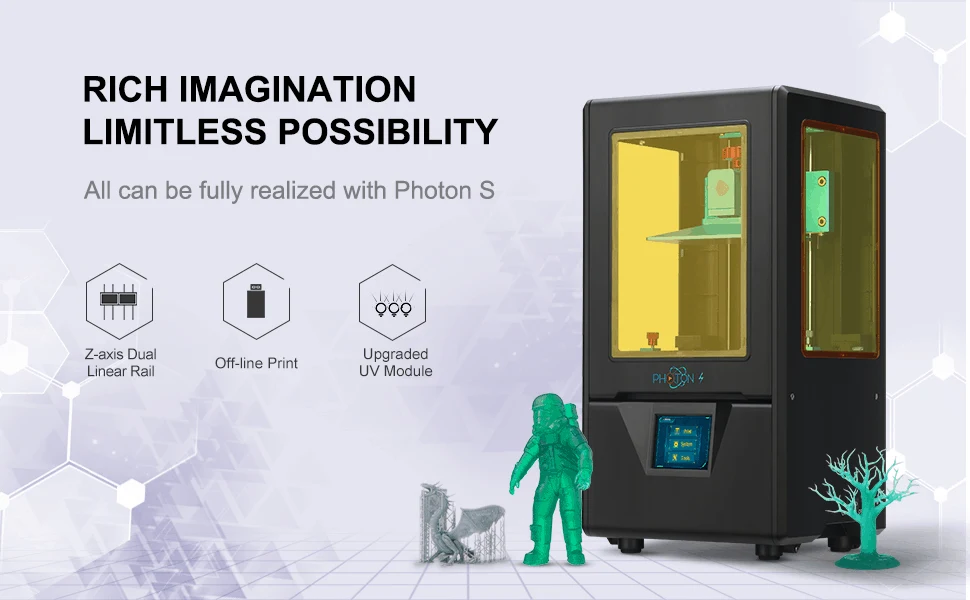 These printers create objects that look like they just came off the factory line. However, resin is more of a challenge to work with than filament, so be sure you know what you're doing and that you have plenty of ventilation when printing.
FAQs
Here are a few of the more commonly asked questions in regards to the Glowforge 3D laser printer.
What can I create with my Glowforge 3D laser printer?
With your Glowforge, you can cut fabric, wood, paper, leather, mylar, Plexiglass, rubber, and much, much more. Additionally, your Glowforge can engrave all sorts of items, including coated metal, marble, phones, laptops, tablets, and others.
How often does the Glowforge laser need to be replaced?
You'll need to replace the Glowforge laser tube every two years. This customer made a piece of equipment is rated for two years. If something goes wrong before that time, it's covered under Glowforge's warranty. But be sure you look into that yourself.
What is different about laser engraving and etching?
The biggest difference you'll discover between etching and engraving is that etching is a process involving chemicals, where an engraving is a physical one. An etcher will burn lines into the material using acid, while a laser engraver uses a sharp tool to cut the lines right into the surface.
Where is Glowforge located?
While Glowforge products are made with parts that are sourced throughout the world, the facility is located in Seattle, Washington. Every unit is designed and produced in this location
What types of products does Glowforge offer?
Glowforge offers a variety of high-quality products based on your intentions and experience level:
•Glowforge Basic – 40W Laser Power.
•Glowforge Plus – 40W Laser Power and 2x Enhanced Top Speed.
•Glowforge Pro – 45W Laser Power and 3x Enhanced Top Speed as well as enhanced cooling and other features.
Additionally, Glowforge has a Glowforge App available for anyone that is a Glowforge owner that gives printing control from iOS devices and allows you to add photos straight from your camera library right to your design.
Final Thoughts: What is Glowforge? Our Review
It can be useful to own a 3D printer, especially one that can perform multiple functions like the Glowforge 3D laser printer. Being a Glowforge owner will allow you to quickly and easily create and print items that have specific uses and applications.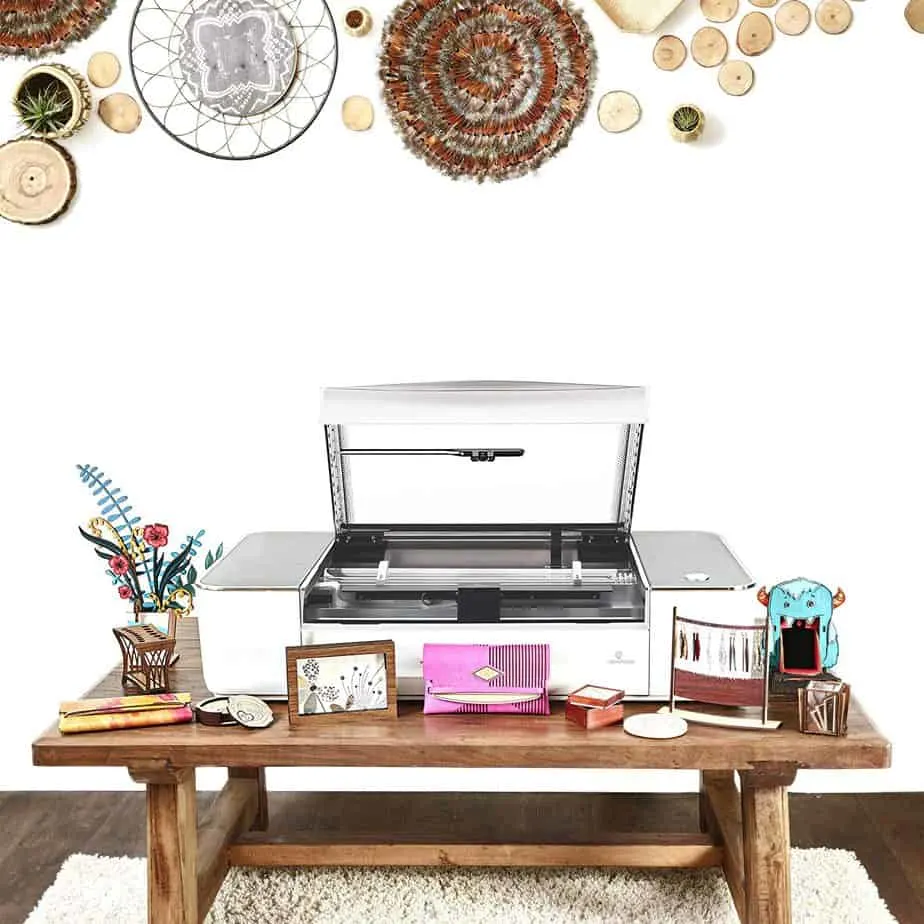 As seen from our Glowforge review, this can be an affordable alternative to purchasing items over the long term, even if your budget is constrained. With the Glowforge 3D printer, you can create precise and accurate objects. Just remember that you'll have to keep it connected to your wifi network so you'll always have the latest updates and features.
Overall, there are some viable alternatives on the market, but if you want something that's going to be a great 3D printer and excellent laser engraver, you'll be hard-pressed to find something better.
Further Reading on Laser Scanner and Laser Cutter Options: