Latest posts by Total 3D Printing Team
(see all)
Many of the smaller, less expensive 3D printers are becoming extremely similar. You will often find enclosed print areas, small to medium build volumes, and maybe a touchscreen display. They are still great machines. The only problem is they are fairly interchangeable from one to the next with no unique features.
If you are able to spend a few more dollars though, you can really start to see some different things. In fact, a couple thousands of dollars can get you close to an industrial grade desktop 3D printer, massive build volumes, and marketing leading performance.
So, for this comparison, we will focus on two of these monstrous 3D printers. Raise3D's Pro2 and Zortrax's M300 3D Printer. An absolute battle of the beasts. These are two high-end 3D printers. They come loaded with everything you need to create large, fully functioning prototypes.
Keep in mind, these machines were not designed with the at-home hobbyist in mind. These 3D printers are built to perform and create for businesses and professionals.
First things first, you can get your hands on a Raise3D Pro2 for $3,999.00 from the Raise3D website. The Zortrax M300 runs a little cheaper at $2,999.00 on the Zortrax website. If you are an at-home hobbyist and you have the money for one of these, by all means, go get one now.
Both of these machines are worth every penny was given their high performance, their size, and reliability. Now, I will dive in a little deeper into what makes these 3D printers worth so much money.
Bottom Line Up Front: Zortrax created a very impressive 3D printer that might be slightly outdated. And let's be honest, it's hard to compete with the Raise3D Pro2 here. The Pro2 is the best-in-class and possibly the best 3D printer on the market.
I Personally Prefer the Raise3D Pro2 | Matter Hackers
Better reliablity and consistency make the Raise3D Pro2 stand out as the clear choice here for me. Yes, it's a bit more expensive, but you will ultimately save more money and minimize wasted effort over the lifetime of this printer.
Check price
Buy at Amazon.com
We earn a commission if you click this link and make a purchase at no additional cost to you.
Initial Overview of the Printers:
The Zortrax M300 3D Printer
Released in 2016 by the Polish-based 3D printing technology company, Zortrax. They produced award-winning machines in the past. They hope to do the same with the M300, but just make things better. This printer is based off the M200 model.
Users were thrilled with the M200 and requested only one thing, mostly. They wanted the accuracy and reliability of the M200 but on a larger scale. Zortrax delivered. The M300 is a large desktop printer with a massive build volume. In fact, the machine can build a full-sized motorcycle helmet in one run.
The M300 is able to print multiple types of the proprietary filament and the hot end can reach up to 380 degrees C. It is a fully enclosed printing environment. The panels are removable to make it easy to get your finished print off the build plate.
The machine uses the Z-suite slicing software, which is an efficient and user-friendly software. However, it does lack the ability for editing some basic settings and features. This makes it feel very geared towards beginners even though the 3D printer looks and feels like it is made for professionals and advanced users.
One thing most people are not stoked on about this machine is the only connectivity option is an SD Card. Since the machine is a couple of years old, this makes a little more sense. Wireless connectivity only caught on recently. But this leads to a less efficient process and restricts use or queueing the machine to only one user.
The Raise3D Pro2
Need I say more? Raise3D set themselves apart from the rest of the market with their newest 3D printer. The Pro2 released late April 2018 and delivers everything you want to see and more in a 3D printer. The company's past series, the N2, often sat at the top of lists for the best 3D printers every year. Raise3D wants to see the Pro2 at the top of every list going forward.
The Pro2 packs all the industrial grade components and features on large 3D printers into a sleek, smaller desktop 3D printer. This 3D printer is leading the way for Raise3D's vision of flexible manufacturing.
A new idea from Raise3D for their 3D printers as the Pro2 is able to create in lots of one to thousands of parts. You can print in multiple colors and materials, or different sizes and parts simultaneously. This is a do-it-all workhorse of a 3D printer.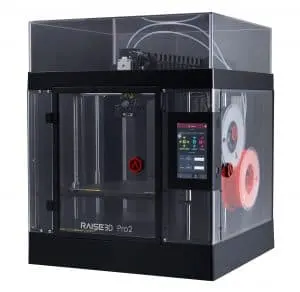 The Pro2 can print many filaments. Anything from PLA and ABS to glass, wood, and carbon fiber composites. The new extruder, which uses a filament run-out sensor to pause prints just as your spool empties. As well, it reaches up to 300 degrees C. If you need to take full advantage of the precision of the Pro2, simply switch out one of the two nozzles for their 0.2mm extruder to hit the finer details.
It includes a large 7″ touchscreen display with wireless capability. From here you can review your models, check on the progress of the print, and even adjust any settings and features on the fly. It is a great addition that adds to the overall user-friendly functionality of the machine.
The only tough pill to swallow with this machine is the price tag. But depending on how you plan to use this 3D printer, it is justifiable. Overall, an amazing piece of technology with trends that will hopefully carry down to less expensive 3D printers as well.
Key Specs Comparison:
Raise3D Pro 2

Zortrax M300

Build Volume:

1 extruder: 12″ x 12″ x 11.8″

2 extruders: 11″ x 12″ x 11.8″

11.8″ x 11.8″ x 11.8″

Build Speed:

30 – 150 mm/s

100 mm/s

Resolution:

10 – 250 microns

90 – 290 microns

Desktop Space:

24.4" x 23.2" x 29.9"

18.6″ x 22.4″ x 26.1″

Build Platform:

Heated

Heated

Dual Extruders:

Yes

No

Nozzle Diameter:

0.4 mm or 0.2 mm

0.4 mm

Connectivity:

Wireless

SD Card

Filament:

PLA. ABS, PP, HIPS, PETG, Glass, Carbon Fiber, Metal, Wood

Z-PLA Pro, Z-ASA Pro, Z-ESD, Z-HIPS, Z-GLASS, Z-PETG
Raise3D Pro2 Pros and Cons:
| | |
| --- | --- |
| Pros: | Cons: |
| Dual Extruders | Price |
| Precision | |
| Build Volume | |
| User Friendly | |
Zortrax M300 Pros and Cons:
| | |
| --- | --- |
| Pros: | Cons: |
| Consistent print quality                    | Proprietary Filament |
| Reliability | Perforated Build  Plate |
| Build Volume | No Pause Feature |
| New filament spools | |
As you can see both the Pro2 and M300 have their respective ups and downs. Some of these are fairly self-explanatory. Sure, the Pro2 has a high price tag. But, when you realize what all you are getting it is justifiable. They both have very large build volumes.
In fact, so large that you could produce full scale prototypes or production parts. The M300 is extremely reliable given its relevance for the past couple of years. The Pro2 is one of the most precise 3D printers being able to reach layers of just 10 microns.
But what is so great about a new filament spool? Well Zortrax incorporated a "smart" design to help users know just how much filament is left on the spool. By putting an open slot on the side of the filament spool and marking different levels with the total amount of filament remaining, users can easily identify if they will need to replace their filament for the upcoming print.
Unfortunately, the M300 does now have a pause/resume feature so you will need to identify this beforehand or risk losing your print halfway through. While Raise3D did not copy this design, they do have the filament run out sensor mentioned above to prevent losing a print.
Something you don't see on other 3D printers is the perforated build plate. The Pro2 has your traditional, flat, aluminum bed. The smooth surface is ideal for easily removing prints. The M300 on the other hand uses the perforated build plate.
The design is to allow prints better adhesion to the plate and prevents pretty much any slippage or movement during the print. This is a big reason the M300 is so reliable and consistently prints time and time again.
But the build plate makes it rather difficult to remove prints. It is tricky to get in the grooves of the base of the print. Obviously, it's possible, you just need to decide if you need better adhesion or easier removal.
Which one is best for you needs?
This is a rather personal question that will most likely differ between each user. It really boils down to personal wants, needs, and financial situations. Both of the printers are amazing pieces of technology and can essentially accomplish the same thing.
You can pay top dollar and get yourself a market-leading 3D printer. It has innovative technology, two extruders to maximize performance, and an easy to use a massive touchscreen display. It can print the finest of details, complete multiple jobs at once, and will handle just about any filament type you need.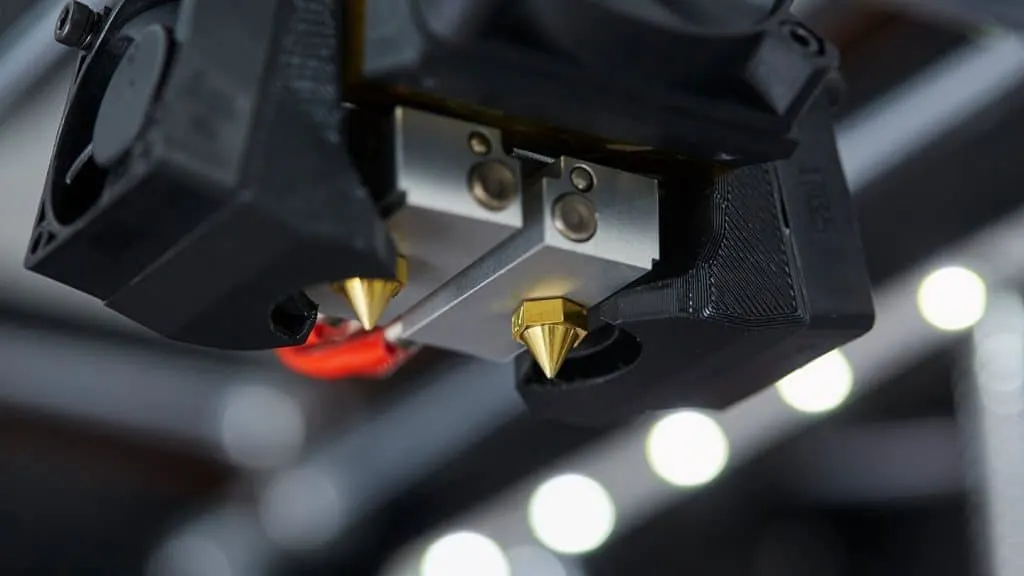 The other one is a slightly older version of what I just described. It is a reliable workhorse, which features some outdated technology. But you will save a few dollars by forgoing some of the extra features.
You still get a huge build volume, and easy to use the slicer, the ability to print multiple filaments, and easily track your filament usage. The slicer is not as advanced, the level of detail is just slightly less, and you only get a single extruder. But have no doubts, you will still own one of the best 3D printers in terms of accuracy and reliability.
You need to understand what it is you are looking for before you can make the decision. Neither 3D printer will let you down.
Packaging: What's Included with the Printer:
Raise Pro2 includes:
Pro2 3D printer
Power cable
Hex wrenches
2 spools of filament
Build plate
USB storage
Heat resistant gloves
Filament holder
Spatula
Nozzle cleaning kit
Tweezers
Fuses
Thumbscrews
Accessories
M300 includes:
M300 3D printer
2 spools of filament
Side covers
Starter kit
Z-suite software
Just seeing what the two companies list that comes in the packages can be strong indicator of which is more superior.
Zortrax M300 3D Printer vs Raise3D Pro2 – Final Verdict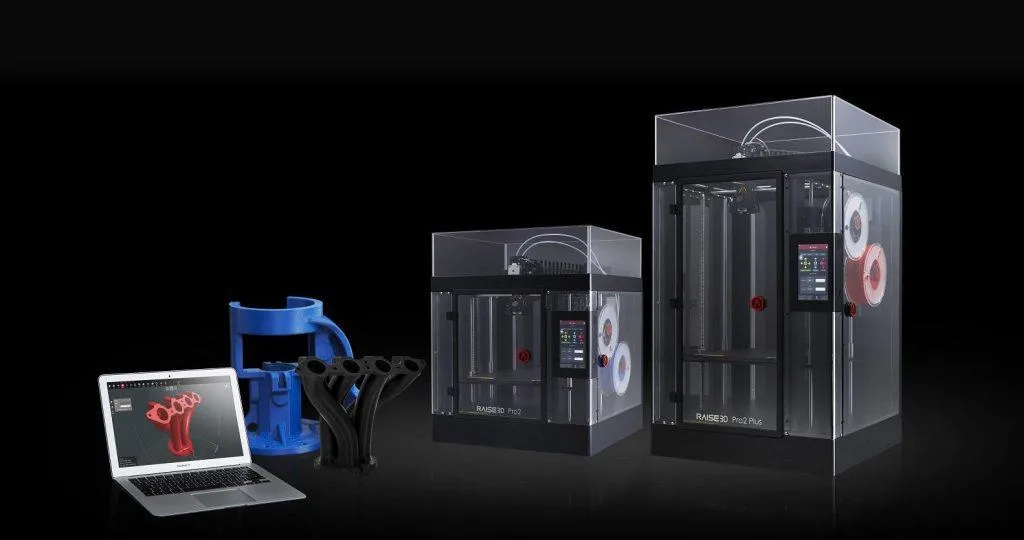 There's no ifs, ands, or buts, the clear winner in Raise3D's Pro2. Given this is a brand new printer just released in 2018
I would be shocked if the M300 3D Printer had come out on top of this one. You just can't compete with how much went into the Pro2. Raise3D set out with a goal to make a top of the line 3D printer to revolution the game and take ahold of the industry. I believe the Pro2 is just the 3D printer for that.
It comes loaded with absolutely everything you could need at this stage. The price is manageable for what you are getting, especially if you are purchasing this for a business. Small lathes, mills, and other CNC machines will run you a higher price and can't do half the things the Pro2 is able to do.
This 3D printer has everything you need for "flexible manufacturing" and I expect to see this catching on rather quickly now that it is released to the public. If you want a do it all workhorse for manufacturing and prototyping, make no mistake, go get a Raise 3D Pro2 3D printer.
I Personally Prefer the Raise3D Pro2 | Matter Hackers
Better reliablity and consistency make the Raise3D Pro2 stand out as the clear choice here for me. Yes, it's a bit more expensive, but you will ultimately save more money and minimize wasted effort over the lifetime of this printer.
Check price
Buy at Amazon.com
We earn a commission if you click this link and make a purchase at no additional cost to you.
Further Reads