Latest posts by Jodie Chiffey
(see all)
[mv_video doNotAutoplayNorOptimizePlacement="false" doNotOptimizePlacement="false" jsonLd="true" key="mq9orvdnogslbeld4hpo" ratio="16:9″ thumbnail="https://mediavine-res.cloudinary.com/video/upload/mq9orvdnogslbeld4hpo.jpg" title="Solidworks vs Fusion" volume="70″]
Finding the correct 3D modeling software for your needs isn't as straightforward as simply picking one at random. There are many options available and we are going to look at two of the main pieces of software on the market – Solidworks and Fusion 360.
Both of these products have a loyal following. They might not be as widespread in their use as AutoCAD for example but they are certainly popular choices. You will need some experience in creating models on a computer for 3D printing and neither of these products will appeal to people who haven't done this before. We'll discuss usability, reliability, and of course the difference between Solidworks price & Fusion 360 price.
So firstly, let's look at the main differences between the two software packages.
My Bottom Line Up Front Summary: For most use cases I'd lean more towards Fusion 360 here. It's cheaper, easier to use, and more widely compatible (and supported, formally and informally) than Solidworks. That said, if you are primarily accessing offline, Solidworks is the default option here.
Main Differences Between the Solidworks vs Fusion 360
The main differences between Solidworks vs Fusion 360 are:
Solidworks has a cloud storage option, whereas Fusion 360 works exclusively on the cloud.
Solidworks is mainly a Windows application, whereas Fusion 360 works on both Windows and Mac.
Solidworks is an assembly-driven software, whereas Fusion 360 uses a multi-component part system.
Solidworks is better for manufactured goods and design engineering, whereas Fusion 360 is more suited to hobbyists and some advanced designers.
Solidworks allows you to customize your keyboard shortcuts, whereas Fusion 360 does not.
Solidworks System Specifications
Operating System

Windows 10 64-bit

CPU Type

3.3 GHz or higher clock speed

Memory

32GB (16GB minimum)

Graphics Card

NVIDIA Quadro P600 (entry-level),

P1000/2000 (mid-range) or P4000 (high-end)

AMD Radeon Pro WX 3100 (entry-level), WX 4100 (mid-range) or WX 5100 (high-end)

Disk Space

20 GB

Pointing Device

MS-Mouse compliant
Core Features of the Solidworks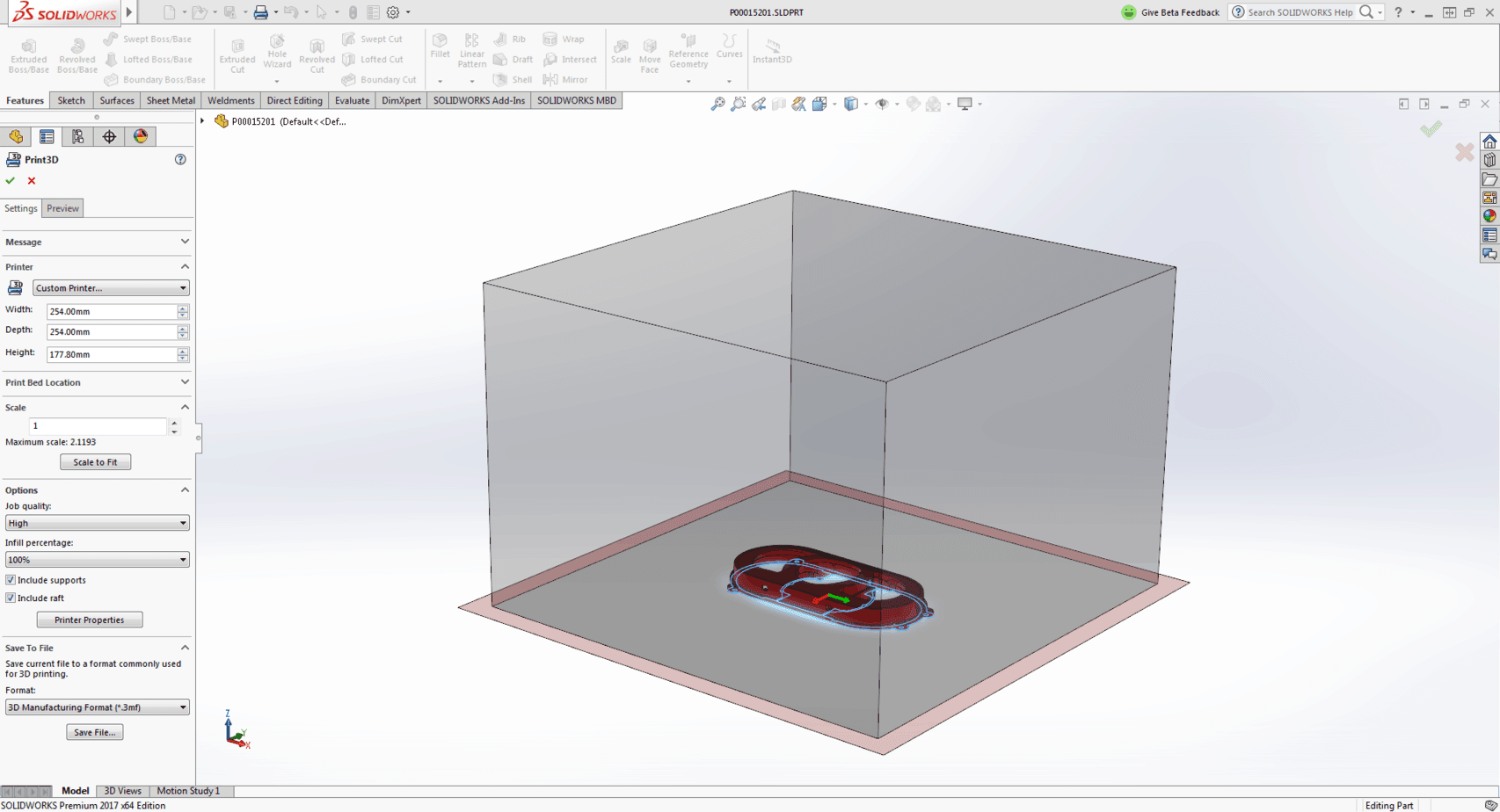 Solidworks is another well-known computer-aided drafting software that can be used to export files for 3D printing. We have reviewed Solidworks before when we compared it to another famous CAD package, AutoCAD.
It first emerged back in the mid-1990s and is perhaps more suited to manufactured goods and design engineering than Fusion 360. It offers a wide range of functionality such as simulating computational fluid dynamics, rendering process to show objects in photorealistic finishes while there is an electrical package too.
Engineers used Solidworks extensively due to its 3D modeling capabilities and it is in widespread use across many sectors including construction, robotics and the oil and gas markets.
Solidworks started off life as 3D modeling software and then moved into 2D drawing while still retaining a firm eye on 3D printing. So, how does Solidworks fare?
Usability
Solidworks doesn't have a UI that is going to catch your eye from an aesthetic point of view however it is fairly easy to use. In fact, they've made some big improvements to it over the years compared to how it looked in the past.
While it might still seem like a little clunky and outdated, it has everything laid out in a nice way and it is straightforward to find tools as well. The good thing with Solidworks is that you can customize your shortcuts so you can adapt the software to your needs and speed up your productivity.
Reliability
While Fusion 360 works on the cloud, Solidworks is based on local and network files like most CAD software.
This means it does require more processing power and more storage to work properly so you'll need a higher spec machine. The upside to this is that you don't have to rely on an internet connection for it to work and you can still access everything even if your internet is down.
For hobbyists and those not working in a professional environment, you will need to move files between a laptop and a workstation which can raise its own issues. Overall Solidworks is a reliable CAD platform that will still work without the internet.
Installation
Like Fusion 360, Solidworks is very easy to get up and running.
It does require more disk space as everything is going to be installed locally on your machine. For anyone that has previously installed a program on a Windows computer, you shouldn't have any issues with getting Solidworks up and running. They have a fairly comprehensive support section if you need help.
Compatibility with 3D printing software
The good news is that Solidworks can work with STL files which means that it can provide a file easily for 3D printing.
It is very easy as well to prepare Solidworks models for 3D printing and the files will work with most 3D printers as it a pretty standard file format. It is also able to support some 35 different file formats although it doesn't offer mesh export options.
Support
Even though I haven't run into many problems while using Solidworks, they do have a good support system and have been very helpful anytime I have needed to contact them.
They do have a lot of online materials where you can get documentation on a wide range of different technical issues. If you need to contact someone about the software they also have a forum, email support, and a search function to find local support in your area.
Solidworks Pros and Cons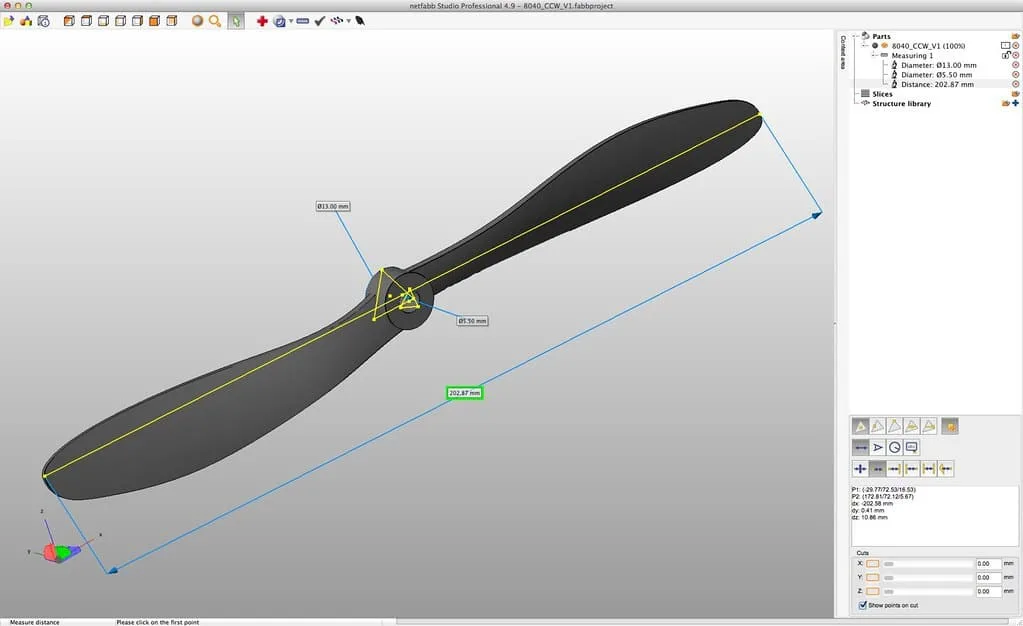 Pros
The software makes it pretty straightforward to design models that can be used for 3D printing due to the parametric feature-based modeling
Offers several simulation options for model testing
Is made for 3D modeling and printing
Has sheet metal design tools
Uses a standard file format so will work with most 3D printers
Publishes good online resources for support
Doesn't require an internet connection to work properly
Cons
Only compatible with Windows operating systems2
Does have the 2D capability but isn't the focus of the software
The user interface can feel a little outdated
System requirements for Fusion 360
Operating System

Apple® macOS™ Mojave v10.14; Apple® macOS™ High Sierra v10.13; Apple® macOS™ Sierra v10.12

Microsoft® Windows® 7 SP1, Windows 8.1, or Windows 10 (64-bit only)

CPU Type

64-bit processor (32-bit not supported)

Memory

3GB RAM (4GB or more recommended)

Graphics Card

512MB GDDR RAM or more, except Intel GMA X3100 cards

Disk Space

2.5 GB

Pointing Device

Microsoft-compliant mouse, Apple Mouse, Magic Mouse, MacBook Pro trackpad
Core Features of Fusion 360
Fusion 360 has emerged as a popular software package that allows you to draft 3D models for printing.
With this software, you can draw, model and render objects that can be converted into files to use on your 3D printer. It utilizes cloud technology in a way that not many other CAD programs so. Instead of using copious amounts of processing power on your computer, Fusion 360 uses the Autodesk servers so you don't necessarily need an extremely powerful computer if you are carrying out complex tasks. For those wondering about the Fusion 360 price, there is both a free version and paid version (which runs around $310)
By acting as a 'resource multiplier', the cloud technology is able to utilize much more power than if you were simply using your own machine.
You can also access all your files and data via the cloud too. This makes it better for accessing files on the move and you don't need to physically take them with you on a storage device. Although I should mention that it can be a hindrance if you don't have any internet connectivity but we will look at that below.
We're going to look at how Fusion 360 holds up as a CAD software based on five different criteria.
Usability
The user interface with Fusion 360 is straightforward and it has drawn inspiration from Google's Sketchup in its layout. It looks great on a large monitor but if you use it on a smaller screen it will condense tools and menus so everything doesn't look squashed. It is still easy to find everything you need on a smaller device.
One thing I will say about the usability is that it only offers a light and dark mode. It would be good to have better customization with the user interface given how much time you can spend on it drafting models. You also can't customize your keyboard shortcuts with Fusion 360.
Reliability
Fusion 360 is different than most CAD software as it works exclusively via cloud technology. This is great for processing power as it isn't clogging up your machine. You won't need to have such a high tech computer to run Fusion 360 as you would with many other CAD programs. It also means you can easily access your files wherever you are and you don't need to carry storage devices around with you.
One drawback is that you need an internet connection for it to work. Fusion 360 runs off the cloud and without internet access you are going to have reliability problems. If your internet is down or you have a slow connection then Fusion 360 won't work however I haven't come across any issues with the Autodesk servers yet.
They also regularly scheduled updates so it is worth mentioning this too as it can sometimes knock the functionality offline although it tends to be outside the normal hours of work.
Installation
You can install Fusion 360 pretty easily. Even though it uses cloud technology you still need to install some local files on your computer. You simply go to your Autodesk account, hit download and follow the instructions. It really couldn't be any easier.
For updates, you will need to be connected to the internet and Fusion 360 pushes out updates quite frequently to improve functionality and keep the security up to date.
Compatibility with 3D printing software
The great thing about this CAD software is that it will work with pretty much any 3D printer. When you have finished drafting your 3D model you can export it either as an STL or an OBJ file which will be read by most 3D printing software.
I haven't had any problems with using Fusion 360 and then exporting the files to use for 3D printing. 3D printers are powerful devices but with modeling software such as Fusion 360 you can really test their performance.
Support
Fusion 360 is a very popular piece of CAD software so you would expect their support system to be very good.
Luckily they have a great support team that has been on hand to help anytime I have contacted them no matter how big or small the issue. The cloud technology means you can get updates and fixes seamlessly but if anything does go wrong you can contact their support team via email or phone.
Autodesk has a range of training materials available if you want to expand your knowledge too.
Fusion 360 Pros and Con
Pros
Uses the cloud so you can access files on the move and updates and security fixes are easy to install
Exports files that are compatible with most 3D printers on the market
Very intuitive and straightforward user interface so you shouldn't have any issues with using this particular CAD software
Quick responses from their support team and you can avail of the online training materials too
Works seamlessly on both Windows and Mac computers
Cons
You will need a good internet connection as the application uses cloud technology
If your internet is down you won't be able to access your files
Can't customize your keyboard shortcuts
FAQ's About Solidworks vs Fusion 360
How much Solidworks costs?
Since it's release date in 1995, Solidworks hasn't changed much when it comes to price. If you want to buy the license, you will be charged around $3500 whereas if you purchase the annual license, you will be charged around $1500 depending on the plan you choose.
Is Fusion 360 free?
You can use Fusion 360 as free software, but you can also subscribe for a monthly or annual subscription which costs $310.
How can I get Solidworks for free?
You can indeed get Solidworks for free, but that's not that easy. Some schools and universities which have more than 45 seats are qualified for the Students Engineering Kit, so you can ask the university if you can borrow a license or you can register for a free one here
The Verdict: Fusion 360 or Solidworks?
Solidworks and Fusion 360 are popular in their own right and for many people, they are the go-to software for drafting models for 3D printing.
If you still aren't 100% sure on what product to choose then consider this:
I hope that you now have a better understanding of the differences between Solidworks and Fusion 360 and you can make an informed choice on which CAD package to opt for.
Recommended Reads: