Latest posts by Total 3D Printing Team
(see all)
With the numerous brands and features, it's easy to be confused as to which 3D printer has the most to offer for the price of the machine. Two of the more popular 3D Printer options for complete and sleek products are the Ultimaker 2 and the Makerbot Replicator 2x; both come from extremely reputable companies.
They are most recently priced at around 2500 USD for their basic packages. Throughout this article, we'll cover overall build area, layer resolution, along with many other features of these printers and come to the conclusion of which has inherently more to offer.
If you need to make a quick decision and want to take my word for it…
Bottom Line Up Front: I personally lean towards the Ultimaker 2 (available here), but you can read my full comparison for the details of why.
The Main Differences Between MakerBot vs Ultimaker
The main differences between MakerBot vs Ultimaker are:
The MakerBot 2x only uses one material and you only need to change the you're printing, whereas the Ultimaker's temperature setting and build platforms need constant attention
The MakerBot prints quickly but at a resolution of 100 microns, whereas the Ultimaker 2 produces a much more detailed, accurate print
The MakerBot takes up a lot of space is more suited to a classroom or shop, whereas the Ultimaker is a single-user tool and can fit nicely on a desk or in any office
Initial Overview of the MakerBot vs Ultimaker
Starting with the Ultimaker 2, it comes from the Dutch based company of the same name and they've innovated and expanding since mid 2011.
They started their journey as a company assembling Reprap based printers but soon shot off into their own with a laser-cut wood panel printer as it was less expensive and easier to produce.
The Ultimaker 2 is quite a bit more advanced than those humble beginnings, its main selling feature is the dual fan for cooling the filament as it merges with the previous layer limiting the oozing you normally get from extreme overhangs and bridging, this coupled with its heated build platform allows for very accurate prints with little warping and allowing extreme overhangs.
Makerbot's origins are extremely similar as Bre Pettis along with Adam Mayer and Zach Smith took inspiration from the Reprap project, and brought it to a more mainstream audience with their YouTube exploits and the Maker Faire.
This was spearheaded by Pettis as he was very outspoken on launching this as more than a novelty and an actual commercially viable business venture. His focus was more on bringing these machines into the classroom and show emerging technology to young people as a way to inspire the new generation of scientists and makers worldwide.
The Makerbot Replicator 2x's outlying feature is the dual extrusion nozzles for printing in two filaments at the same time forming a hybrid print of two perfectly fused materials.
Comparison: Ulitmaker vs Replicator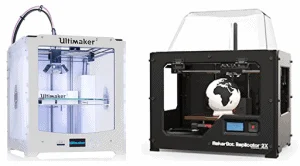 These machines share quite a few features and are varied from a performance perspective and it will come down to user preferences, Below is a table comparing shared features and their differing values for each printer respectively. It should be noted that both offer an LED screen to navigate different files from an SD card.
| | | |
| --- | --- | --- |
| | Ultimaker 2: | Makerbot Replicator 2x: |
| Build Volume: | 223 x 223 x 205mm | 246 x 152 x 155mm |
| Build Speed: | 30 – 300 mm/s | Unlisted |
| Resolution: | up to 20 Microns | 100 Microns |
| Desktop Space: | 357 x 342 x 388mm | 490 x 320 x 531mm |
| Build Platform: | Heated build platform | Heated, anodised aluminum |
| Dual Extruder: | No | Yes |
| Nozzle Diameter: | 0.4 mm | 0.4 mm |
| Connectivity: | SD card only | USB, SD card |
| Filaments: | PLA, ABS, U-PET | ABS |
Ultimaker 2 Pros and Cons
Pros:
Cons:
-High precision, and smoother surfaces on most 3D prints

-Able to use several different filament types

– Cube shaped build area for larger prints

– Handles bridging and overhangs very well

-Only uses SD card for loading files to print

-Single extruder
Makerbot Replicator 2x Pros and Cons
Pros:
Cons:
-Multiple extruders, for multiple colors of filament

-Able to load files from SD card or from a USB port.

-Longer build area for rectangular and lengthy prints

-Only prints in ABS

-Much less accurate at 100mm layer thickness

-Very large footprint, compared to Ultimaker
As you can see above these printers share quite a number of similar features, where they differ is what ultimately requires our attention. The build volume and resolution are quite different, the Ultimaker's higher resolution and build area make it ideal for printing many small parts on the build platform; while also maintaining precision.
On the other hand, the lower precision of the Makerbot Replicator 2x is better for prototyping and making pieces the user would refine themselves or may not require to be so precise in exchange for faster printing.
The space these machines take up also suites 2 different environments, the larger Replicator 2x makes sense for a shop or a classroom where it's easier to see the inner workings and to use as a public machine. The Ultimaker is very much a single user's tool, with its flexibility of material and small form factor, it's suitable for a medium-sized desk and office space.
The matter of materials is also a point where these are distinctly different, the Makerbot Replicator 2x is very simple, it only uses one material and you only need to change the file you're printing leaving little room for error, meanwhile the Ultimaker's temperature setting for nozzle and build platform need to be changed far more often to match those required of the material being printed.
Finding the Best 3D Printer for Your Needs
While those who get into 3D printing because they find it cool or interesting in its own right would want to experiment with many different materials, others could be searching for a specific machine to fulfill a need in their startup company or even fully fledged company.
So, understandably, it can difficult to find what you're looking for if you don't have a clear goal in mind. I would recommend finding a machine that is decently consistent and prints in only the material you need. If it's for anything more than personal use.
You can always change hot-ends to be compatible with different filaments if your business requires it, though this takes a deeper understanding of the workings of 3D printers that your standard person may be uncomfortable handling.
As with any tool; get the right one for the job. For more information on finding the right printer for your budget, be sure to check out this page if you can't decide between the Ultimaker or Replicator.
Packages: What's Included with Each
Ultimaker 2 includes:
-Power supply (available with either EU, UK, US, or AU Adapter)
-USB for software updates on machine.
-Full color manual, also available online.
-0.75 Kg Filament reel.
-SD card for loading files to the machine (capacity not listed)
-Glue stick for applying to the build platform before printing.
-Grease for axis rails and bearings.
-Hex wrenches for assembly and changing parts.
Makerbot Replicator 2x includes:
-Aluminum build platform.
-Spool holder, for spool reels to spin freely.
-Power supply (not specified which adapter).
-plastic guide tube for filament.
-2Gb SD card for printing without a computer.
-USB cable for updates and printer from a pc.
-Dome cover for top of the unit to protect moving parts.
-Physical user manual only
NOTE: Read the full review T3D did here.
Final Verdict: Which is Better?
This comes to the difficult part of the article, while both have their share of good features and qualities I feel that ultimately for a single user it comes down to flexibility. The Ultimaker 2 simply has more to offer for the price; from its precision and build area, it's quite a step ahead of the Replicator 2x, there are simply too many compromises for the sake of a second extruder in the Replicators design.
The novelty is great if you required two tone ABS prints, but you can't argue with the versatility of the Ultimaker. By far it's greatest feature is the wide range of materials, crucial for printing more exotic and varied models for different purposes. For example, PLA is biodegradable and doesn't release harmful fumes while printing, though if need be, ABS is more rigid and longer lasting. So I heartily recommend the Ultimaker 2 as the weapon of choice for someone looking for a wide variety of creativity right out of the box.
Both are wonderful pieces of technology that would be invaluable to any team or business, the Ultimaker the Jack-of-all trades and the Replicator 2x the workhorse that is very good at what it was made to do, Prototyping. These both have their places and you should consider what you need to do with them before you make your choice, but I definitely lean slightly towards the Ultimaker 2 (if pressed).
[easyazon_infoblock align="center" identifier="B00LLF5QNO" locale="US" tag="total3dprinting-20" type="single" link_id="4611052"]