Latest posts by Justin Caldwell
(see all)
The idea of owning a 3D printer is exciting for many people. However, the thought of paying hundreds – if not thousands – of dollars for one might quickly put a damper on things. Fortunately, there are 3D printer options out there that won't cost you an arm and a leg. For example, the Voxelab Aquila 3D printer is usually less than $200.
Is the Voxelab Aquila a reliable 3D printer at that price point? Read on to find out everything you need to know about this affordable option.
In our Voxelab Aquila 3D printer review, we'll cover all the ins and outs, pros and cons, and details you need to make an educated and informed buying decision. With that in mind, let's get started!
Packaging and Contents
The Aquila 3D printer arrives in a small but sturdy cardboard box. Inside the box, the printer is protected on all sides with foam, so it should arrive in perfect condition. When you open your 3D printer box, you should have the following items:
User manual

Power cable

Screws

Cable ties

Spatula

50 grams of filament

Needle for cleaning the nozzle

Spare nozzle

Spare PTFE coupler

Hex screwdrivers and wrenches

SD card read with 8GB card
Assembling the Printer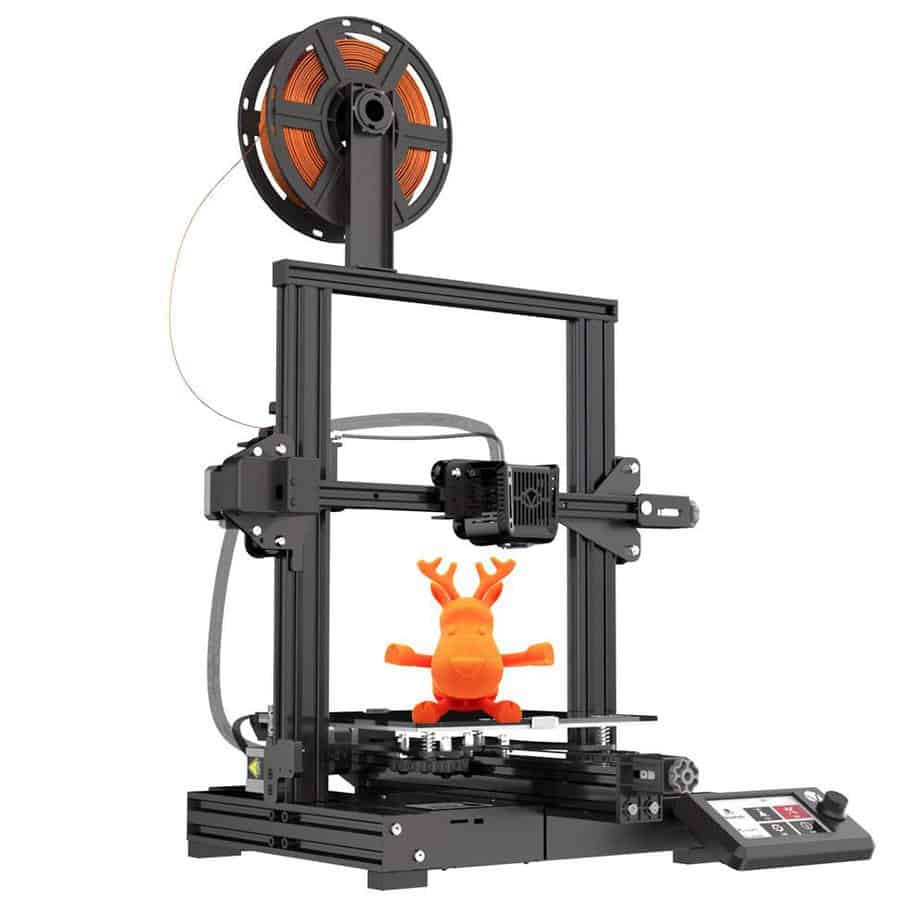 Your Aquila 3D printer comes as a kit, which means you'll have to put it together. Set aside an hour or two of your day so you have plenty of time to assemble it. The manual and assembly guide that comes with the printer will guide you through putting your 3D printer together quickly and easily. Before you know it, your 3D printer will be up and ready to starting printing!
Design
You're not going to get anything fancy with this 3D printer. It looks a lot like any other budget option you might find on the market. It's not going to blow you away, but it will get the job done. There is no front drawer on the device and the unit's screen is set to landscape mode.
Printing volume
The Aquila 3D printer offers a 220 x 220 x 250 printing volume. This is what you might expect with a mid-tier printer, which is big enough for the majority of the items you'll print. The printer bed runs on four V-slot wheels, which you can use to connect the aluminum extrusion. Once that's done, the bed will be much more stable when you start printing.
Printing surface
You'll notice a textured glass printing surface that resides over the aluminum heated bed. This type of surface offers good adhesion once the printer heats up. Plus, when the printing job is done, you can quickly and easily remove the printed model once it cools off.
The printer's surface is held in place with two metal clips, which lets you remove the glass if you need to. This is a handy feature for cleaning up after print jobs. One item to note is that the Aquila does not have insulation material beneath the printing bed.
Power supply
With your Aquila 3D printer comes a Mean Well 350 watt power supply. This is a high-quality power supply, which means you're not likely to run into problems in the future and have to replace it. One thing to keep in mind when using the printer is that the power supply does produce some noise, which is noticeable when the Aquila is heating up.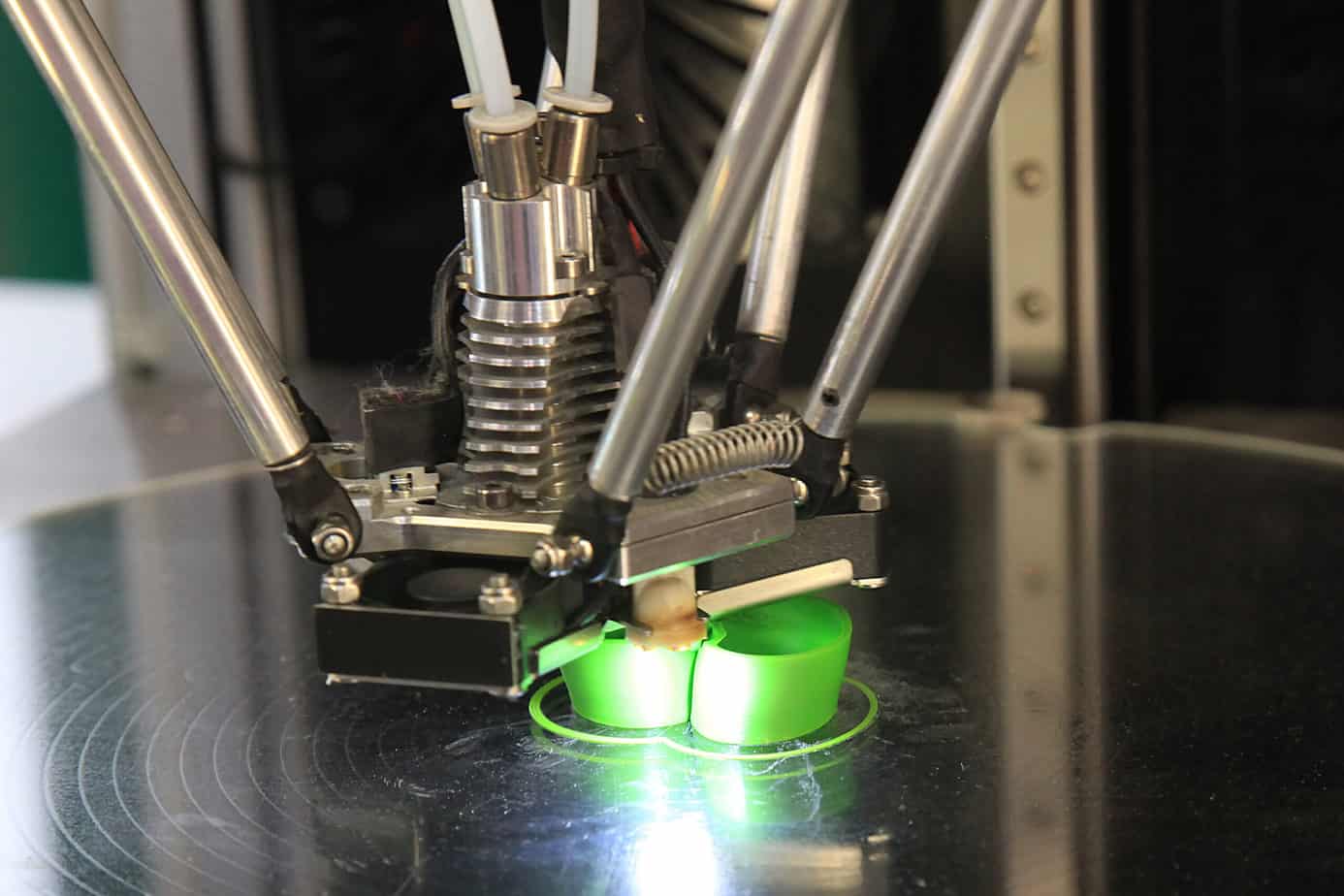 Color screen
One of the coolest features about the Aquila printer is that you'll get a nice, color TFT screen with the unit. The screen has a white user interface with red accents. Unfortunately, it's not a touchscreen, so you'll have to use the hardware buttons to navigate through the menu. The screen is responsive and fast, which is nice to see since the printer doesn't offer many advanced options or additional features.
PTFE hotend
Voxelab offers a Creality style hotend with its printer, where the PTFE tube enters the nozzle. The hotend is one of the cheaper models on the market, which is to be expected with a 3D printer at this price point.
The good news is that it works very well with PLA, but if you start printing at more than 240 degrees Celsius for long periods of time, you'll start to notice degradation in the tube and a foul stench in the air.
Additionally, you can upgrade the hotend in the future if you plan on doing a lot of printing at higher temperatures. This is handy if you don't want to have to regularly troubleshoot issues with your hotend.
Belt tensioners
As expected, the Aquila 3D printer comes with X and Y-axis belt tensioners. This is something you'll find on newer printers, which is why it's no surprise to find it on the Voxelab Aquila offering. Bear in mind that you don't want to overtighten the tensioners because you may wind up with degraded print quality.
Plastic extruder
You'll get a single-gear plastic extruder with the Aquila 3D printer, which serves its purpose. It would be nice to have a metal extruder, but plastic is what you get with the Voxelab unit. The spool holder resides at the top of the Aquila printer, which makes the filament path a little challenging. But, the plastic extruder does have a metallic insert, which protects it from any filament grinding into the body of the extruder itself.
Firmware updates
Many 3D printers that fall into this budget come with default firmware on the device. Most 3D printer manufacturers simply don't offer firmware updates since they don't view it as a worthwhile investment. Voxelab, on the other hand, offers a way to update your firmware via pre-compiled packages which you can download from their website.
Heating Time
For the most part, the hotend and the heat bed of the Voxelab Aquila 3D printer heat fairly quickly. You're not going to stand around for a long time and wait for the unit to reach the right temperature. The hotend gets to 200 degrees Celsius in about a minute and a half and about a minute later reaches 250 degrees Celsius.
The heat bed takes a little longer to warm up. You'll reach 60 degrees Celsius in just under three minutes, however, it takes right at nine minutes for the unit to get to the 100 degrees Celsius mark.
Power Consumption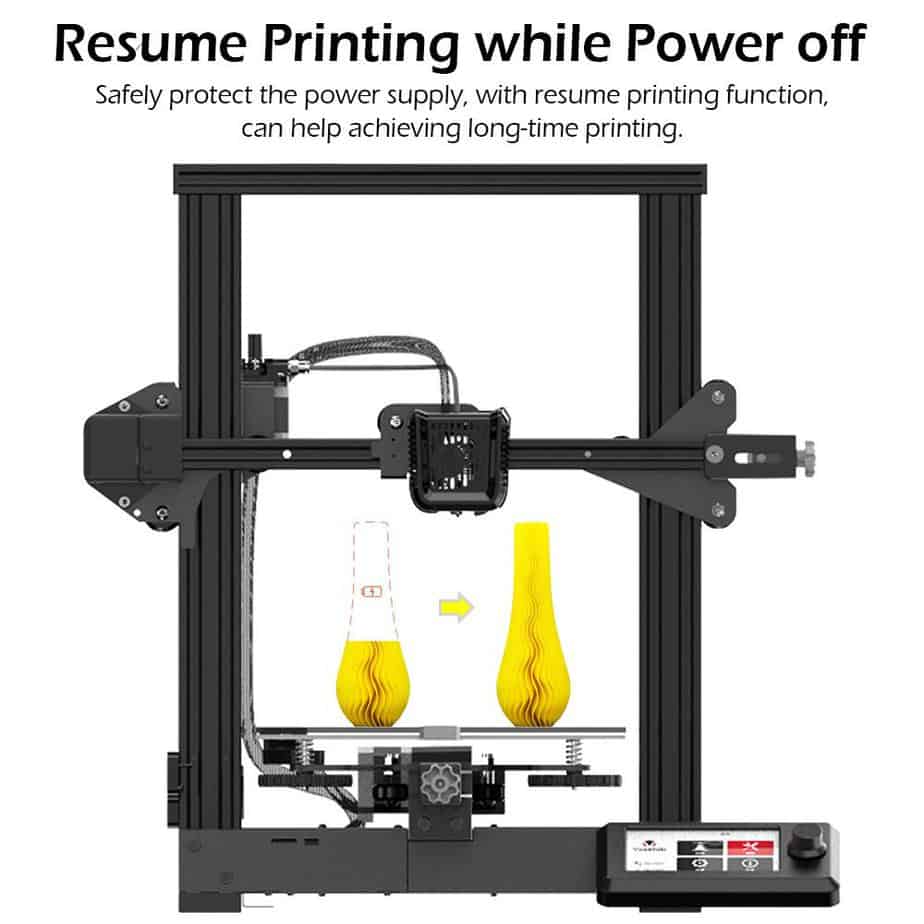 When your Voxelab Aquila 3D printer is sitting idle, it will draw around 9 watts. When it's heating up, the wattage bumps up to 240W, which then levels off to around 90W once the print job starts.
Noise
In regard to printer movement, the Aquila is actually a fairly quiet unit. However, that benefit is offset by the fans on the device. The printer's hotend fans create a lot of noise. Take that and the noise from the power supply when it gets going and you have quite a bit of racket. It's not unbearable, but it's not quiet either.
Specs
| | |
| --- | --- |
| Print Volume | 220 x 220 x 250 mm |
| Screen | 3.5-inch screen |
| Power | 350 Watts |
| Print Resolution | 0.2 mm |
| Layer Resolution | 0.1-0.4 mm |
| Filament Types Supported | ABS, PETG, PLA |
| Extruder Number | 1 |
| Extruder Diameter | 0.4 mm |
| Filament Sensor | No |
| Print Speed | 30-60 mm/s |
| Running Noise | 50 dB |
| Maximum Extruder Temperature | 250-degrees Celsius |
| Maximum Platform Temperature | 100-degree Celsius |
| Software | Cura/Simplify3D/VoxelMaker |
| Working Mode | Online printing or memory card printing |
| Resume Printing Functionality | Yes |
| Input Type | 3mf/bmp/fpp/jpg/jpeg/obj/png/stl |
V
oxelab Aquila 3d Printer

Alternatives

If the Voxelab Aquila 3D printer doesn't sound like it's going to meet your needs, there are plenty of options available on the market. Here are a few alternatives you might consider:

One of the best do-it-yourself 3D printer kits at this price point is the Ender 3. This printer offers a starting price of below $200, so it's not going to put much of a dent in your wallet. The Ender 3 is one of the most affordable 3D printer kits available. There are several assembled parts included with the kit, so you'll only need to set aside a few hours to get it put together.
Plus, an upgraded extruder aids in reducing the risk of plugs, and it only takes a few minutes for the heat bed to reach a nice, hot temperature of 110-degrees Celsius. If you need a large printing area, don't worry, Creality also has a CR 10 option, which is another popular do-it-yourself 3D printer on the market.
The latest offering of the Tarantula 3D do-it-yourself kit is the Tarantula Pro. Known for being both robust and easy to use, the Tarantula Pro offers a build volume of 235 x 235 x 250 mm. Plus, it works with a wide variety of filaments, including ABS, PVA, PLA, and WOOD.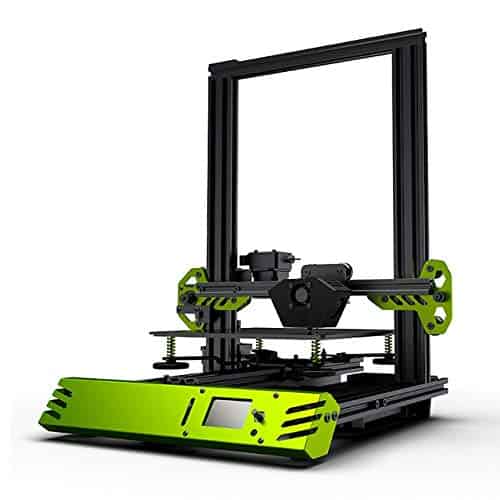 This unit comes with an LCD screen, which allows users to quickly and easily navigate the device menu. The Tarantula Pro has a layer resolution of 0.5-0.35mm. Additionally, the unit's extruder is a volcano extruder, so you don't have to worry about overheating very often. While the Tarantula Pro does run over $200, it's one of the better do-it-yourself printers available.
Buy Tevo Tarantula Pro 3D Printer Kit | 3D Printers Online Store
The TEVO Tarantula is the 1ST DIY kit 3D printer from the Chinese manufacturer TEVO. It has a construction volume of 200x 200x 200 mm and can be used with a variety of different filaments ranging from PLA, TPU, PETG, ABS, and many more.
Check Price
We earn a commission if you click this link and make a purchase at no additional cost to you.
Chinese manufacturer Anet offers its A8 3D printer, which is its latest do-it-yourself printer kit. The 3D printer makes use of FDM technology, along with a Cartesian FDM head that supports both PLA and ABS filaments. With a build volume of 220 x 220 x 240 mm, you should have no trouble printing most of your objects.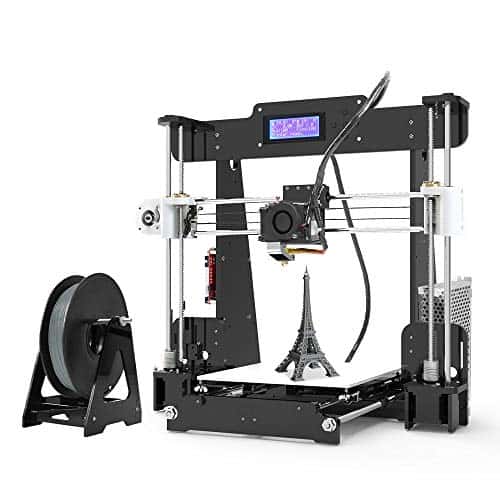 The heat bed reaches a high temperature of 100-degrees Celsius, which is about par for this type of device. Additionally, the unit comes with an LCD screen, providing the user with a better experience, along with the ability to quickly navigate through the A8's menu. With a starting price of under $200, the Anet A8 is one of the most accessible 3D printers on the market.
FAQs
These are some of the more commonly asked questions about 3D printers:
Question: Is It more affordable to build your own 3D printer?
Answer: For the most part, it's going to be cheaper to build your own 3D printer rather than purchase an already assembled unit. While there are exceptions, most users will see significant cost savings if they choose to assemble their 3D printer from scratch.
Question: What is the typical life expectancy of a 3D printer?
Answer: With proper care and maintenance, a 3D printer should last you between 5 and 10 years. Of course, the life expectancy of your unit will vary based upon how well you maintain the device and how much you use it.
Question: How much electricity will my 3D printer use?
Answer: A typical 3D printer uses 50 watts of electricity per hour. However, with 3D printers, you're going to need much more power since they print non-stop for longer periods of time. As a result, you're going to see a much larger electric bill. Most 3D printers require 120 volts of power, so don't be surprised when your power bill arrives in the mail.
Is the Voxelab Aquila 3D Printer Right for You?
The Voxelab Aquila printer is a great option for anyone who wants to save some money while getting their feet wet with 3D printing. Its specs aren't going to blow you away, but the unit gets the job done for 3D printing hobbyists or beginners. The screen interface is nice, as is the ability to update the firmware.
It's also nice that the unit is calibrated straight out of the box, so you don't have to mess with a lot of additional setups. No, the printer isn't perfect, but it does have a lot going for it, especially since it's available for under $200. At that price point, the Aquila 3D printer is a great purchase. If you don't mind tinkering a little bit with technical devices, the Voxelab Aquila 3D printer is a solid investment.
Voxelab Aquila 3D Printer | Amazon
Aquila is a straight forward BD printer based on open source technology. It allows for flexible upgrades and various modifications. Meanwhile, you are able to choose your favorite software as VoxelMaker, Cura and more.
Buy at Amazon.com
We earn a commission if you click this link and make a purchase at no additional cost to you.
01/22/2022 12:14 am GMT