Build volumes pretty much dictate how big a 3D model you can print with a 3D printer. Bigger build volumes mean that you can print objects that can cover a bigger area, or if you need to put it together into one bigger object, you'd need to have less moving parts.
What's more, if you're currently using a mini printer, having access to one that has a bigger build volume means that you can print your current models on a larger scale with more details.
Usually, when you see a 3D printer that has a large build volume, you assume that it's expensive. Not the Anycubic Predator. This Delta-style printer has a sizable build volume and a frame that's made with quality materials but with a price tag that you will certainly love.
What are the things that you should know about this Anycubic 3D printer? Are there some downsides to owning an Anycubic Predator? Are there any alternatives that you can consider? Further, should you buy the Anycubic Predator? Read on and find out.
Great Pick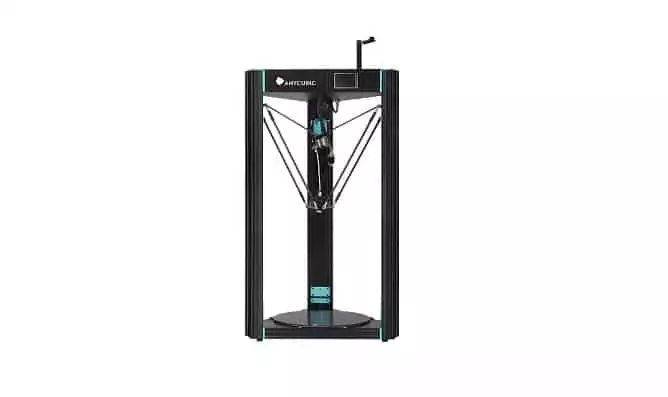 A do-it-yourself 3D printer kit, the Anycubic Predator is made with solid metal, making it very durable. The frame is also very stable so you don't have to worry about the 3D printer shaking too much when in use.
The Anycubic Predator has a build volume of 14.6 by 14.6 by 17.9 inches (370 by 370 by 455 millimeters), which is larger than most 3D printers out there. It has a layer resolution of anywhere from 0.05 to 0.3 millimeters and positioning accuracy of 0.0125 millimeters on all three axes.
What's more, it can use any PLA, ABS, HIPS, wood filled, or TPU filaments that have diameters of 0.4 to 1.75 millimeters. Print speed range from 20 to 150 mm per second (0.79 to 5.9 inches per second).
The Predator comes with an auto leveler that keeps track of 37 points. Plus it can do real-time adjustments, without you having to do anything. The nozzle height is also automatically adjusted in real-time. Other features of the Predator include:
Ultrabase Pro: The print bed, which can hold the models in place but still be easily removed. The bed is very durable.
Filament sensor: Can alert you when filaments run out or when they break.
Touch display: Operate your printer with ease with the full-color control panel with its intuitive user interface.
Resume: The printer can resume printing after it's been interrupted by a power trip. You don't have to worry about wasted prints that take a long time to finish.
What's in the Box
The good news is that Anycubic has included everything you need to print and maintain your printer in the box, including the:
10 screws
Card reader
Gloves
PLA filament
Plier
Scraper
SD card
Toolset
Tweezers
USB cables
User manual
That means that you can assemble your printer the moment it arrives, and then print your first model shortly thereafter.
What You Would Like About the Anycubic Predator
The Anycubic Predator is a well-built, sturdy, and stable 3D printer that feels rock solid. It does not rock when printing and the extrusions are quite uniform and work as they should. The hardware you see here is excellent, made with quality materials.
What Can Be Better
Some users complain about the Ultrabase Pro because the objects being printed don't really adhere to the print bed. A good workaround is to use regular school glue before you print anything. You will also need to let the print bed cool off before you remove the print to avoid damaging it. You should not even try to remove it using the scraper that comes with the package.
What some people do not like is that the firmware is not open source. This means that you will not be able to tinker with it, or you might have a challenge doing so.
The biggest tradeoff, however, is the lack of support. If you need to buy parts for your Predator, you might find that the customer service is not that responsive. They do not provide shipping updates, tracking numbers, or general feedback for your purchase.
Also, this printer is huge at 22.8 by 20.5 by 40.2 inches (580 by 520 by 1,020 millimeters). You will really need to find a place for it on your worktable.
Anycubic Predator: The Bottom Line
The Anycubic Predator is an excellent printer with all the great technologies you will expect to find in a more expensive model. It's also perfect for those who like to tinker with their 3D printers because you will need to assemble it and then twiddle with it to make it better. It uses sturdy and durable materials, offers a sizable print volume, and print quality is okay.
It is, however, bogged by the lack of customer service. That is, it's a good printer until you need to have some parts replaced.
Great Pick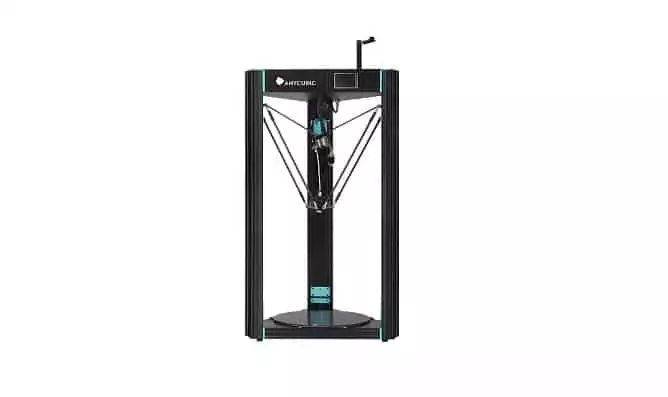 Anycubic Predator Alternatives & Competitors
If you're looking for a budget 3D printer that doesn't scrimp on the quality, the Anycubic Predator can be the right choice for you. But it's not the only affordable printer out there that offers a huge build volume, excellent prints, and an attractively low price tag.
The Geeetech A20M 3D Printer is a 3D printer kit that has an aluminum alloy body and uses a Bowden extruder. Assembly is quite easy, especially if you have another person to help you.
Perhaps, the biggest feature that will intrigue you is the mix-color feature. The A20M has two slots for two different filaments, but it uses only one nozzle. This means that you can blend colors while printing.
You can easily achieve color gradation or having the spectrum effect, using the slow transition from one color to another. You can also have the printer print in the two colors without blending it, making it seem like you've changed the filament midway.
What You'd Like About the Geeetech A29M
If you assemble this 3D printer right, you will probably have no problems with it. It's very stable, and the materials used are durable. It has a high-quality look that makes it more expensive than its price tag.
The color mix feature is a good addition as well. What's more, the electronics are at the bottom, which makes the printer even more stable.
What Can Be Better
Some users might find it difficult to level the bed, as it can wobble too much if not installed properly. Also, the user interface is not that intuitive. For some reason, the company didn't include a touch display, so you have to tweak the setting using a dial.
Having to turn the dial is a departure from the tap and click type of interaction that we're all used to by now. Plus, it might not be easy to find the features that you need.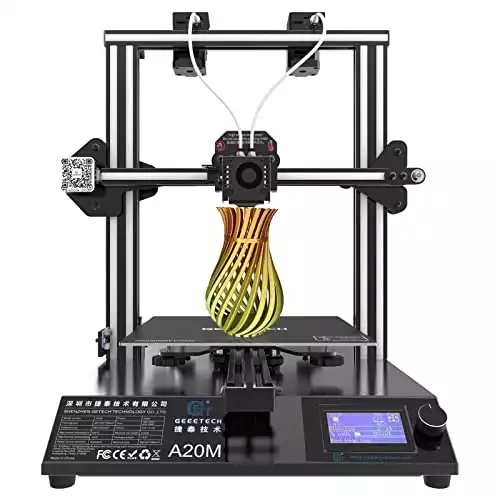 Geeetech Upgrade A20M 3D Printer | Amazon
Geeetech A20M 3D printer delivers mix-color objects and greatly enriches your 3D printing life. Keeping the good performance of Geeetech 3D printers, it aims to provide users with quality printout and good printing experience.
Buy at Amazon.com
We earn a commission if you click this link and make a purchase at no additional cost to you.
Geeetech A20M: The Bottom Line
Compared to Anycubic Predator, the Geeetech A20M has a smaller footprint at 17.4 by 17.6 by 18.9 inches (442 by 447 by 480 millimeters), still bigger than your regular desktop FDM printer. It also has a smaller build volume at 10 by 10 by 10 inches (255 millimeters all around).
However, it is also cheaper than the Predator and delivers pretty much similar print quality.
Barring some mechanical issues such as having loose or tight adjustments to the print bed, the Geeetech A20M is an affordable 3D printer kit that does a good job overall.
Pros
Sizable build volume
Print quality is fine and detailed
Can support two filaments with color mix features
Affordable
Cons
If not properly installed, the base can be wobbly
The Artillery Sidewinder X1 comes from a new company that started offering 3D printers in late 2018. That's both a good and a bad thing. To be honest, the company's first products received a lot of bad feedback. But the nice thing about Artillery is that they took these feedbacks and incorporated changes into their later products.
The Sidewinder X1 features some nifty features such as a silent set of fans and the equally noiseless motherboard. It also has a heated bed and a direct drive system. It boasts of a build volume that measures 11.8 by 11.8 by 15.7 inches (300 by 300 by 400 millimeters) on a body that measures 21.7 by 15.9 by 25.2 inches (550 by 405 by 640 millimeters).
The chassis is very sturdy and durable. And it looks great as well. One of the notable design differences that the Sidewinder X1 has is the use of ribbon cables. The ribbon cables reduce the cluttered look of loose cables used by similar printers.
The heated print bed is made with a porous ceramic that is covered by a glass protector. It only takes about 45 seconds to heat the bed to 140 degrees Fahrenheit (60 degrees Celcius).
What You Would Like About the Artillery Sidewinder X1
The Artillery Sidewinder X1 is a budget printer that doesn't look or work like one. It has quality materials that make up the sturdy frame and a fast-heating print bed.
What's more, it features a direct drive setup that is rare if you consider its price range. The user interface is intuitive and the 3.5-inch (89 millimeters) touch display is easy to see. Installation and setup is a breeze and fast.
What You Might Not Like About the Artillery Sidewinder X1
One of the things that this 3D printer lacks is the sensors that will allow you to automatically level the bed. Instead, you have to do some manually leveling.
There are also concerns about the durability of some of the printer's components. For instance, you might find that the ribbon cables can break over time. What's more, the printer does wobble when you print something tall using certain filaments.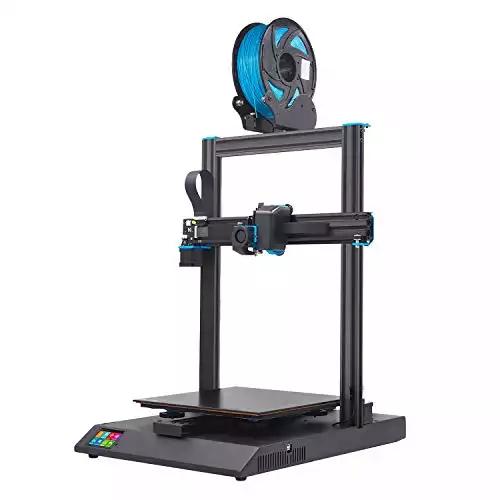 Should You Choose This Printer over the Anycubic Predator?
There are some things that the Sidewinder X1 has that you cannot find in other affordable Cartesian 3D printer. It's refreshing to see a direct drive extruder as well as a directly heated print bed on a budget device. It has a sleek look and can work quietly, while also delivering a decent quality for your prints.
Compared to the Anycubic Predator, this printer has a smaller build volume. Plus, you will probably need to fiddle with the settings a bit to get the best quality prints out of this device. The Sidewinder X1 is also more affordable than the Predator.
Pros
Well-designed and sleek-looking
It heats up quickly allowing you to start printing in a matter of seconds
Silent worker
The helpful online user community
Cons
The filament holder needs to be replaced
Uneven heat
The Qidi Tech X Plus is yet one of those budget printers that aims to surprise you with quality prints. You can get layers that are as thin as 50 microns. you can also use a wide assortment of filaments.
The Qidi Tech X Plus has two extruders, filament compartments, and a double-sided bed. These accessories allow you to easily change out the various components so you can get the perfect prints depending on your preferred filament.
What's more, it gives you several options on how to connect Wi-Fi, tethered and untethered USB, and Ethernet. The build volume for the Qidi Tech X Plus is the smallest out of this bunch, measuring only 7.9 by 7.9 by 10.6 inches (200.7 by 200.7 by 269.2 millimeters).
What You Would Like About the Qidi Tech X Plus
There are a lot of nifty features on this printer that you will like. There's the two-extruder setup, where you can use the A Extruder for general printing materials such as TPU, ABS, or PLA. There's also the B Extruder for special filaments such as carbon fiber, PC, and nylon.
The difference lies in the maximum temperature that each extruder can get. The A Extruder can get as hot as 500 degrees Fahrenheit (260 degrees Celsius) while the second extruder can get as hot as 572 degrees Fahrenheit (300 degrees Celsius)
It also has a dual-sided print bed that can handle different sets of materials as well. There are two filament holders as well.
Plus, unlike other printers in this roundup, the Qidi Tech X Plus arrives fully assembled, so you don't have to worry about screwing things together and all that. It's also fully enclosed, so noise levels are kept at a very quiet 40 decibels.
What You Might Not Like About the Qidi Tech X Plus
Qidi Tech has a language barrier problem in that they seem to be struggling to find English speakers and writers who can write their instructions pretty well. The instructions included in the package are confusing and some steps are missing, making it difficult to follow.
Even their customer service and website can be quite confusing. Thankfully, the QiDi Tech X Plus is easily assembled following what you can understand in the manual.
Also, some online tutorials and forums can help you figure things out if you're stuck.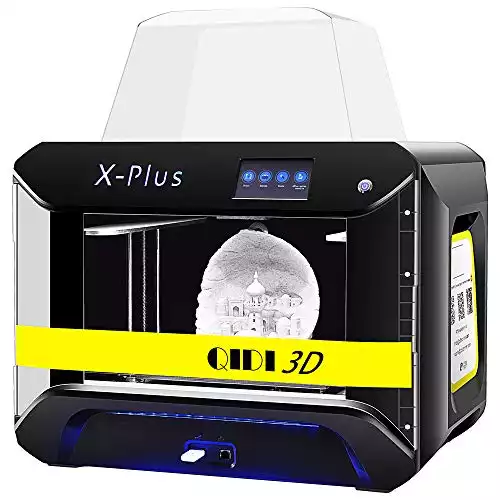 QIDI TECH X-Plus 3D Printer | Amazon
The QIDI TECH X-plus combines all the features you want in a 3D printer like quiet printing, air purification, Wi-Fi connection, one button quick leveling, breakpoint printing, etc.
Buy at Amazon.com
We earn a commission if you click this link and make a purchase at no additional cost to you.
02/02/2023 03:07 pm GMT
Qidi Tech X Plus: The Bottom Line
When it comes to budget printers, Qidi Tech X Plus shows you that you can save money and still expect quality prints. This 3D printer makes it easier for you to work with a wide variety of filaments without having to go through the trouble of manually changing out the print bed and extruders.
What's more, there's no assembly required, so you can start printing once you get it out of the box.
Pros
You can use a wide range of filaments
Easy to set up and use
Good quality prints
Cons
Badly written documentation and customer service representatives can use English lessons
FAQs
1. What is an extruder?
The extruder is one of the most important components of 3D printers. The extruder pushes the filament to the hot end where it is melted.
2. What is the difference between a direct extruder and a Bowden extruder?
A direct extruder is one that is attached to the hot end itself. It's part of the print head and delivers the filament straight to the hot end.
Because the filament travels for a short distance, direct extruders have better extrusion and retraction and the filament is more responsive to it. It also doesn't take too much power from the stepper motor. Further, direct extruders work with more filaments, even the abrasive and flexible ones.
A Bowden extruder, on the other hand, is not attached to the print head, but someplace else, usually the printer body. It uses a tube to deliver the filament to the hot end.
Because of this, the print head is much lighter, more accurate, and faster because it doesn't carry the additional weight of the extruder. Products that use a Bowden extruder tend to have higher quality or faster prints.
3. Do you need an auto-leveling 3D printer?
Making sure that the print bed is level is one of the key considerations when you work with a 3D printer. You can do this manually, or you can rely on a printer's automatic leveling capabilities to do the job for you.
Auto leveling uses sensors attached to the print head to check several points on the bed. It will then send this information to the printer's computer so that it could adjust the nozzles as it works.
As such, it makes your life a whole lot easier, and your 3D printing jobs a whole lot faster. It's also a must for beginners who may not have an idea on how to level the printing beds.
4. What are Delta and Cartesian 3D printers?
A Cartesian-style printer uses the Cartesian coordinate system. A Cartesian printer moves linearly on both X and Y axes. They can move:
– Up and down
– Front to back
– Left to right
Cartesian printers can have moving parts that are inordinately heavy and can shake your printer strongly enough to dislodge prints from the bed. It can sometimes lead to inaccurate prints.
It's also close to impossible for Cartesian printers to change directions in an instant. However, Cartesian printers do shine with horizontal prints and are easier to understand. It's also user friendly and cheaper than Delta printers in general.
Delta Printers
Delta printers, for its part, have three arms that can go from one point to another but also change the angles as it moves. Delta printers are much lighter than Cartesian mechanisms, which helps make it responsive to changes in angles and directions.
Delta printers use fewer parts, so there's less chance that it will break down, but it takes up too much space as well. Delta printers are also more lightweight than a similar Cartesian printer and it's very easy to upgrade or maintain. It also allows for fast and accurate printing.
Should You Buy the Anycubic Predator?
For its price, the Anycubic Predator is surprisingly an excellent printer that delivers finely detailed prints and has a huge build size. You can use this 3D printer for bigger models. It's very stable and the construction is solid.
There are competitors for the Anycubic Predator, but it wins in one way or another that makes this printer very easy to recommend. For instance, the Sidewinder X1 can give the Predator a run for its money, but it doesn't have automatic bed leveling.
The Qidi Tech X Plus is better suited for semi-professional print jobs, but it's more expensive than the Predator and has a smaller build volume. Meanwhile, the Geeetech A20M has a more affordable price tag, but also a smaller build volume.
Great Pick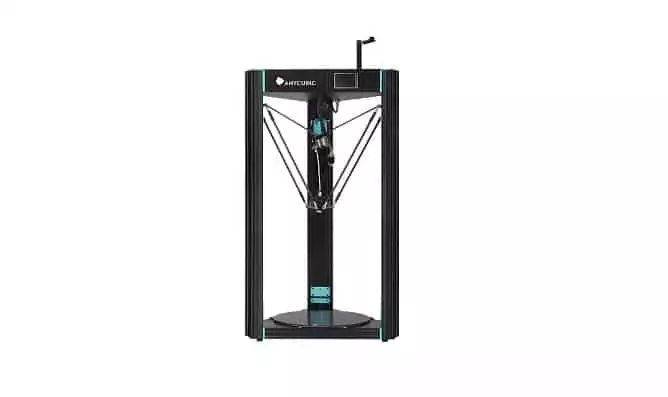 Further Reading on Anycubic 3D Printers & Competitors: