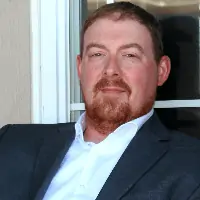 Latest posts by Justin Caldwell
(see all)
3D printing is a relatively new technology, and technology can be pricey.
If you're looking for a 3D printer that won't break the bank, you may want to check out the ADIMLab 3D Printer. You'll find it easy to set up, easy to use, and great for all experience levels, even beginners. ADIMLab also has excellent customer service in case you encounter any problems.
While some users did have problems with the temperature controls, a quick call to customer service resolves the issue, and you're on to enjoying your new machine. Read on to find out for yourself whether the ADIMLab 3D Printer is the right purchase for you.
ADIMlab Gantry 3D Printer Operations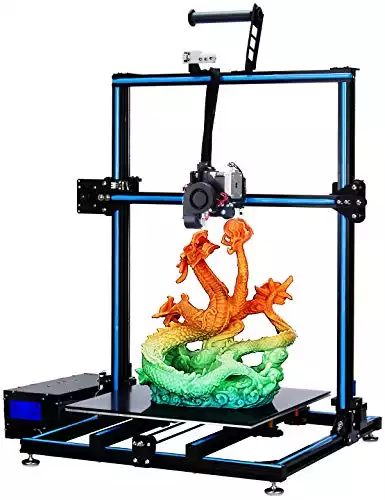 The ADIMLab 3D Printer comes pre-assembled, but after you unbox it, you do have to mount the frame onto the base with the screws provided. Attach the brackets to either side of the base, hook up the control box, and connect the wires, which are all labeled. It's quick and easy and doesn't require much extra work.
The only thing left to do is plug it in and make sure the bed is level. The printer must be hot to level it, so using the control box, set the temperature and then raise and lower the unit until it is level and the filament extruder nozzle can easily connect with it.
It sounds complicated, but the instructions provided are clear. You're now ready to design objects and send them to the printer. Using the correct software, splice the object, set the temperature accordingly, insert the filament, and away you go! Adding glue to the glass plate will help the filament stick.
Because the ADIMLab Printer can accommodate larger designs, it's an excellent choice for those who want to make large objects. In turn, the machine is large and requires extra space, but if you have the extra space, you have more opportunities to take on a variety of projects.
The ADIMLab 3D Printer is faster than most other 3D printers, and while larger projects take longer to complete, the print speed is impressive for a printer in this price range. You don't have to shell out extra hundreds to get speed and quality.
ADIMLab Gantry i3 3D Printer Features and Accessories
The ADIMLab 3D Printer comes with almost everything you need to get started. Aside from the software for object creation, all of the tools are found in the box.
Print Bed
The glass heating bed included in the ADIMLab 3D Printer can hold objects up to 310mm x 310mm x 410mm. There's plenty of room for any object you want to create up to this size. The glue helps your base filament adhere and remain secure throughout the printing job so you can easily remove it when it's done.
Temperature
The temperature of the bed is controlled by the temperature control unit and ranges from 0 to 100 degrees Celsius while the extruder temperature ranges from 0 to 260 degrees Celsius. Your ideal temperature will depend on your project and the type of filament you use, but the range is large enough that you have the freedom to create almost anything you want with the settings you need.
ADIMLab Filament Compatibility
With the ADIMLab 3D Printer, you can choose the type of filament you want because it allows you to pick from wood, PLA filament, flexible PLA, ABS filament, HIPS, TPE, and PC. Some 3D printers are only compatible with PLA, so this extended compatibility offers almost no limitations between projects.
Aluminum Frame
While some 3D printers are made of flimsy materials, the ADIMLab 3D Printer is made of sturdy aluminum almost entirely. It won't break or chip, and it will last more than a few projects. 3D printers aren't cheap, so having one that lasts is a huge benefit.
Nozzle Light
There aren't very many 3D printers on the market that have a light on the nozzle. With a light, you can track your nozzle's progress and see issues with printing more easily so you can fix them before your project is ruined. This comes in handy if you are printing in a poorly-lit area or at night.
Motor Silencer
While other 3D printers can be loud, the ADIMLab 3D printer comes with a motor silencer, which only enhances your experience. It's a creative solution to the problem that so many users have expressed. You can be respectful to your neighbors and roommates, or you can bring it to the classroom and teach over the noise.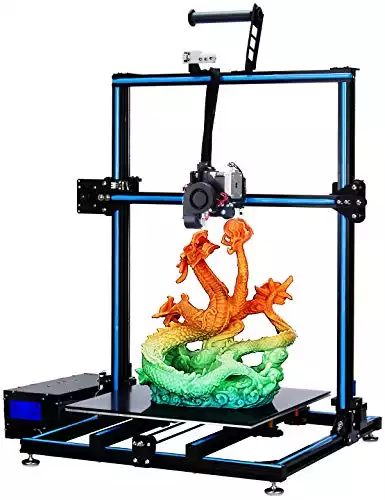 Accessories for the ADIMLab Gantry 3D Printer include:
Heated print bed
3D printing bed glass
A 3D printer control box
Three-inch LCD display
4G SD card
PLA filaments for testing
Filament holder (filament spool)
Screwdriver
Allen wrench
Model blade
Cable ties (for power supply and USB cable)
Instructions
ADIMlab 3D Printer Set Up
We already reviewed the small amount of assembly required, but it's easy and straightforward. Leveling the bed can take some time and may be painful if you've never done it before, but the instructions are complete and helpful.
The box contains all of the tools you need to get set up and everything is labeled to avoid confusion. It even includes pre-set screws to make the process go more smoothly. Once it's set up, you don't have to wait. You can start printing immediately. It's great for beginners who want to start learning right away.
Construction
The ADIMLab 3D Printer is incredibly sturdy and durable. The frame is solid and not flimsy like some other 3D printers. The aluminum plate and glass bed hold up well when used every day and they don't scratch or break easily.
The control box is made of quality and long-lasting materials, and because the printer itself is made of mostly metal, you won't have to deal with damaged parts or fractures. Most of the cables and other pieces include their own protection so your printer will last a long time.
Experience
Even beginners can use the ADIMLab 3D Printer because it's easy to set up and operate. The comprehensive instructions allow you to learn and grow with the printer because you don't need expert skills to develop your own projects.
Experts even enjoy this 3D printer because it allows you to easily create the projects you want without having to mess with a machine that takes a lot of set up, is flimsy or unreliable, and is difficult to use.
Customer Service
ADIMLab's customer service is quick to respond to your questions, concerns, or problems. The representatives are helpful and knowledgeable. They can help you troubleshoot over the phone or arrange for a replacement.
The 1-year limited warranty gives you peace of mind and protects you from damages that come from the manufacturing process. If there's something wrong, you can contact customer service and they'll either repair or replace the machine.
It gives users great comfort to know that a company has their back, and with ADIMLab, they'll fix anything they do wrong, so you're always satisfied with the product and its operations.
ADIMlab Gantry Pro Value
For comparable printers with the same printing speed, quality, and accessories, you will pay much more than the ADIMLab 3D Printer. Because this 3D printer is easy on your pocketbook, you will have money left over in the budget or making all of your projects (note: we specifically tested the Gantry version here).
There are 3D printers on the market with cheaper price tags, but they're not nearly as fast, reliable, durable, or easy to use. Even beginners can spring for this unit because they'll learn more quickly and the experience will be painless.
Because everything you need is already included, getting set up and going is so much easier. Other cheaper printers are poor quality and get bad reviews online. Users are frustrated with their experience, but that's not the case with the ADIMLab 3D Printer. And because of the warranty, it's worth every penny.
Specifications
For those who care about the details, here are the exact specifications for the ADIMLab 3D Printer so you can start making room for your new favorite toy on the shelf:
Weight: 24.2 pounds
Dimensions: 23 inches x 25.2 inches x 8.7 inches
3D Print dimensions: 310mm x 310mm x 410mm
Filament types: Wood, PLA, flexible PLA, ABS, HIPS, TPE, and PC
Compatibility: PC, Mac, repetier-host, CURA
Warranty: One-year limited warranty
ADIMLab 3D Printer Pros and Cons
Pros:
Easy setup
Sturdy
Fast
Great for beginners
Great customer service
Affordable
Cons:
The Verdict: Adimlab 3D Printer Review
The ADIMLab 3D Printer is affordable and easy to use, even for beginners. It features high-quality construction and easy setup. With extra features like the nozzle light and the motor silencer, it's a fantastic value at this price range. While there are sometimes printing temperature issues with the bed, they are easily fixed by the warranty and don't tend to be a huge problem overall.
ADIMLab offers an impressive product with this 3D Printer. This isn't the first 3D printer they've developed, so they have experience in the development of these tools and have gained a lot of attention from hobbyists and professional users.
It's a popular brand that's well-known for its 3D printing products, and you can trust the manufacturer to create reliable printers at an affordable price. You can find ADIMLab 3D Printers and other products online and in select stores so you can get started with one of the best options on the market today.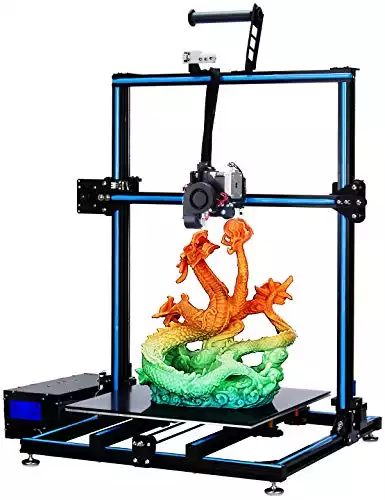 Recommended Reads