Latest posts by Justin Caldwell
(see all)
When you see the word "little" in Tevo's Little Monster 3D printer, you might think the company has produced a small or even portable 3D printer. However, the name is a little misleading as the Little Monster has one of the largest build volumes currently available. While this device isn't cheap, it is one of the more successful 3D printers on the market.
Even though Tevo's 3D printers are manufactured in China, they are still a company worth keeping an eye on. Over the past few years, Tevo has launched several very successful do-it-yourself 3D printers. One of these printers – the Little Monster – comes pre-assembled, which makes it's quick and easy to get started printing.
As a matter of fact, this 3D printer comes 80% assembled, which means you'll be up and printing just a few hours after it arrives at your doorstep.
Unboxing and Setup
When you're box arrives, the first thing you'll notice is that everything is neatly packed and firmly situated in styrofoam to prevent shifting and breaking of parts while the printer was in route. This means when you're reading to set up your Little Monster, you don't have to dig around in the box and wonder where every little piece is.
In the Box
The contents of the box include the following items:
A knock-off Smoothieboard (MKS SBASE) which has a customized Antclabs car calibration
An MKS TFT28 display with touch screen controls
A knock-off, pre-assembled E3D Titan flying extruder
Volcano nozzle with BLTouch sensing unit
An aluminum extrusion 4080 frame by Open builds
Light-weight arms weighing measuring 397 mm
Arm carriages which are pre-assembled
Spool holder
SD card and USB cable
A power supply that includes a strong state release
Necessary tools to complete assembly
Parts checklist, service booklet, and assembly guide
Hardware
The Tevo Little Monster comes with a knock-off E3D Titan flying extruder. This extruder includes a 0.4mm Volcano nozzle. It also includes a reproduction of the MKS SBASE Smoothieboard. Included in the structure are extrusion components made entirely of aluminum. There are also CNC components of excellent quality which help to offset the weight of aluminum plates added to the printer.
These aluminum plates add a total of 55 extra pounds to the table. Additionally, the board comes pre-wired and ready to go so you can easily identify all the cables and hardware while you're setting up the printer.
Flying Titan Extruder
This piece of the Little Monster 3D printer is extremely lightweight, which means you're able to print using broadband. With this piece of hardware, you can print a wide variety of products. One thing to remember when using your 3D printer, if you decide to use a versatile filament, you'll want to make you that you reduce the stress a little. This helps to ensure that you get fantastic results when using your Tevo Little Monster.
Assembly
Assembling your Little Monster 3D printer is simple and straightforward. Tevo provides those who purchase their 3D printer with a great booklet to guide you through the entire process. A 10-step setup guide tells you exactly what you need to do to get your printer put together.
Every step includes an in-depth image that explains exactly what you should be doing. If, however, you mistakenly misplace your instructions, you can always head on over to the Tevo site and download them there.
Printing
Once you've finished following the instructions on how to set up and assemble your new 3D printer, what else is there to do but print something? With the automated calibration features, you'll have no problems if anything looks out of place. It automatically senses when something needs to be changed, handling the problem instantly, so you don't have to.
Really the only thing you have to worry about is the z-offset in your slicer, but even that needs little adjusting after you start printing. Once you have everything ready to go, use your SD card to provide the blueprint to your 3D printer and let it do its thing. Ensure that everything looks right on the bed as the object comes to life. If necessary you can tweak the z-offset by going to Simplify3D -> Procedure Setup -> G-Code.
Features
The Little Monster offers a wide variety of features and abilities. Here's an idea of what you can expect to encounter as you use your 3D printer.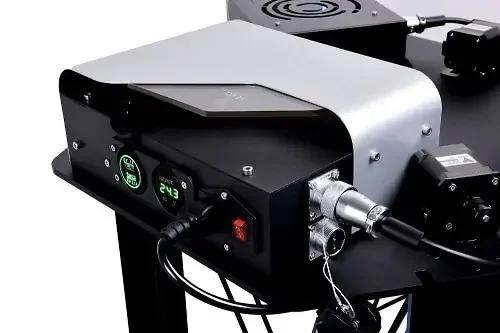 Delta Printer
Just as you'll find with many Delta printers, the actuating parts within the Little Monster printer are lightweight. That means the hotend has an easier time traveling, which results in getting a more accurate and quicker printing speed (nearly 300 mm/s). Additionally, Delta printers are ideal for creating taller objects.
Quick Assembly
Unlike other 3D printers in the Tevo line – the Tevo Black and the Tevo Tarantula – the Little Monster printer arrives almost completely pre-assembled. From the time you open the box to the time, you start printing should only take you a few hours. Once you've unwrapped all your necessary hardware, connected the cables, installed the extruder, fed in the filament, and downloaded the software, you'll be ready to get printing with your Little Monster 3D printer.
Large Build Capabilities
This printer is made for printing big objects. It's design, lightweight hardware, and ease of use make it even more appealing for those interested in entering the 3D printer world. It also doesn't hurt that the printer ranks in the middle of the pack when it comes to price.
Extruder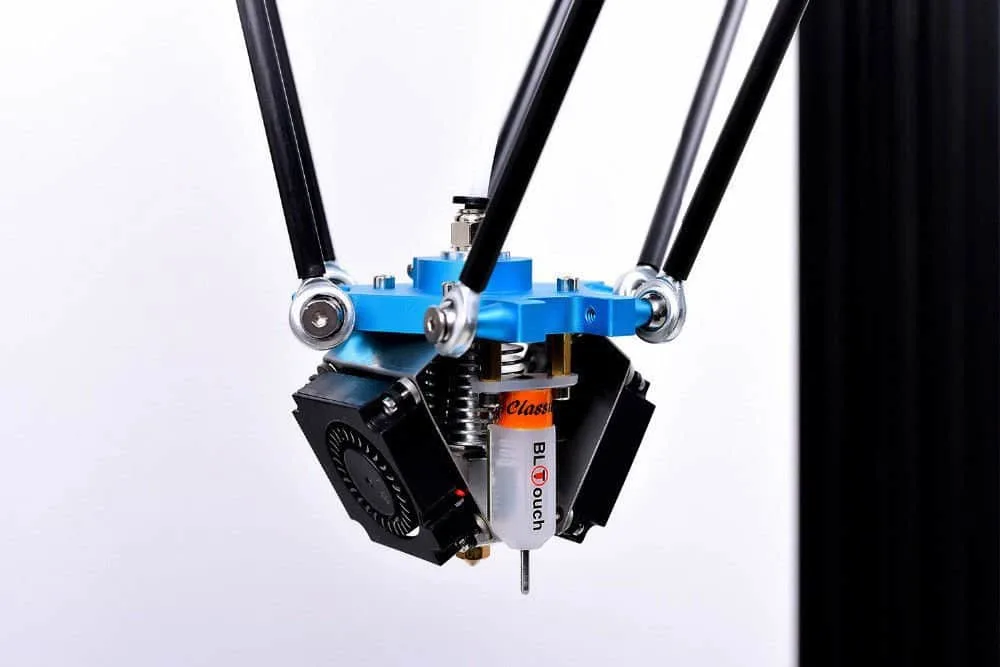 Upon opening up your Little Monster 3D printer, you'll also discover that the Extruder system arrives pre-assembled. All you have to do is wire it up. Everything included with the printer is clearly marked. The extruder is a replica of the E3D's Titan flying extruder mechanism which includes a Volcano nozzle. This is one of the most popular nozzles available on the market.
Due to a probe included with the printer, the Little Monster will auto-calibrate prior to printing each new object. That means you can rest easy knowing that your print bed is completely leveled before you start a new print job.
Excellent Components
The mechanical parts included with the Little Monster are made with laser cutting or CNC milled aluminum. As a result, you get excellent performance out of your 3D printer.
Heated Bed
The Little Monster's 3D printer bed has the ability to heat up quickly. In only a few minutes, you'll have a bed that sits at 140 degrees Fahrenheit. It can heat up so fast because it pulls its power through its AC plug-in. However, keep in mind that since the bed can heat up so quickly, the build place cannot be easily removed.
Hackable
The Little Monster 3D printer is very hackable. You can switch out the parts to give your printer even more functionality.
Things to Consider Before Buying
There are a few things you might want to consider before purchasing a Tevo Little Monster 3D Printer.
Needs Updating
While this might be an issue for some people, Tevo does what it can to make things as smooth as possible for its customers. The printing company gives its users two SD cards. One to use for pre-installed software and sample printing jobs, while the other one customers can use to update their Little Monster to the latest version.
The instructions provided with the printer are clear and concise, so you should have no problems following them. This is something you'll definitely want to do if you want better and improved prints.
Smoothieboard is Older
The Little Monster 3D printer operates on a clone of an open sourced Smoothieboard, which, unfortunately, is nearly six years old. Since that time, the board has gone through two revisions, which means that it's missing features that newer versions of the board have to offer.
Touch Screen Challenges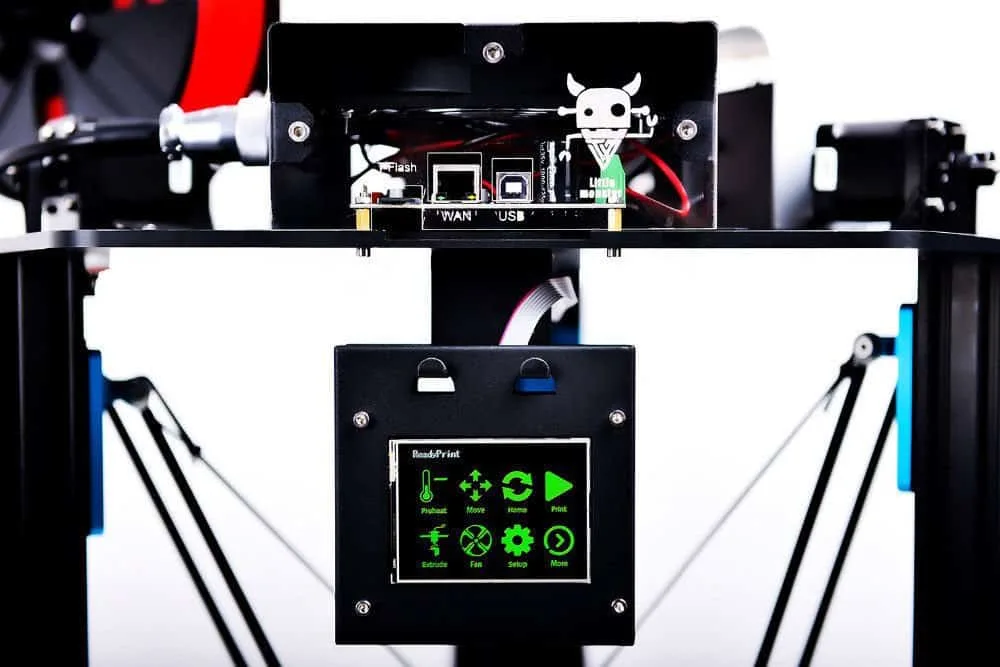 A responsive and fast touch screen interface controls the Little Monster printer. The problem is that the cable that attaches it to the printer is very short, which means it can be easily removed. Fortunately, there are replacement parts if you ever run into this type of problem.
Adhesives
When printing taller objects, you might want to consider have additional adhesives for your printer bed as they may come off while you're in the middle of a printing job. Of course, this isn't a problem inherent to only the Tevo Little Monster but is common in all 3D printers.
Specs
We all want to know exactly what we're getting before we make big purchases. With that in mind, here are the specifications for the Tevo Little Monster 3D Printer:
Layer Resolution: 0.05-0.4mm
Technology: Single Extruder System, Fused Deposition Modeling, Delta 3D Printer
Connectivity Options: USB, Micro SD card
Filament Diameter: 1.75
Printing Speed: 150mm/s
Build Volume: 340mm x 500mm
Nozzle Diameter: 0.4mm
Heated Bed: Yes
Input Rating: 110V/220V
Printing Dimensions: 455mm x 510mm x 412mm
Conclusion
With the Tevo Little Monster 3D Printer, you'll get a versatile printer with the ability to start printing quickly and easily. It has an easy to use touch screen interface and comes with software that is simple to install.
This is a great printer if you're a novice in the 3D printing field since it comes mostly assembled. That means all you have to do is connect a few wires, update the software, and start printing. The Little Monster offers a great experience for anyone interested in 3D printing. You'll get all the tools and instructions necessary to get started designing and printing your own 3D projects.
Recommended Reads