Latest posts by Jodie Chiffey
(see all)
In this Dremel Laser Cutter vs Glowforge comparison, we're going to explore the features of these two fantastic laser cutters to help you decide which one is best for you, either to use alongside your 3D printer or by itself.
These are both high quality, powerful laser cutters that can be used for a wide range of projects for home or small business use, hobbies, and crafting. So before you run out in search of a Dremel or Glowforge for sale, read on for an in depth guide to which deserves your attention.
We will look at both of these popular laser cutters, describing the features of each device, how user friendly they are, what they cost, and finally our recommendation for you.
Bottom Line Summary: This is a very close run race, but we recommend the Dremel. The key reasons are the intuitive, easy to use interface, the excellent attention to detail, and the additional built-in safety features. The touchscreen on the Dremel and the ability to operate with or without the internet are big positives, plus the more advanced cooling system.
Our Pick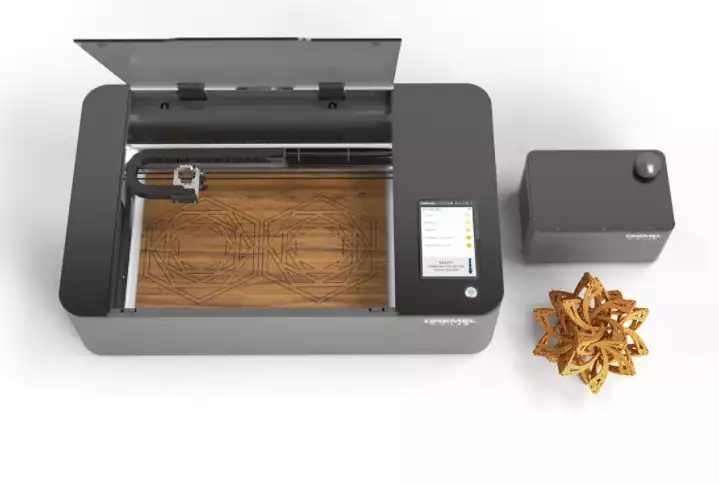 Main Differences Between Dremel vs Glowforge Laser Engraver

The main differences between Dremel vs Glowforge are:
Dremel is UL approved, whereas Glowforge is not.
Dremel is modular allowing easy replacement of the laser tube, whereas Glowforge requires to be sent off to the service team.
Dremel has a full-color touch screen, whereas Glowforge does not have any control screen on the device and must be managed through your computer.
Dremel's Digilab software is run from the laser cutter while offline, whereas Glowforge requires internet access.
Exploring Dremel and Glowforge features
We're focusing here on the features of the Dremel LC40 and the Glowforge Plus laser cutters.
Cutting
A laser cutter can be used for both cutting and engraving or etching. If you have a 3D printer already, you'll most likely be using your laser cutter to cut out flat shapes from various materials to use with the pieces you build with your 3D printer.
The Dremel LC40 laser cutter uses a 40W laser tube to cut a variety of materials. It works really well to cut a range of materials cleanly, such as wood cardboard, and acrylic. The result is a clean and very accurate cut.
The Glowforge Plus also uses a 40w laser to cut into objects. The Glowforge is able to engrave with 1000 DPI resolution, with a kerf size (the width of material removed in the cut) of 0.008" – 0.025".
Both have excellent feedback on their cutting, providing clear, accurate, and very detailed cuts. The Dremel outperforms the Glowforge in cutting speed, though they are both pretty good at this. A basic design can take as little as two to three minutes to engrave, while a detailed full-sheet engraving or cutting might take a couple of hours.
Cooling
It's no surprise that a cutter using a laser beam to burn through materials will get very hot, which is why they come with cooling systems.
You'll also need to keep them in a well-ventilated space as the material being burned can give off smoke or fumes too, so this is something to think about when you're deciding where to put your cutter.
The Dremel LC40 has something called the HexBox, an external box that will sit on the shelf below or above your laser cutter and recirculates cool water around the unit and through the laser tube, significantly reducing overheating and allowing the laser cutter to be used for longer periods.
The Glowforge Plus uses an internal closed-loop liquid cooling system using the ambient air drawn in from the room to remove the heat. While this does help save space, on a warm day or in a hotter climate, this can mean that cutting is paused to allow the unit to cool down. The system is designed for function between 60 and 75 degrees Fahrenheit.
Software
The software that your laser cutter uses turns images or designs into cutting or engraving. There are a few different types of software being used for this in different laser cutters and Dremel and Glowforge both use different ones.
The Dremel LC40 accesses the software through a web browser but runs from the laser cutter. This means that you don't need an internet connection to work the machine. The software interface is incredibly intuitive and also includes a library of materials with suggested cutting and engraving settings.
A really popular feature of this software is the grids, rulers, and snaps which help with placing designs easily and accurately. The Auto-Array function also automatically duplicates designs on the material. In addition, the LC40 keeps the last 30 jobs you did in its onboard memory so you can run them again from the touchscreen on the machine.
The Glowforge Plus software comes as a free app. The software is web-based so you do need an internet connection to start your print off, but it does work fine with slow connections and once you've started your print, you can continue offline. The software has a lot of preset functions and projects, and especially if you are using their Proofgrade™ materials which are tested and specially formulated for their machines.
Platforms
You'll want your laser cutter software to be compatible with all the different platforms and operating systems that you use. You would be disappointed if you bought a laser cutter and then found that it didn't work with your Mac!
Fortunately, both Dremel and Glowforge laser engraver software is compatible with almost any operating system from Windows, iOS, and Android.
Specifications for Dremel and Glowforge
| | |
| --- | --- |
| Dremel Laser Cutter | Glowforge Laser Cutter |
| Cooling: external water cooling system | Cooling: Built-in closed-loop water cooling |
| Software: Dremel software | Software: Glowforge cloud-based software |
| Beam Power: 40w | Beam Power: 45w |
| Tech: CO2 Laser tube | Tech: CO2 Laser tube |
Comparing Dremel and Glowforge pricing
As laser printer technology advances and becomes more accessible for small business and hobby users, the prices are gradually reducing.
Dremel LC40 Cost
The Dremel LC40 is slightly more expensive for the standard package. This includes the Hexbox, an external cooling system, and a one year warranty. You can purchase additional fans or ventilation units depending on your use and where it will be positioned.
Glowforge Cost
How much is Glowforge? The GlowforgePlus costs $3995 and is a little cheaper than the LC40. Other models available are the slightly cheaper Glowforge Basic at $2995 and the more expensive Glowforge Pro at $5995. For that price, you get the laser cutter, inbuilt cooling system, and one year of warranty. You can also purchase an additional air filter if you are unable to have the cutter next to an open window.
Dremel vs Glowforge ease of use
Our Pick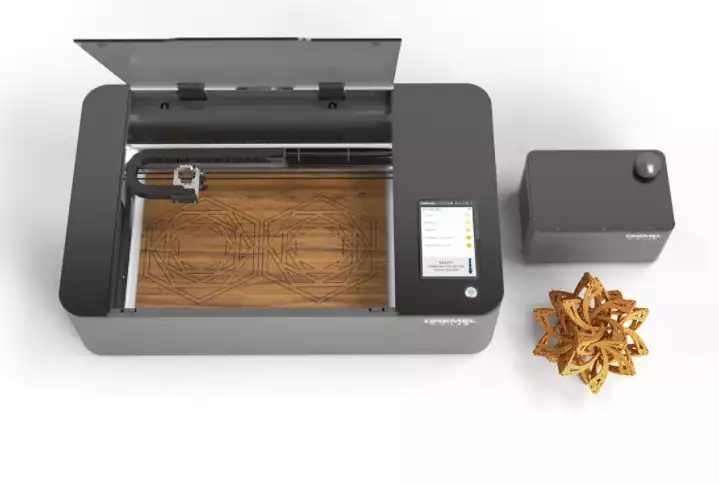 Over the last decade, laser cutters have moved from industrial machines to be accessible by students in schools and crafters in their homes.
As a result, it's become very important that you don't need a degree in engineering to work on them, they have to be user-friendly so that anybody can use them on an occasional basis. So how do these two machines measure up?
The Dremel Digilab LC40 has a large, color touchscreen on board the machine. It takes you intuitively through common tasks and troubleshooting and means that you can run projects from right there on the machine. Its intuitive ease of use is one of the major advantages of the Dremel and has made it very popular with users. In particular, school users have found that students can confidently use the Dremel even with no experience at all.
The Glowforge, while not benefiting from any sort of screen on the machine itself, is still user-friendly and easy to get the hang of. The cloud-based software makes a lot of sense and has a lot of easy to use features. It is also regularly updated within the cloud.
What support is available for Dremel and Glowforge
Customer service and technical support is a really good indicator of how important the customer is for a company. Even if you're an experienced user, there may be times when you have a technical question that you need help with.
So how helpful are they at Dremel and Glowforge?
Dremel's support page gives options for Phone, e-mail, and live chat support, and a good selection of articles and trouble-shooting guides to choose from. Reviews suggest that technical support is generally very quick, friendly, and helpful.
Glowforge also has a great support page on their website. They have great step-by-step guides on the page for everything from getting set up and using the laser cutter to maintenance and moving. In addition, they have email and live chat options on the website, social media channels, and a great search function for their extensive selection of support and troubleshooting articles.
Not only that, but there is also an active Community Forum where you can interact with other Glowforge users for advice, tips, technical questions, and inspiration.
Pros and Cons
Our Pick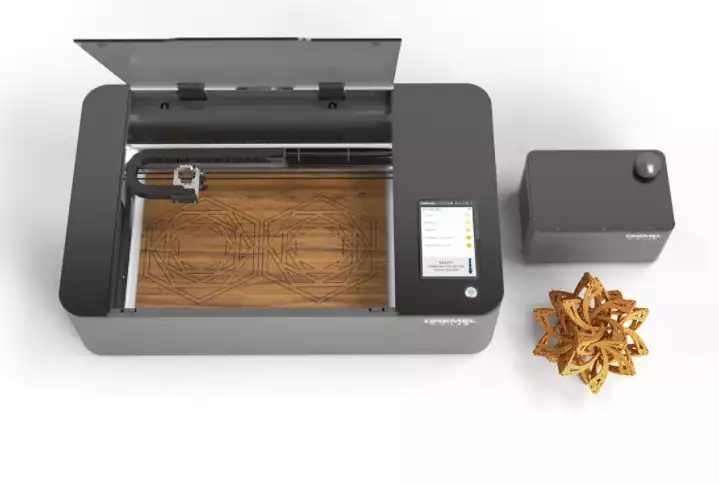 Pros
great level of precision in both cutting and engraving.
Can cut into various materials and engrave metal
It comes with an interface touch screen that is convenient and user friendly
Great safety features including water-cooling for the laser tube, air assist, and the on-board ventilation fan.
Wireless operation so you can organize your workshop to suit you
UL certified
Cons
The external Hexbox cooling system which takes up space
The price is quite high
Honeycomb bed is a bit flimsy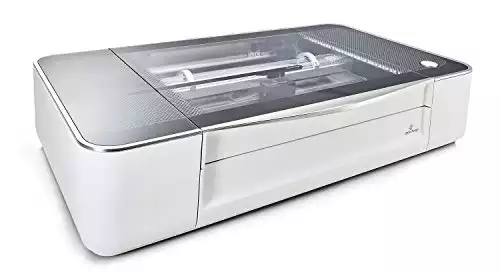 Glowforge Plus 3D Laser Printer | Amazon
Push the button and the powerful 40 watt laser creates meaningful gifts for your friends, unique products to sell, or something personalized just for you.
Buy at Amazon.com
We earn a commission if you click this link and make a purchase at no additional cost to you.
02/02/2023 02:00 pm GMT
Pros
Easy to use and intuitive
Can scan drawings into the cut
Proofgrade™ materials are quality, tested materials available from Glowforge to take the guesswork out of materials and settings
Great design catalog available
Cons
Software is cloud-based so needs internet to use
No LCD screen on the device
Are there any alternatives?
For those with a budget in mind, you might wish to consider the Orion Motor Tech laser cutter. It features an integrated cooling fan, digital controls with LCD display, and a stability clamp for irregular items.
While this laser cutter is better for engraving or for cutting thinner materials, if that's what you're looking for then this is a great investment, especially if you're willing to upgrade to better software or even hardware like the exhaust fan or water pump.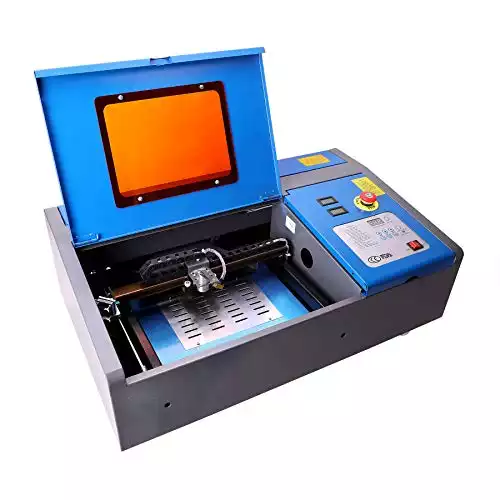 Another great laser cutter you could consider is the Ten-high. This laser cutter has some super features and might be what you are looking for. This is a small model with a lot of energy and great function. The 40w machine is ideal for engraving, and the 60w, 80w, or 100w versions might be a better choice for regular cutting.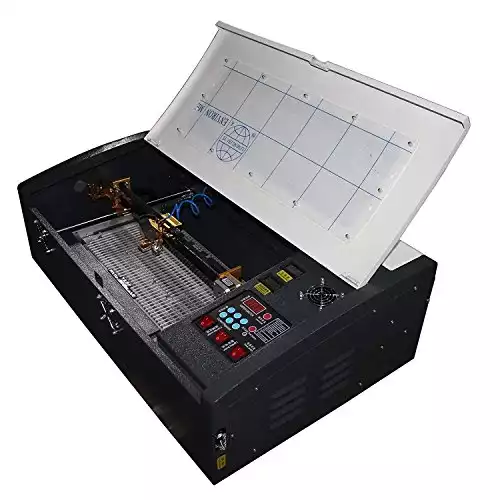 TEN-HIGH 3020 12"x 8" 40W 110V CO2 | Amazon
By non-contact processing, this laser engraver won't cause mechanical extrusion or mechanical stress on materials, won't damage materials' surface, or make them out of shape.
Buy at Amazon.com
We earn a commission if you click this link and make a purchase at no additional cost to you.
02/02/2023 02:55 pm GMT
FAQs About Dremel and Glowforge Laser Engraver

Do I need a laser cutter and a 3D printer?
It depends on what you are using them for. For some projects, you can use a laser cutter to cut pieces from a wide variety of materials, combined with building other parts using a 3D printer. Having both means that you have a much wider variety of projects that you can do. There are some machines coming on to the market that combine 3D printing with laser cutting.
Can I use the Dremel or the Glowforge laser cutters without accessing the internet?
The Dremel software is internet-based but the projects are managed from the laser cutter itself, so you don't need to be connected to the internet. On the other hand, the laser cutter from Glowforge is cloud-based so does require an internet connection.
What materials can the Dremel and the Glowforge laser cutters operate on?
A huge number and variety of materials! Some metals can be cut, others only engraved (lasers do not work well on aluminum due to its reflective properties), silicon, ceramics, glass, plastics and polymers (avoid PVC, PVB, PTFE/Teflon as these can give off poisonous gases), wood and gemstones.
How long will the Dremel and Glowforge last?
The average lifetime of a laser tube is about 80 to 1500 hours under normal operating conditions (it will wear out faster with cutting than engraving).
That means that you are likely to need to change it every couple of years. You'll notice that this needs doing when you are struggling to cut something you have been able to cut previously, or if the laser appears to burn rather than cut. You would be able to change the Dremel tube yourself, where the Glowforge would need to be sent off for a replacement. Other than the laser tube, with careful handling and maintenance, your laser cutter should last many years.
Can a laser cutter overheat?
They can do, and this is both a fire risk and harmful to the laser tube. It's a good idea to avoid placing it in direct sunlight, allow plenty of air ventilation, make sure the cooling system is working correctly, and give your laser cutter a break every now and then if you are doing a lot of cutting. The Glowforge has an inbuilt cooling system, and the Dremel has the external Hexbox.
How does laser cutting work?
A high-powered laser beam runs through a lens and then into a material, melting or burning it away and leaving an edge with a high-quality, clean finish.
What are the advantages of laser cutting?
Laser cutting offers great precision and detail in cutting. It works on a wide variety of materials and offers a clean, smooth cut. Laser cutting uses very little power, so apart from the purchase of the laser cutter, it is not an expensive cutting method and is also much faster than conventional cutting methods.
How do people afford Glowforge?

While Glowforge's price tag can be shocking, they do offer a monthly payment service that will make it easier to get one of your own!
How long does a Glowforge laser last?

A Glowforge laser is designed to last about two years before needing repair or replacement.
Our Verdict: Which is Better between Dremel Laser Cutter vs Glowforge?
Both the Dremel Digilab LC40 and the Glowforge Plus offer a huge range of features that would make them very popular in schools, in small businesses, and for home users. While not a cheap option, their ease of use has made laser cutting manageable for a whole new group of users.
Both laser cutters perform extremely well. So which is the best?
Bottom Line Summary: This is a very close run race, but we would recommend the Dremel. The key reasons are the intuitive, easy to use interface, the excellent attention to detail, and the additional built-in safety features. The touchscreen on the Dremel and the ability to operate with or without the internet are big positives, plus the more advanced cooling system.
Our Pick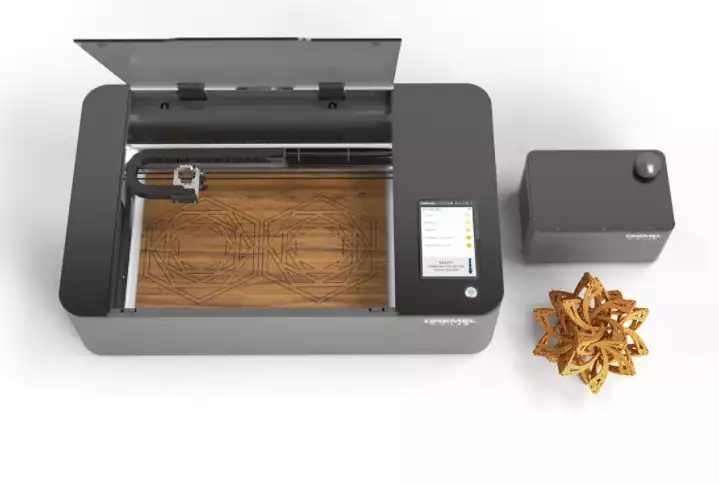 Of course, there are a few negatives, such as the extra space taken up by the external cooling system, and the "Community" on Glowforge is a great way to interact with other users and get quick feedback and advice – something Dremel should definitely consider adding to their Customer Service options.
The Glowforge Plus is still a brilliant laser cutter. The Proofgrade™ materials take a lot of the guesswork out of your projects and the quality and customer service are fantastic. Another very user-friendly and high-quality laser cutter. You would definitely be happy with either of these two laser cutters.
Further Reading on 3D Printers and Laser Cutters: