Latest posts by Total 3D Printing Team
(see all)
We often see lists of the best 3D printers or the best slicers. But rarely do we see a lot of the smaller components which make up the 3D printer. Often, these smaller parts have some of the greatest impacts on the overall print quality, performance, and material we can use.
For example, there is the printer extruder (3D printer extruder), nozzle, and filament diameter, which all are major influences on the final product. As well, we could dive into heated bed surfaces, bed temperatures, and displays, which again have a big say in how the final printed object will look and feel.
For the purposes of this article though, I will take you through what I consider to be the best hot ends available.
After the nozzle, printer extruder and print bed, printer hotend is one of the main culprits for print quality issues.
[comp_table]
The hot end is one of the most important parts of a 3D printer. This is the part that actually melts the filament and extruders it onto the print bed. It controls the maximum print temperature, the nozzle size and the cooling of the filament to ensure your prints come out perfect every time.
There are two main groups of hot ends you can consider, all metal and PEEK-based. I prefer the all-metal designs as they allow you to print with more filament types, print at higher temperatures, and are easier to maintain as they are less likely to jam. However, you must decide which type is best for your printer and your printing needs.
Now let's get this list started.
These are the best 3D printer hot ends:
The E3D V6 is the hot end that all other hot ends wish they could be. This hot end has raised the bar and set the standard for the all-metal hot end market. It's a durable, quality, and precise hot end that everyone loves once they have tried it.
One thing I really like about this hot end is its versatility. The E3D V6 can be used on just about any 3D printer. All you need is to find the mount for your printer and maybe watch a video if it's your first time changing hot ends. In no time though, you will have one of the best hot ends on your 3D printer. Most mounts can be found on Thingiverse.
Besides its versatility, you can completely customize the E3D V6 on the E3D website. Anything from nozzle size, to blocks, and temperature ranges. A large variety of upgrades and options allow you to take your printing to the next level.
The E3D V6 can get temperatures as high as 300 – 400 C. You can easily print just about any type of filament with temperatures that high. Also, its built to handle flexible and soft filaments without jamming.
This is a compact and easy to use the hot end that will surely change your 3D printer and print head extrusion system (extruder assembly) for the better. It is easily my favorite hot end on the market and I highly recommend it to anyone who is looking to upgrade or make a change.
You can get the E3D V6 to handle either 1.75 mm or 3.0 mm filament.
Where to Buy the E3D V6? Amazon is the first place I would check at this listing, however ALSO be sure to check MatterHackers here for their deals.
The Mosquito is a relatively NEW player to the hotend market, but it IS a game changer.
The main engineering improvemnt here is that the Mosquito builds on a durable metal frame instead of a heat sink / heater block combination.
This provides many improvements over your typical 3D printer hotend. Namely:
With no heatsink required, you can use a maximially efficient copper heat sink that does NOT need to bear heavy weight (mechanical load)
No heating inconsistencies which are notorious for causing jams and poor print quality
With fewer moving parts (direct extruder), mounting (installation) of the hotend is MUCH easier
With fewer 3D printer part components, the long term durablity is increased and replacement costs are far lower
Other benefits include full compatibility with E3D's 3D printer extruder parts and nozzles, plug and play functionality, and a wide list of supported 3D printers (virtually every FDM printer type).
Where to Buy the Mosquite Hotend? This one is exclusively available via this MatterHackers listing here.
Our Pick
Why Go with the Mosquito Hotend? | Matter Hackers
If budget isn't your main concern, the Slice Engineering Mosquito IS objectively the best hotend upgrade. No heat sink, means better quality prints, fewer clogs, and a MUCH lower maintenance cost (replacement cost) for parts down the road.
Check prices
We earn a commission if you click this link and make a purchase at no additional cost to you.
Another great all metal hot end is the MK10 conversion from Micro Swiss. Really all of the all metal hot end conversions from Micro Swiss are great hot ends, you just need to find the one for your machine.
This Micro Swiss hotend conversion kit can be used on single or dual extruder setups (dual hotend). If you have dual extruders you can change out just one hot end to allow for a good mix of PLA and high temperature filaments printing together.
This conversion kit is to replace the stock MK10 PTFE lined hot end. The nice thing about this kit is it requires zero modification to your 3D printer. You are simply removing the original thermal tube and PTFE line and putting the all-metal parts in its place.
You can find easy to follow instructions on the Micro Swiss website. As well as a complete list of the 3D printers this conversion kit will fit on. If it doesn't fit the printer you have, just do some research to find the kit that works for you.
The MK10 hot end conversion kit will fit some Flashforge 3D printers, Idea Builder 3D printers, Wanhao 3D printers, and Qiditech or other replica 3D printers of the brands just mentioned.
Where to Buy Micro Swiss All Metal? Check out Amazon here AND check MatterHackers here.
4. LulzBot Hexagon
Another all metal hotend upgrade for the list (are you starting to see a trend?) this one is the v2 Hexagon hot end. This time it comes from my favorite 3D printing company, LulzBot. They have created two of the best 3D printers on the market, and you can expect the same quality from their all metal hot end.
The v2 Hexagon is a bit pricier than some of the other hot ends available. But this is consistent with the rest of LulzBots offerings. They believe their high quality, warranty-backed products are more than worth the price tag.
While the v2 Hexagon works with all LulzBot's 3D printers, it is not just a drop and print hot end for these machines. This is due to wiring differences and requires a few extra steps to use this hot end on a LulzBot 3D printer. However, it is designed as a drop and print replacement on all RepRap and DIY/Kit 3D printers.
The lengthened heater block (heater cartridge) of this hot end means you have a bigger melting zone. This enables you to print faster and more consistently with the evenly melted filament. As well, it can reach up to 300 C in temperature.
The v2 Hexagon hot end is designed for 3.0 mm filament and nozzles of 0.35 mm, 0.5 mm, and 0.6 mm nozzles.
5. DisTech Prometheus V2
The next printer hotend on my list is the closest to the E3D V6, this time we have the Distech Prometheus V2. This hot end is machined from a single piece of stainless steel, which eliminates all internal melt-zone areas and allows for smoother 3D printing.
The Prometheus V2 is actively cooled, which allows for very consistent filament melt. The all stainless steel design lasts longer than traditional brass parts. As well, its strength is almost unmatched. You no longer need to worry about it bumping into the print beds or other objects while you are tinkering around with your machine.
This hot end is designed to be used as a drop and print hot end. The compact dimensions make it easy to mount to your 3D printer. As well, it is compatible with most 3D printers available.
The Prometheus V2 is built for 1.75 mm filament size and can come with nozzles of 0.3 mm, 0.4 mm, 0.6 mm, and 1.0 mm.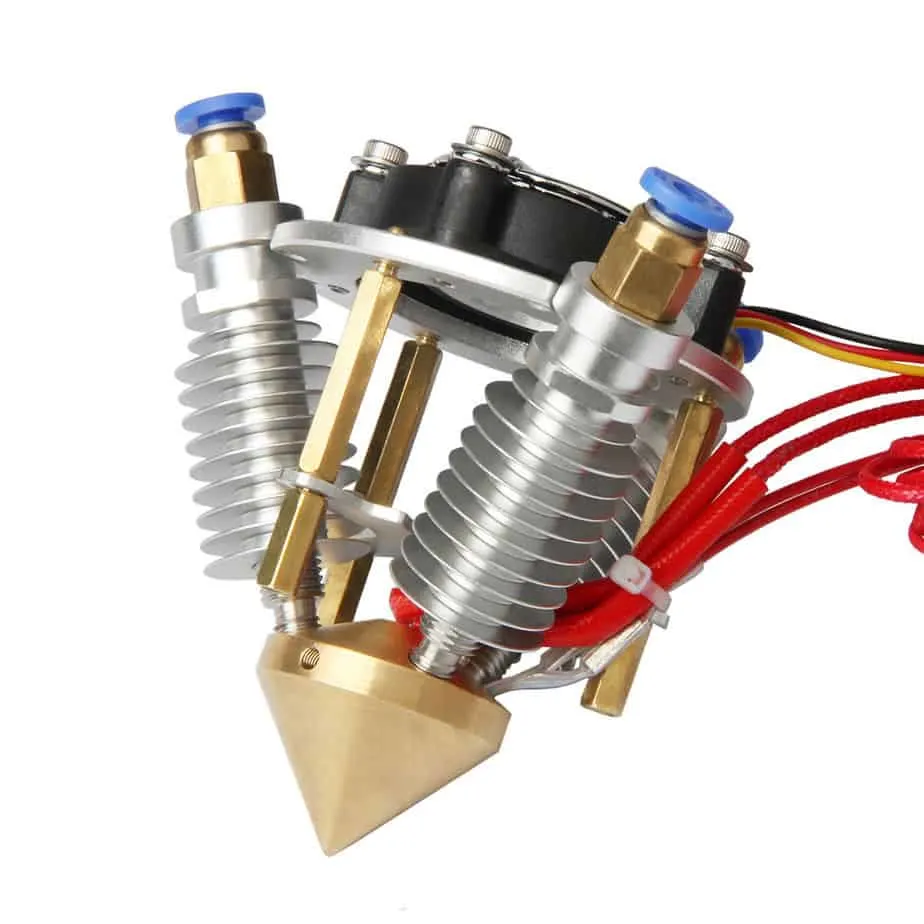 Next on my list is the Diamond printer extruder hotend. You'll notice this hot end is pretty different from the others on the list with its overall design. The Diamond lets you mix and match filaments and colors more easily than ever. And you only need one nozzle to do so.
The Diamond hot end combines three different filaments paths, and extruders them through one nozzle. This enables you to 3D print with multiple filaments or colors and effortlessly switch between them during the printing process.
This is another all metal hot end with heat sinks and breaks that are based on E3D designs. The stock mounting bracket is fairly limited in the number of printers it can fit. However, as its popularity has grown, more brackets have been designed by the 3D printing community.
The Diamond hot end is made for 1.75 mm filament and has a 0.4 mm nozzle.
Bonus: All Other E3D Hot Ends
E3D turned itself into the standard for 3D printer hot ends, nozzles, and extruders. They have built an entire ecosystem of top of the line 3D printer parts and printer extruder customization. All the parts are interchangeable, which makes all their products fully customizable. You can choose from a wide range of different heat blocks and nozzles specifically for your hot end.
The E3D ecosystem has hot ends such as the Titan Aqua, which is a water cooled hot end. This enables you to reach even higher temperatures.
They also have multi extrusion hot ends. Pick fro the dual filament, dual extrusions or dual filament single extrusions. No matter what you're looking for, E3D will have the hot end you need and one of the best hot ends you can find.
That concludes the list of the best hot ends on the market. I am a firm believer that the all-metal design is the way to go. It allows for more filament materials, temperatures, and more functionality.
Make sure you research some more hot ends so you can decide which is the best for your 3D printer and the objects you will be printing.
I know there are many other hot ends out there, but these are the ones I have found to be the best for personal use and recommendations/testers. Let us know which ones we missed in the comments below.
Further Reading 3D Printing