Latest posts by Jodie Chiffey
(see all)
So, you've heard so many wonderful things about 3D printers and how you can use them. There are a variety of machines on the market that can help you create stunning 3D printing marvels.
The Creality CR 10 vs. Prusa i3 guide will provide answers to the most pressing question – which 3D printer is better?
Prusa i3 MK3 and Creality CR 10 are top-selling printers right now, especially for those who're looking for 3D printers under $1,000. Our experts tested both printers and found them really good. They've been doing a lot of digging lately, and both Prusa i3 and Creality CR 10 emerged as top performers.
Not only this, but both products have a huge customer following behind them. In the Creality CR 10 vs. Prusa i3 comparison guide, we'll discuss both products in detail. By the end of the comparison, we're hoping you'll be able to make an informed choice.
My Bottom Line Summary Up Front:
Main Differences Between the Creality CR 10 vs Prusa i3
The main differences between the Creality CR 10 and Prusa i3 are:
The Creality CR 10 can be more affordable, whereas the Prusa i3 varies in price
The Creality CR 10 is more approachable for beginners, whereas the Prusa i3 is better for experienced DIY makers
The Prusa i3 is more customizable compared to the Creality CR 10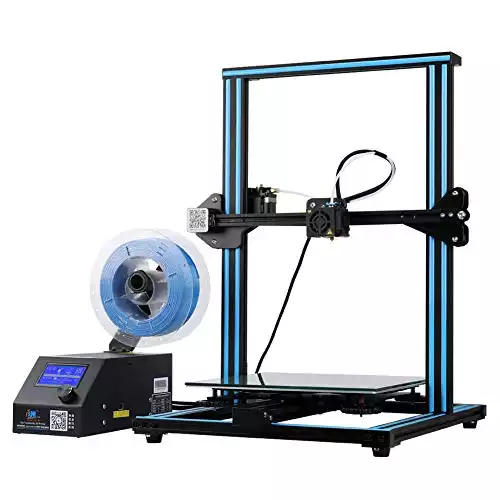 5 Things You Should Consider While Buying a 3D printer
Before we move on to the detailed Creality CR 10 vs. Prusa i3 comparison, hold your horses. There are a few important things you need to consider before you buy a 3D printer.
Size of the print bed
If you want to print bigger 3D prints, pick a 3D printer with a large print bed.
A bigger bed also implies that you can increase the printing quantity. Since setting up a 3D printer is a time-consuming process, the more you're able to print in one go, the better.
Automatic calibration
Some 3D printers would require you to calibrate the bed, i.e., place a piece of paper on the print bed and use the software to slowly move the print bed near the nozzle until it touches it. The process calibration process usually takes 10 minutes.
Automatic calibration can be found on several machines, and it's definitely worth some extra dollars.
Type of filaments and their cost
Most 3D printers print on PLA and ABS plastic.
ABS contains oil and is more lethal than PLA which contains corn starch. So, if your 3D printing room does not have a fan, choose PLA.
Make sure you're aware of the costs associated with filaments – $35-$70/kg for ABS and PLA. Some branded 3D printers only work with their filament which can increase the price. In such cases, avoid using non-genuine filaments which can have a negative impact on your 3D printer's efficiency.
Software
Is the software easy to configure? Is the software easy to use and powerful?
Unless you enough technical knowledge, we would recommend you choose an "easy to use" software over a powerful software.
Understand that 3D printers are designed for DIYers and hobbyists who love to explore when it comes to software and hardware. Therefore, they are "open-source."
Air filters and enclosures
A 3D printer with enclosure is safer. Open 3D printers are more prone to a collection of dust and debris which can lead to issues during printing.
If you're planning to place your 3D printer in a room which is not properly ventilated, consider 3D printers with built-in HEPA filters.
General specifications
| | |
| --- | --- |
| Product dimensions | 23.6 x 19.3 x 24.2 inches (599.44 x 490.22 x 614.6 mm) |
| Product weight | 22.7 lbs. (10296.5 g) |
| Model no. | 3DP20 |
| Printing size | 11 x 11 x 15 inches (279.4 x 279.4 x 381 mm) |
| Printing accuracy | ±0.1mm |
| Nozzle size | 0.4 mm |
| Printing speed | Normal – 80 mm/s, Max – 200 mm/s |
| Supporting software | PROE, 3D Max, Solid-Works, UG, Rhino, etc. |
| Operating system | Linux, OSX, Windows |
| Price | $299 (check here for latest) |
Creality CR 10 Overview
When it comes to best 3D printers under $500, Creality CR 10 is a top pick. It is indeed one of the most affordable 3D printers on the market today. It's a huge Cartesian style 3D printer with go-faster stripes, separate control box, and a large printing area measuring 300 x 300 x 400 mm. You can even buy larger versions with larger printing areas (400 mm and 500 mm cubed).
The Creality CR 10 3D printer has been designed and developed by the Chinese company Shenzhen Creality 3D technology which was founded in 2014. The printer was launched in 2016, following the progress of Creality CR-7 and its development into the CR-8.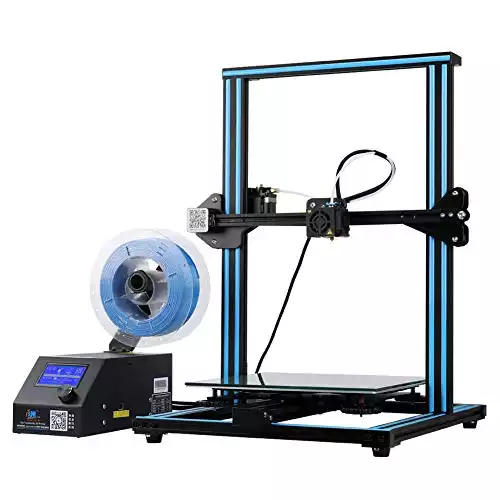 Creality CR 10 Design
Overall, Creality CR 10 is very aesthetically appealing. It's elegant with spotless aluminum rails coated in black all around the body.
The 300 x 300 mm print bed is made of glass and the control box with a mounted filament holder is placed on one side of the machine. Creality CR 10 is a narrow machine which prints big and looks beautiful with mustard go-faster stripes.
An important thing to note here is that even though Creality CR 10 has a slender body, it is a big 3D printer. No, we're talking about the big prints here. The machine occupies a lot of space in the printing room.
The control box and filament holder are located so high that you'll have to place them at a specific distance from the 3D printer's machine for the filament to feed unrestricted into the extruder.
The 3D printer's frame itself is large, and the control box sitting even higher provides the machine with an altogether tall look. Had the filament holder been separated from the control box, the height of the machine would've reduced.
The back and forth motion of the print head is curtailed to the X-axis only. A rail placed on the frame is held by a single lead screw on one side and attached to the frame by a pulley secured in track and fixed V wheels on the other side.
All the lifting is done from one side. Therefore, you may notice the other side sagging because of its own weight. Nevertheless, it does not impact the quality of the prints.
Creality CR 10 Features
The most striking feature of Creality CR 10 is its enormous print bed. The 3D printer is available in 3 variants, the smallest print area being 300 x 300 x 400 mm. We tested the standard size for the review as the only difference between the variants is the size of the print bed. Since Creality CR 10 comes with a 0.4 mm nozzle, the maximum resolution is about 100 microns.
You can use this 3D printer for 200 hours of continuous operation (as claimed by the manufacturer since we could only test the 3D printer for about 85 hours). Our experts played with different print settings, sizes, and volumes, and were satisfied with the results.
Creality CR 10 comprises a heated bed that spreads heat across the large glass print surface. Our experts did not come across any issues as far as heat propagation is concerned. USB connectivity and SD card usage help in print management, and the control box, control wheel, and LCD screen help in print preparation and fine-tuning of the calibration.
You'll find a switch on the control box's side using which you can switch between 110 and 220 volts, making the 3D printer versatile for international use.
Creality CR 10 Installation
Creality CR 10 printer kit is delivered in a cardboard box, and we couldn't find any picture of the actual machine on the packaging.
If you're completely new to the world of 3D printing, we recommend you check the setup instructions online. Nevertheless, even if you have a vague understanding of the machine's parts, you'll be able to do a fairly good job when it comes to installation.
The neatest part of Creality CR 10's installation are the organized control box cables. The male-female connectors are fastened together using screws. However, as you continue to set up the product, you'll have a tough time plugging the basic connectors into their respective end stops and stepper motors.
We noticed some loose connector pins on the Y-axis, a slight sign of poor quality control. However, we were easily able to pop them back inside.
Creality CR 10 Filament
Creality CR 10's filament in robust. It feeds in and out without any hassle. However, the position and layout of the filament in somewhat confusing.
Creality CR 10 Software
Instead of being a comprehensive 3D printing solution, Creality CR 10 is a blunt tool. You can use any software of your choice, and many existing users consider this as one of the greatest strengths of this machine for the affordable cost. Our experts used Cura 2.6.2 and were delighted to see the Present Profiles work like magic.
Printing
Unfortunately, you have no option but to manually calibrate the 3D printer before each printing job. In case you forget to do so, the print head may end up ripping off the print bed. Some of the initial prints demonstrated noticeable skipping of layers; however, this is common for a semi-assembled 3D printer kit and not a major issue. As you continue to print, you'll witness flawless 3D prints.
From beautiful lampshades to vases, you can 3D print a plethora of interesting items using Creality CR 10. Based on the experience of our experts, we found that printing ABS with Creality CR 10 is difficult. It was almost impossible for the print bed to hold the ABS, even though the print bed was rated at 100 degree Celsius. We tried printing a large Eiffel Tower with two different types of PLAs (purple and transparent), and the 3D printer impeccably completed both the jobs enduring overhangs and bridging across almost 65 hours of printing time collectively.
Pros and Cons of the Creality CR 10
| | |
| --- | --- |
| Pros | Cons |
| Easy assembly | Awkward placement of extruder |
| Simple design | The filament is prone to tangling |
| The machine is easy to troubleshoot | Preparing the printer can be a tedious process |
| Suitable for larger prints | It takes a considerable amount of time to heat the bed |
| Great for fine detailing | Doesn't work well with ABS |
| Easily removable glass print bed | |
| Pocket-friendly 3D printer | |
| Intuitive control box | |
General specifications
| | |
| --- | --- |
| Product dimensions | 19.6 × 21.6 × 15.7 inches (497.84 x 548.64 x 398.78 mm) |
| Product weight | 15.43 lbs. (7000 g) |
| Printing size | 9.84 x 8.3 x 8.3 inches (249.93 x 210.82 x 210.82 mm) |
| Printing accuracy | ±0.1mm |
| Nozzle size | 0.4 mm |
| Printing speed | Normal – 80 mm/s, Max – 200 mm/s |
| Supporting software | PROE, 3D Max, Solid-Works, UG, Rhino, etc. |
| Operating system | Linux, OSX, Windows |
| Price | |
Overview
Prusa i3 MK3 is a creatively designed and development open-source 3D printer that can sense problems before they reflect in the print outputs. Whether it's a power outage or someone stopping the printing process mid-way, Prusa i3 will overcome these issues in no time. Not only this, but interesting features such as a removable print bed, flexibility, and nine auto calibration points make it even more attractive.
Best for Beginners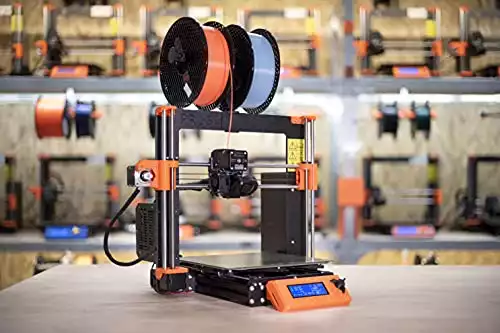 Prusa i3 MK3 | Prusa3D
Basic features magnetic PEI Spring steel sheet EINSY RAMBo Base plate Silent Trinamic drivers with 256 microstepping Maximum travel speed: 7.874 in per second. The Original Prusa i3 MK3S+ is the latest version of their award-winning 3D printers.
Check Price
We earn a commission if you click this link and make a purchase at no additional cost to you.
Prusa i3 MK3 Design
The basic frame structure and motion layout are similar to MK2. But, you'll notice find the threaded rod frame anymore. In fact, you'll notice a simple structure that arrives pre-cut, and you just need to screw it together. At the bottom, you'll find push-in rubber feet, which are soft and nice. However, every time we tried moving the printer, they fell out.
The print surface is separated from the heater PCB, and both parts are coupled magnetically. The print surfaces are steel sheets with springs, powder-coated with PEI. As the sheet continues to cool down, you simply pop-off parts by bending the sheet inward.
The Y-axis is upgraded with enhanced frame rigidity, and an additional 10 mm build volume on the Z-axis. You'll also notice a Bondtech drive gear extruder which firmly holds the filament from either side to improve the filament's push force and reliability.
Prusa i3 MK3 Features
Prusa i3 MK3 is packed with innovative technologies and refined features. On the one hand, the previous versions provided remarkable print quality for the affordable price, and on the other hand, Prusa i3 MK3 is all set to make the FFF discipline easier than before and more intuitive with a variety of sensors to alert users about approaching issues and prevent low-quality or failed prints.
Here's a quick summary of the features:
Power Panic (recover a print session after a power failure)
Filament Sensor (optical encoder to detect the movement and presence of a filament, stuck filament)
Ambient Thermistor
New Y-axis
RPM sensing fans
EINSY RAMBo motherboard (most advanced 3D printing motherboard on the market)
Ready for OctoPrint
Bondtech Extruder
Noctua quieter cooling
P.I.N.D.A 2 with thermistor
Interactive Auto Calibration
Prusa i3 MK3 Installation
Whether you're purchased Prusa i3 MK3 as a kit or in assembled form, the 3D printing handbook will come to your rescue as and when you need. You'll find all the information about installation, calibration, materials, FAQs, and more, in this handy manual.
Prusa i3 MK3 Filament
Our experts used the PLA filament provided with the 3D printer. There was no label on the spool, and we could not find any details regarding the manufacturer of the filament. Overall, the print results were promising, and no issues with print quality were observed.
Prusa i3 MK3 Software
When it comes to slicing the objects for printing, you have a plethora of options when it comes to the software. The most straightforward option is PrusaControl. It is a simple, stripped back interface for coating your models. All you need to do is choose a filament from the preset list, play a little with the orientation, scale, infill, and line-height, and then create your Gcode.
It's an effective solution and convenient to use. Nevertheless, if your requirements are somewhat complicated, you may have to use other software. For more complex printing, our 3D printing experts used Prusa3D Slic3r MK3. This software has over a hundred modes and maybe a little cumbersome for beginners. You can also use software such as 3D Max and Simplify 3D.
Prusa i3 MK3 Printing
It's very easy to print the 3D models preloaded (a small boat, puppy, etc.) on the SD card. They are optimized for printing with Prusa i3. However, our experts felt that it's better to slice our own models for printing and then assessing Prusa i3 MK3's honest printing capability.
When it comes to printing simple objects such as a Chromatic vase and a measuring cube, the print quality was brilliant at 150 microns, and during the printing process, the 3D printer did not make any annoying noises. The features and details of both the objects were sharp and clear.
When it comes to printing complex items such as a hand clamp containing screws, there were multiple failures, and the printing required a lot of time. We fed separate bits into the build plate but did not succeed. So, our experts printed different elements and assembled them to produce the final outcome.
UPDATE: The New Prusa i3 MK3S+
The very latest model is a beauty to play with. Here's a live video review our team did:
Prusa i3 MK3 Pros and Cons
| | |
| --- | --- |
| Pros | Cons |
| Redesigned, sturdier frame | Complex print bed adhesion |
| Crash detection feature | Low-quality 3D prints in the case of complex objects or objects containing multiple components |
| Power loss backup | Requires frequent updates |
| Great documentation | Complicated for beginners |
| 9-point auto calibration | Expensive |
| Removable print bed | |
| Can be upgraded with OctoPrint | |
The Verdict: Creality CR 10 vs Prusa i3 – Which is better?
We hope you found the Creality CR 10 vs. Prusa i3 comparison guide useful.
If you have any questions about either of the products, please post them in the comment section below, and our 3 printing experts will provide you with the relevant answers.
Also, if you'd like us to compare or review any other 3D printing related products, kindly write to us, and let us know.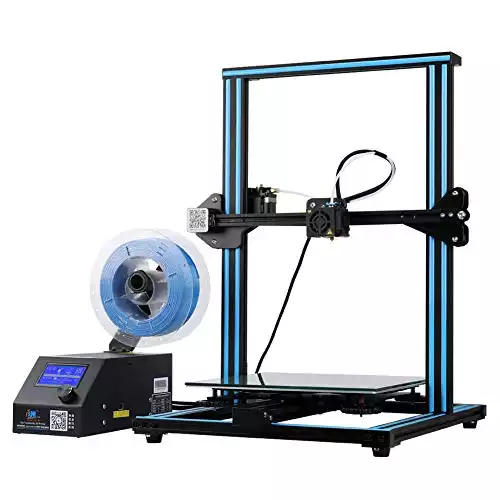 Recommended Reads