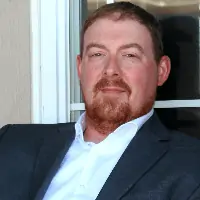 Latest posts by Justin Caldwell
(see all)
Lulzbot is pretty well-known for developing reliable 3D printers. They're powerful machines worth the price. They use open-source software and accept plenty of filament types, so their ease of use helps them adapt to personal and professional use alike.
When they released the TAZ Workhorse, they had big shoes to fill. This beast has a 14% bigger build volume and is equipped with all the essentials. It's marketed to produce even better, more accurate results.
It's said to enhance the experience of its predecessor, the TAZ 6, so I wanted to give it a shot and decide for myself.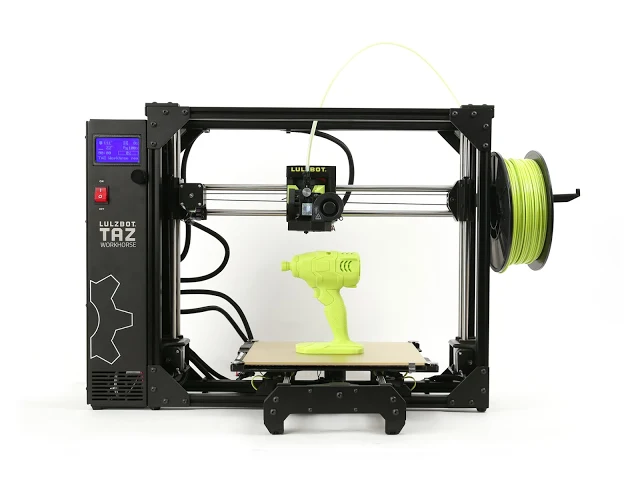 Specifications
Build volume: 280 x 280 x 285 mm
Printer dimensions: 832 x 510 x 520 mm
Net weight: 16.78 kg
Technology: FDM
Layer resolution: 0.05 – 0.4 mm
Extruder Quantity: Single
Maximum extruder temperature: 290℃
Filament diameter: 2.85 mm
Nozzle diameter: 0.5 mm
Materials: ABS, PLA, PETG, PETT, PVA, PVB, HIPS, TPU 85A, TPU 95A, Nylon 645, carbon fiber reinforced blends, copolyester, polycarbonate
Maximum print bed temperature: 120℃
Slicer software: Cura Lulzbot Edition
Connectivity: USB serial, USB flash drive
Software input formats: OBJ, STL, G, GCODE, 3MF, X3D, JPG, PNG
Power supply: Auto-switching MeanWell RSP-500-24
Input rating: 110VAC – 240VAC
Output: 24V DC, 500 watts, 21 amps
Setup
The Lulzbot TAZ Workhorse comes packaged securely in a box with foam inserts to hold it in place. After removing the printer from its box, you'll notice the clean, effective packaging. It's packaged with all of the tools you need for maintenance as well as some documentation.
Included is a guide for using the printer with images of all the components with clear explanations so you can familiarize yourself with the machine.
It comes completely assembled, so the setup is relatively simple. In conjunction with the automatic leveling, the self-cleaning nozzle, and the pre-programmed filament profiles, it's a breeze to start printing right away.
Features
While the Lulzbot TAZ Workhorse contains many of the features that were well-loved by users of previous versions, it also contains some notable features unique to this particular machine. While the company attempts to keep a fair balance between balance and practicality, they also strive to bring extraordinary performance to the table.
With that, they're delivering the following features that help make this printer even better than the last.
Sturdier frame
The TAZ Workhorse is designed to offer greater stability over the previous version. It features a sturdier frame than the last with strengthened components so it can withstand the stress and motion of higher performance.
Heated build plate
The build plate is made of heated borosilicate glass coated in PEI. It enhances adhesion at the first layer, which helps when printing with ABS and nylon. However, it's also capable of plenty of other materials, too.
Modular bed:
The modular print bed system on the Workhorse ensures you won't wait long for it to heat up. It's useful and versatile, considering that you wait mere seconds for it to reach maximum print bed temperature.
Supported materials
Much like the TAZ 6, the Workhorse supports a wide range of materials, which is really quite impressive when comparing it to other printers. You can now print with high heat composite polymers thanks to the steel tool head.
E3D hot end and 360 cooling
With a lightweight tool head design, hardened steel E3D Titan Aero hot end, and 360-degree part cooling, you get excellent accuracy and precision. The combination of these features means fast heating, excellent components, and fast cooling for more versatility.
Automatic calibration
This isn't a new feature, but it's a necessary one. However, it's a unique concept. New to the Workhorse is a proprietary X/Y/Z Backlash Compensation System, based on professional-grade CNC machines.
With this idea, the Workhorse can use the calibration cube to measure backlash and calculate the lost motion in the mechanical system to help users get the most accuracy in their prints.
Belt-driven Z-axis
This is something unique to Lulzbot machines, but it's been in every one of them. The printer does a better job of controlling or eliminating wobbling in the Z-axis by making it belt-driven. The design is made of threaded rods and is also effective at surging the cycle times.
Automatic nozzle cleaning
The benefit of cleaning your nozzles frequently is that you can keep your hot ends in better working condition and prevent filament jams. The Workhorse cleans the nozzle automatically before starting any new print.
You don't have to do it manually and you can ensure that your hot end will remain free of jams and in optimal working order for every job.
3.5" graphical LCD
The touch screen included on the Workhorse is a 3.5" LCD. It's interactive and intuitive so it's easy to understand for beginner users who want to get started right away while still including the features that advanced users want and need.
Swappable tool heads
The ability to swap out tool heads means you can use other nozzles for more advanced printing. While it comes with a hardened steel HE tool head and a 0.5 mm nozzle, you can swap it out.
The HE tool head with an SL tool head has a 0.25 mm nozzle, which is great for printing small layers with much more precision. However, if you're printing with high strength parts, you can swap it for the HS tool head and 0.8 mm nozzle.
You can also switch the tool head out for an HS+, which has a 1.2 mm nozzle. Being able to swap between a wide variety of sizes gives you better control of printing with more finicky materials. It prints quality prints with a lot of reliability.
Open design
This printer is open from all sides. It features a sleek, professional design, but it's important to use caution when printing. Keeping it away from children is important.
What is nice about this design is that it gives you a view of your print progress from all sides. And much like other open design 3D printers, it works best with PLA.
Full assembly
The Workhorse comes fully assembled so you can start printing right out of the box. It also provides default profiles for multiple filament types so you can speed up the print process without a lot of configuration, which is nice for testing the machine.
Performance
The quality of the Lulzbot TAZ Workhorse is excellent. It's a great printer for professional use, but even extreme hobbyists may want to spring for it as well. It can produce fine details, great precision, and high-resolution prints, especially when using the right nozzle and adjusting the settings accordingly.
This is a very competitive printer in the professional range because it can produce medical or automotive parts with ease while costing quite a bit less to purchase and maintain than other professional models.
The Lulzbot series is known for its impressive quality, but the Workhorse is even better. It can also print faster than many similarly priced 3D printers, although you may lose some quality at higher speeds, which is typical.
The Workhorse is capable of creating sharp edges and geometric shapes with ease. It's a practical printer for industries like aerospace as well, but if you like to tinker at home and you're looking for an upgrade, this may be the one for you.
What you will miss out on are some features like Wi-Fi connectivity and a dual extruder design, which you can find in some even cheaper printers, but you'll likely sacrifice quality.
Software
The Lulzbot TAZ Workhorse uses open-source software. It comes with the Cura Lulzbot Edition. It's pre-programmed with a lot of advanced tools and features to make operation easier.
It comes with the pre-programmed filament profiles but you can also manually change the settings if you want more customization. You have complete freedom to slice the design quickly and with user-friendly controls.
Cura has a lot of features, but it's also relatively easy to use, so it's a great option for beginners and advanced users alike.
Customer Service
When dealing with complex machines that cost quite a bit of money, it's nice to know the company is on your side when something goes wrong. The Lulzbot TAZ Workhorse comes with a one-year manufacturer's warranty.
Their customer service department is available 7 days a week and their website has plenty of self-serve information regarding the setup and use of your Workhorse 3D printer. The community of users is also huge, so you can use forums as a resource when needed, too.
Price
The Lulzbot TAZ Workhorse is a pretty affordable option considering it's a professional-quality device. It's also pretty accessible for serious hobbyists who want an excellent quality printer because they care about the results.
It's ideal for high-end applications and commercial use, but if you have a limited budget, it might be tough to stomach the upfront cost.
Thankfully, the upfront cost is the most you'll likely ever spend, aside from any upgrades you might want to make. Maintenance of the Workhorse is relatively inexpensive.
The FDM printing process is incredibly affordable and with a wide compatibility of filament types, you can always choose the cheapest ones. You have a lot of flexibility in your budget once you get the printer home.
Because the printer is made with quality parts, maintenance is pretty minimal. The nozzle takes care of itself and the machine should work for years without any trouble.
Pros:
Incredible accuracy
Automatic nozzle cleaning
Automatic bed leveling
High-speed printing
Heated, PEI coated bed
Swappable tool heads
E3D extruder
Cons:
No Wi-Fi
No remote access
Expensive for home users
Alternatives
There are a lot of 3D printers on the market, so if you're looking for something for personal or professional use, you may want to evaluate some of these alternatives.
The features of the TAZ Pro are nearly identical to the Workhorse, but the price is not. It's quite a bit more expensive than the Workhorse; however, it may be the right choice for you if you're looking for a dual extruder design.
The touch screen is also quite a bit bigger than the Workhorse, at 5 inches. It still uses the same software, has the same build volume, has swappable tool heads, includes the same inputs, and accepts the same wide variety of materials.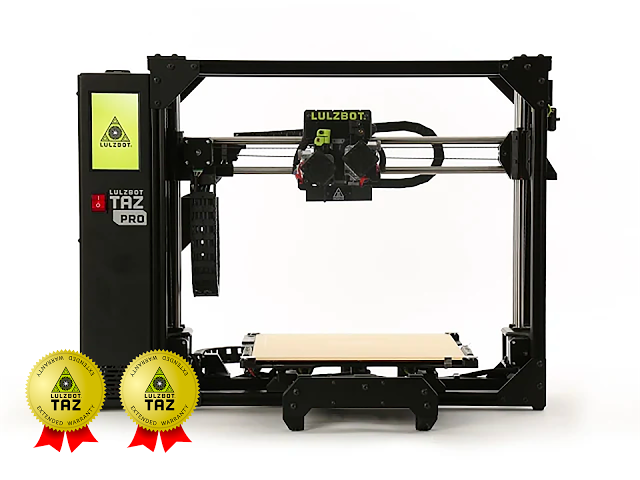 LulzBot TAZ Pro 3D Printer | Matter Hackers
Print with confidence knowing that your LulzBot TAZ Pro 3D printer will be able to keep up with your 3D printing needs and extend your standard 1 year warranty and support period by purchasing up to an additional 3 year warranty and support period.
Check Price
We earn a commission if you click this link and make a purchase at no additional cost to you.
This predecessor to the Workhorse rings up at a slightly lower price point, but it's still dependable and has only a slightly smaller build volume. It auto-calibrates has a self-cleaning nozzle and accepts a wide variety of print materials.
However, you'll find differences like USB and SD connectivity. The downside is that you'll experience a slightly slower setup, but it's a reliable, high-speed printer that produces acceptable results for many users.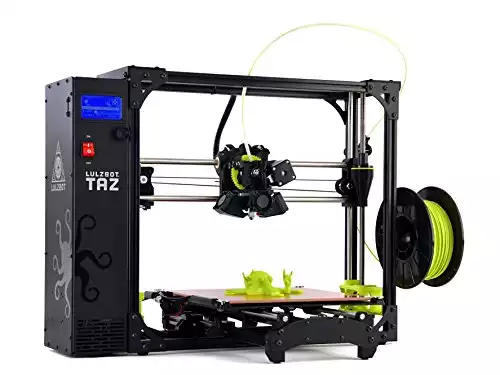 While the Ultimaker 3 design is a bit weary, it's instantly recognizable to those who are familiar with this series. It features a mostly enclosed case with an open front, which some people like and some people don't.
It features an antiquated scroll wheel menu, but again, this will be familiar to long-time users. The true benefit to this printer is the dual extruder design, the high-temperature hot end capability, and the Wi-Fi connectivity.
While you can also connect via USB, Wi-Fi makes the printer easier to access and use. It also supports open-source hardware and software as well as multiple filament types. While you can still print with a single nozzle for acceptable results, it truly shines when both extruders work in tandem.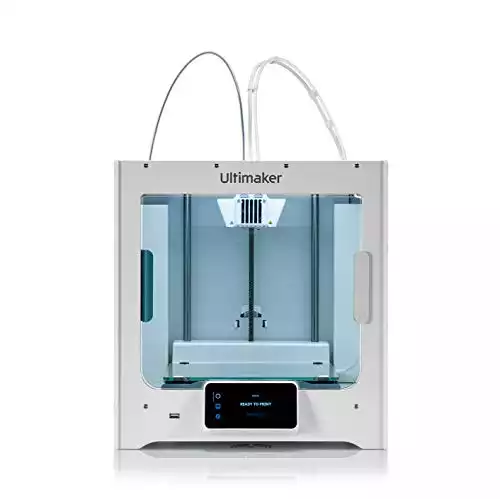 Ultimaker S3 3D Printer | Matter Hackers
The Ultimaker S3 dual-extrusion 3D printer delivers high-quality, composites-capable performance in a smaller footprint. Enjoy the seamless experience of wireless 3D printing with Ultimaker Cloud, or simply navigate with the full-color touchscreen on the front to start your 3D prints via USB.
Check price
Buy at Amazon.com
We earn a commission if you click this link and make a purchase at no additional cost to you.
This printer is a resin 3D printer that uses fused filament fabrication (FFF) technology, which up to this point hasn't been as good as SLA in terms of exact detail, castability, or biocompatibility. However, the Form 3 challenges that with an excellent one-click printing feature.
It's slightly more expensive than the Workhorse, but it's easy to use and is an obvious recommendation for small or medium businesses that need an exceptional amount of detail in their prints.
FAQ
If you still can't decide which 3D printer is right for you, these frequently asked questions may help you out.
If you're on the fence about whether a budget 3D printer is right for you, check out some of these frequently asked questions to set the record straight.
What is the best 3D printer for beginners?
Many 3D printers on the market today are ideal for beginners. The Anycubic Photon is a great option for resin printing while the Flashforge Adventurer 3 is one of the easiest 3D printers to use overall.
However, if you're looking for value, you might want to take a closer look at the Monoprice Select Mini V2. While there are a lot to choose from, it will depend on the features you need and your budget.

The Lulzbot TAZ Workhorse may be pricey, but if you're looking to advance your skills, it's an excellent option because it comes fully assembled, is easy to use, and includes a lot of features you'll grow to love as you get better acclimated to the 3D printing tools it offers.
How much does it cost for a 3D printer?
The cost of a 3D printer will vary based on size, manufacturer, and features. There are plenty of affordable options like the Anycubic Photon or the Artillery Sidewinder X1. Ringing up at less than $500, you'll get a great beginner 3D printer.

However, if you want additional features or a printer that offers more advanced operations, you're going to get a better value out of a printer that costs a bit more. Extreme hobbyists and small businesses will have better success with a printer that costs anywhere from $1000-5000.

What you choose to spend will depend on your budget and the features you need. There are affordable options for recreational users or more expensive options for serious users.
What is a 3D printer good for?
You can tackle all kinds of projects with a 3D printer. Small businesses can create prototypes while large businesses can manufacture parts. They're excellent learning tools for children and students.

Schools throughout the world purchase 3D printers to give their students more hands-on experience with evolving technology, but even recreational users at home can enjoy printing small projects.
The Verdict
Lulzbot produces some of the most reliable 3D printers on the market, and the Workhorse is no exception. They have a great reputation for being easy to use while still producing fantastic results.
While you might find that it's lacking in the dual extrusion space, you'll find versatility in the number of materials you can use, the swappable nozzles, and fast cooling.
The Workhorse contains nearly every awesome feature that each of its predecessors had, but with some great new ones. You can rely on this sturdy printer for high-end results. It's a wonderful option, albeit slightly more expensive, for beginners and professionals alike.