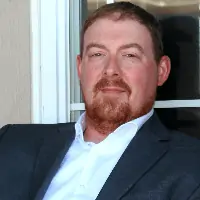 Latest posts by Justin Caldwell
(see all)
You've probably noticed that the market for 3D printers is more competitive than ever. When looking at low-cost 3D printers for home use in the hobbyist market, there are too many to count.
The historic company, Kodak, enters the market here with the Kodak Portrait. However, this printer wasn't actually developed by the company itself. They licensed their name to an Argentinian startup named Smart International for manufacturing.
Kodak has an image to keep up, and the debut of this machine helps to maintain that image. It has all the features you need with easy plug and plays operation.
When getting up close and personal with this printer, it's hard to find any flaws, which is something you can't say about many other 3D printers on the market.
Specifications
Manufacturer: Kodak (Smart International)
Technology: FDM
Arrangement: CoreXY
Filament diameter: 1.75mm
Compatible materials: Kodak ABS, HIPS, Flex 98, Nylon 6, Nylon 12, PLA Tough, PLA+, PETG, PVA
Accepts 3rd-party materials: Yes
Layer height: 20-250 micron
Extruder type: Single print head, dual hot end
Feeder system: Bowden
Nozzle size: 0.4mm
Maximum heat bed temperature: 295°C
Maximum extruder temperature: 105°C
Connectivity: Wi-Fi, LAN, USB
Built-in camera: Yes
Bed leveling: Assisted manual
Display: 5-inch color touchscreen
Extras: Moisture blocking filament cartridges, HEPA + activated carbon air filter
Setup
The Kodak Portrait comes fully assembled. After unboxing, you'll find a toolkit and all the accessories you need, like an unclogging needle, a calibration card, and lubrication. You also get two spools of PLA filament, spool holders, and filament cases.
The instructions will guide you as to how to secure a few of the additional accessories to the printer before use. It takes a mere ten minutes to get it up and running.
You'll notice right away how robust the printer is, with its full steel chassis and plexiglass panels. It helps to reduce shaking while giving you a great visual of the build area.
While bed calibration is automatic and seems to be simple, it can prove tedious at times. You can choose from multiple languages, intuitive temperature profiles, and compatible materials.
Spool feeders are accessible via the backplate, so if you set your printer up against a wall, they can be difficult to reach, which is one downside to the set up of this particular printer.
Features
The Kodak Portrait is a professional-quality 3D printer priced low enough for in-home use. It competes nicely with other hobbyist machines and uses dual extrusion FDM technology. The feature list will have you drooling.
Dual print cores
The Kodak Portrait allows for printing with multiple materials at the same time thanks to dual print cores. It follows a similar design as the Ultimaker 3. The system can accept any combination of all-metal hot ends or PTFE.
It requires some manual work to remove the print head housing and switch out the materials. When you're ready to switch, the nozzle retracts clear of your print to prevent oozing and assist with cleaner transitions.
Filament cartridges
Not only does the Kodak Portrait have a dual Bowden extruder, but it feeds from reusable filament cartridges. These filament cartridges are moisture resistant, and while they're not very high tech, they allow you to print for a long time without worrying about moisture build-up.
These lockable clear plastic cases that include compartments for silica pouches are a thoughtful and rare inclusion. In some cases, they may be too small for your filament reels, but they are the perfect size for Kodak's spools.
Print area and temperatures
At 200 x 200 x 235, the print area on the Kodak Portrait is average. However, it does have a removable glass bed that holds into place with magnets. The bed heats to 105 degrees Celsius and the hot ends heat to 295 degrees Celsius, which makes it easy to print with a wide range of materials.
Bed leveling can prove to be difficult. At first glance, you might think that using the touchscreen is no problem. However, it's painfully slow, making it difficult to tell which direction the bed is moving.
What's more, there's no bed level sensor, so it's impossible to know whether it's level or not, and you can't level it manually via any nuts, levels, or knobs. You're at the mercy of the software.

Steel frame
The all-steel frame and clear acrylic sides offer a sturdy, enclosed print chamber with visibility to your print. In conjunction with the heated bed and hot ends, it's the perfect environment for printing with temperature-sensitive materials.
It even has a HEPA and carbon air filter for attacking the VOCs the printer releases during the print process.
It has a CoreXY arrangement with linear rails in the X and Y axes that offer great stability. There is a precision ball screw in the Z-axis.
Cloud-based printing
If you've been shopping around for 3D printers long, you've likely noticed that there's a healthy mix of those with Wi-Fi capability and those without. Being able to control and monitor your prints from another machine or another location altogether can offer a convenient experience, for sure.
The Kodak Portrait offers effortless operation via a cloud-based printing feature called 3DPrinterOS. They made sure to color it in the signature Kodak yellow and brand it Kodak 3D Cloud.
It offers simplicity in printing and removes the guesswork, trial, and error. It's accessible via a web browser so you can get to it from anywhere you have an internet connection. With this approach to print management, you can use your 3D printer anytime, anywhere.
The printer also has Raspberry Pi 3 built-in so you can operate it directly via the 5-inch color touchscreen. Offline operation is also available using the Kodak 3D Slicer and connect using LAN or USB.
Performance
It may take some adjustments to get the Kodak Portrait printing as it should. Temperatures, print speeds, and fan speeds will all need to be tinkered with to yield outstanding prints using a variety of different materials.
However, the Kodak Portrait has the ability to print using a wide variety of materials and offer excellent results with smooth curvature, great detail, and no stringing.
It can recreate shapes with consistency. When printing shapes repeatedly, the standard deviation is almost indistinguishable and prints at professional-grade status, although it will sometimes struggle with micro-movements on the XY plane.
Any system that claims to be professional should be able to print with professional materials, and the Kodak Portrait doesn't disappoint. Even with filaments that are notoriously troublesome, like PETG, it handled them with no major issues.
There was some stringing on the corners and layer lines, but has excellent overhand abilities and can handle even uncooperative materials like nylon.
When it comes to dual extrusion, you may be skeptical, and for good reason. A key feature of the Kodak Portrait is the dual nozzle assembly, but does it work as well as they want you to think?
You'll be happy to know that it's truly excellent. It maintains strength while keeping a strong interface between the two materials. It's a valuable feature for professional users and at-home designers.
printers on the market.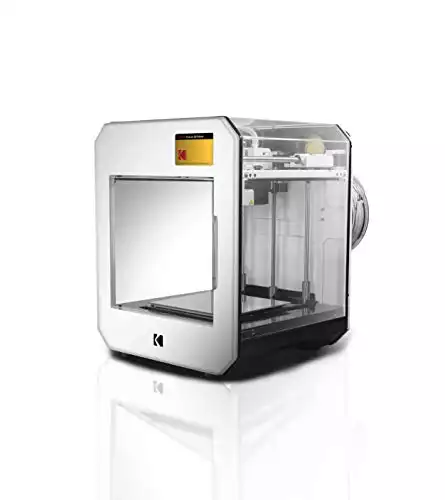 Alternatives
If you're interested in the Kodak Portrait, there are some other alternatives worth a look. Make sure you shop around to find the best one for you.
Ultimaker 3
The Ultimaker 3 falls in the same price point as the Kodak Portrait, and with many of the same features. It has the same dual print core design and Wi-Fi connectivity. However, where it differs is the open front design and dual extruder.
The Ultimaker 3 is also an excellent performer that won't disappoint. You may find the screen on the unit lacking, though. It's not a touch screen, it's not color, and it's not very large. Nonetheless, it's a quality machine at a price point that many can afford to justify.
Prusa i3
The Prusa i3 is a quality machine at an incredibly affordable price. The completely open design allows you complete access to your print but can make it more dangerous for beginners and younger users.
Where it shines is the value it offers at the price. You can choose to purchase the kit and build it on your own or purchase it fully assembled.
Formlabs Form 3
Here's another professional printer that rings up at a slightly higher price point. However, they've completely reinvented what it means to print with just a click. It's so easy to use that it might just be worth the money.
It features efficient print management via a web dashboard and great for prototyping. It also comes with some of the best software available, making the workflow even easier to use and understand.
FAQ
If you're not sure which 3D printer is right for you, here are some frequently asked questions to help you understand more about which may be the best choice.
What is the best 3D printer for the money?
The Formlabs Form 3 and the Ultimaker 3 are two of the best printers for the money. They offer great value with professional prints and great features. The Kodak Portrait is following closely in their footsteps with awesome features that you would normally have to pay a lot more money for.

While there are more great 3D printers on the market than you can count, these are some that always seem to float to the top of the list.
What should I know before buying a 3D printer?
There are several things to think about before buying a 3D printer. Price is a big factor. It should fit in your budget. And while the Kodak Portrait may be pricey, it's well worth it. Value is also something to consider. The printer should include all the features you want at a price that you feel is worth it.

Other things to consider are materials, safety, quality, type of printer, file type, software, and connection types.
What software do you need for 3D printing?
There are a lot of really great 3D printing software options out there. While some 3D printers, like the Kodak Portrait, come with their own proprietary software, others use open source software that's easy to use and repurpose for many uses.

Great 3D printing software options include Ultimaker Cura, Autodesk AutoCAD, Autodesk Fusion360, and Solidworks.
Final Thoughts
Despite the auto-leveling issues, the Kodak Portrait is an awesome printer. It has plenty of great features that blow the competition out of the water, even at a similar price point. It has a household name stamped across the front, even though it's manufactured by a third party.
It features a sleek design with an enclosed space that keeps it safe and professional while enabling it to host a variety of difficult materials. It's a high-quality printer and an interesting option for those who want a professional printer in their home.