It's a great time to be a 3D printing enthusiast, hobbyist, or professional. For one, there are a lot of 3D printers out there, and you have your pick of technologies, materials, and devices that can help you stay within budget.
One of the notable printers today is the Peopoly Phenom. This 3D printer can easily accommodate larger prints and cost less than other similar 3D printers. You can finally print that large part in one piece!
Is it worth it investing in the Peopoly Phenom? It may not be the cheapest 3D printer around, but that's okay. Read on our Peopoly Phenom Review to learn why you should seriously consider the Peopoly Phenom.
Getting to Know the Peopoly Phenom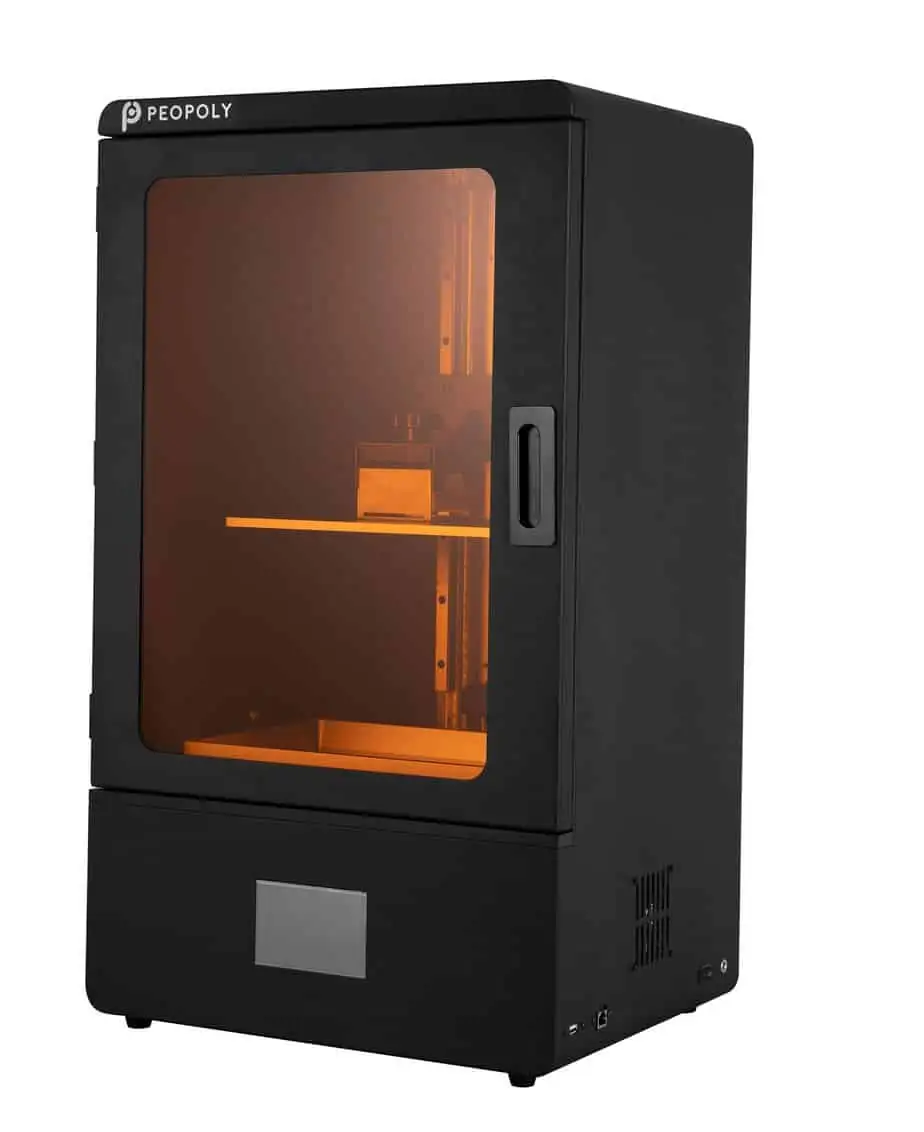 One thing about the Peopoly Phenom is that it allows you to print bigger models, which are significantly more sizable than the prints you get from other budget printers.
This 3D printer uses both an LCD screen and ultraviolet LED instead of lasers to do its job. The LED shines a light that goes through the LCD screen. If the screen is transparent, the light shines through and hardens the resin under it.
This combination of LCD and LED screens means that you don't have to use carefully aligned mirrors, and there are fewer moving parts. What's more, it's a big resin 3D printer: It measures 17.8 by 14.3 by 30.7 inches (around 452 by 364 by 780 millimeters) and weighs a hefty 92.6 pounds (42 kilograms)
Features of the Peopoly Phenom That You Should Know
The Peopoly Phenom uses masked stereolithography apparatus, or MSLA, to print one layer of your models at a time. Because of its faster printing times and huge build volume, even small businesses can get into the fun.
What other features are there?
Huge build size: You can print objects that measure 10.9 by 6.1 by 15.7 inches (about 276 by 155 by 400 millimeters) or a total volume of 11.7 liters.
Easy to operate: Phenom features a 4.3-inch (109.2 millimeters) color touchscreen that allows you to control the printer easily. This would include adjusting the print bed, adjusting the light source's brightness, and pausing your print.
Connectivity: With Phenom, you will need to send your files using a USB drive or Ethernet connection.
Chitubox: You can use any 3D printing software, but the manufacturer recommends the Chitubox app. This one works on Mac, Linux, and Windows. Plus, it's easy to use.
Use any resin: The Peopoly Phenom works with any resin that you might have on hand. However, you should make sure that you adjust the settings that will work with that particular setting.
Almost no setup required: This 3D printer comes to you fully assembled. You just have to put the resin vat into the machine and manually level the bed, which is also a breeze.
The Costs of Using Peopoly Phenom
Aside from the printer's cost, you should also consider that you will have to replace the LCD panels and buy the resins for this printer.
The LCD panel can cost around $100 to $130, and the resins have prices starting at $30 and above.
What You'd Like About the Peopoly Phenom
Huge build volume
Bed leveling is a breeze
The user interface is very responsive and registers no delays.
What You Might not Like About the Peopoly Phenom
Perhaps one of the biggest considerations that might turn you off from the Phenom is that you will need to replace both the LCD screen and LED light source. These parts can wear out easily. Perhaps you will need a replacement LCD and LED in about 400 hours.
To give you an idea of how soon that is, that's just 16 to 17 days of printing non-stop. A huge project can easily take more than one day to complete.
What's more, there is no auto-fill feature here, which means you will need to manually pour resins into the tray. And the Phenom doesn't know when the resin is running low. You should put enough, or your prints will fail.
The fans can be very noisy
Your models might not stick to the bed when you're printing
There is no fill indicator
No Wi-Fi connectivity
No auto-fill feature
Peopoly Phenom: The Bottom Line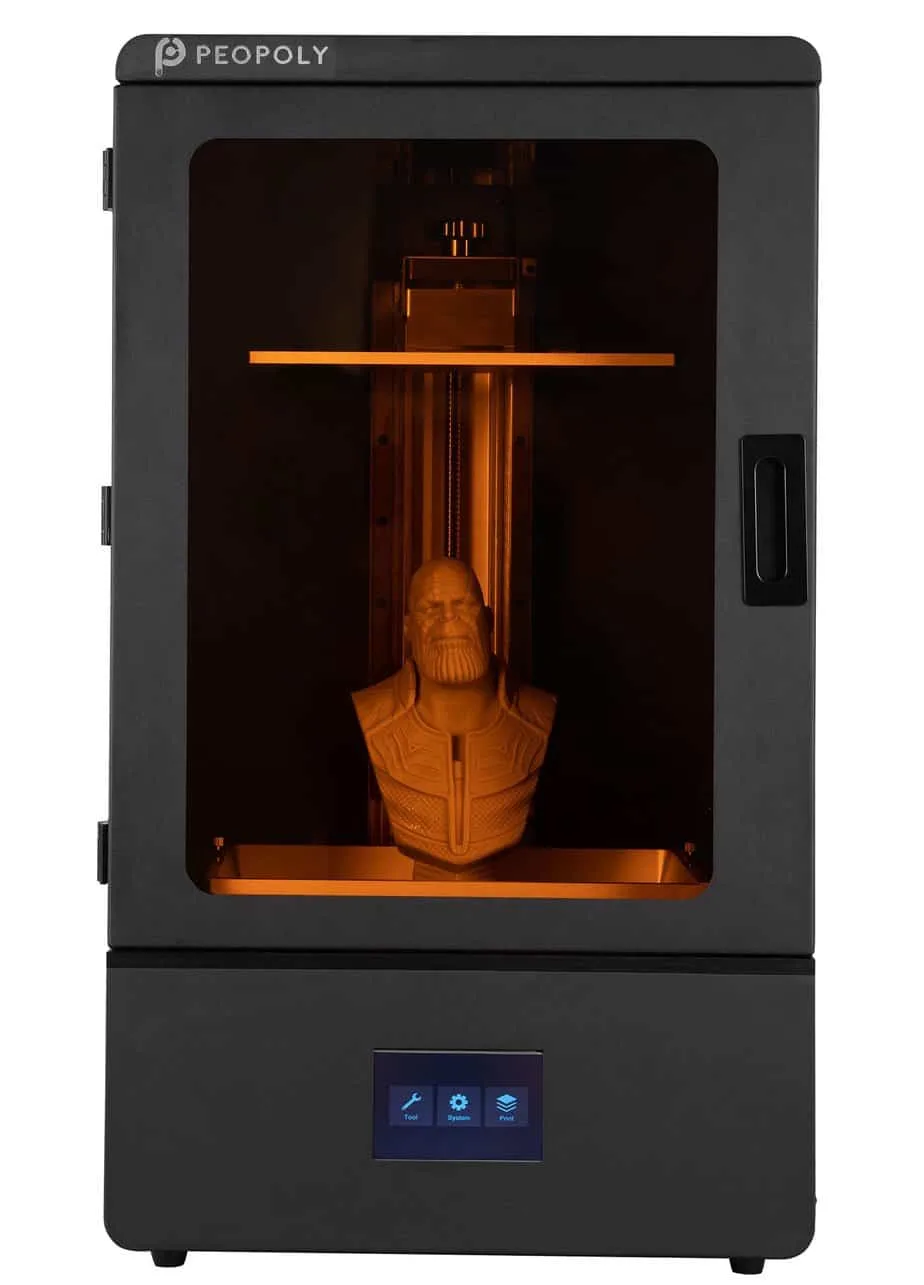 If you are looking for an excellent resin printer that can handle big prints, you should not miss out on the Peopoly Phenom. It gives you a sizable build volume at a price that you would like. What's more, this 3D printer delivers excellent resolutions, fast operations, and jas a highly responsive user interface.
It does have some trade-offs. It can get noisy when you're printing. It doesn't check how much resin is in the tank, and no indicator will alert you when it's running low. Sending your files via Wi-Fi isn't an option, and there are complaints that the 3D model may be dislodged from the bed when printing.
These are minor flaws, more of an annoyance than a dealbreaker.
Alternatives to the Peopoly Phenom
Elegoo Saturn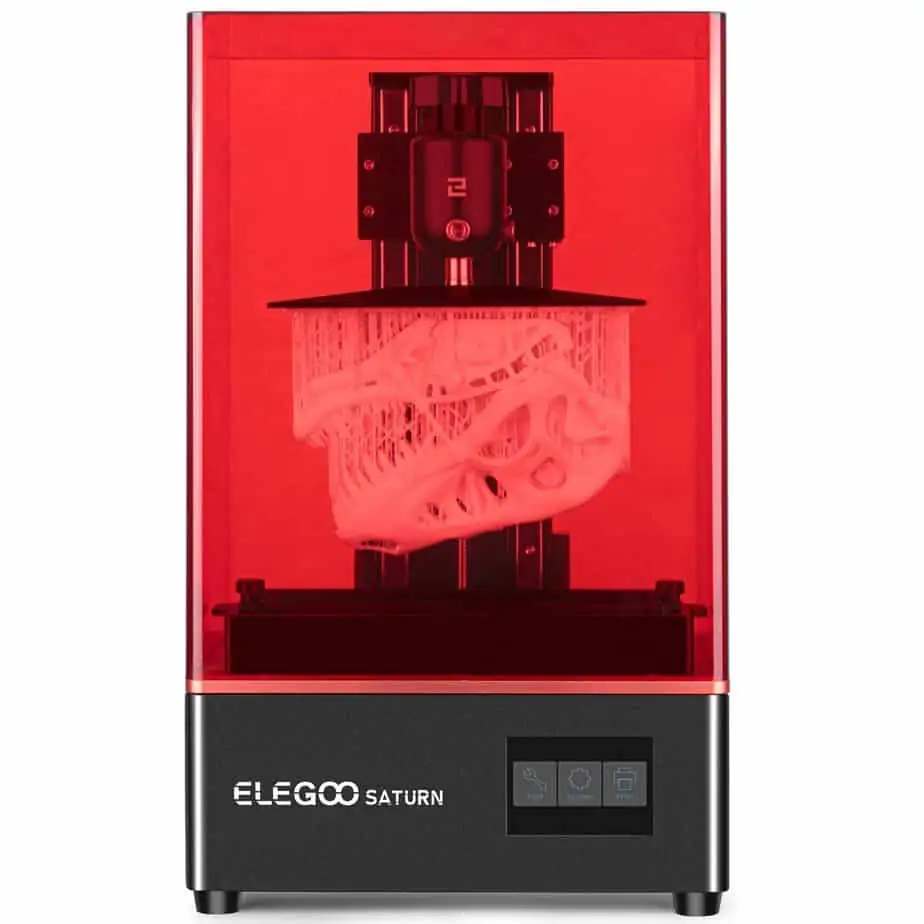 There are many things that you'd like about the Elegoo Saturn:
The huge build volume is at 7.6 by 4.7 by 7.9 inches (192 by 120 by 200 millimeters) with a printable area with a resolution of 3,840 by 2,400 pixels.
An 8.9-inch (226.1 millimeters) monochrome LCD
An XY-axis printing resolution of 50 microns
Affordable price
The Saturn is probably best described as an upsized Elegoo Mars as far as looks are concerned. It has the same red top covering the base machine.
This time around, Elegoo gave the printer a removable top. You will like how this printer has a USB slot in the middle, rather than the back of the machine. Added convenience also comes from having a pouring aid for the resin vat.
It comes with a monochrome LCD measuring 8.9 inches (226.1 millimeters) and 4K resolution. This practically guarantees faster printing times compared to the old Mars.
What's more, you get a simple printing process. You have to level the bed and choose the profile for your filament and everything else. Then you can start printing.
This 3D printer works with ChiTuBox slicing software, which helps you prepare your 3D models. You're limited when it comes to resins, as well. The Saturn is compatible with 405nm resins.
Pros
Huge print area
4K monochrome LCD guarantees fast printing times
Excellent print resolutions
Two cooling fans, which helps extends the LCD's life
Dual linear rails for the Z-axis
3.5-inch color touch display
ChiTuBox
Cons
This printer is always out of stock.
Phrozen Sonic Mighty 4K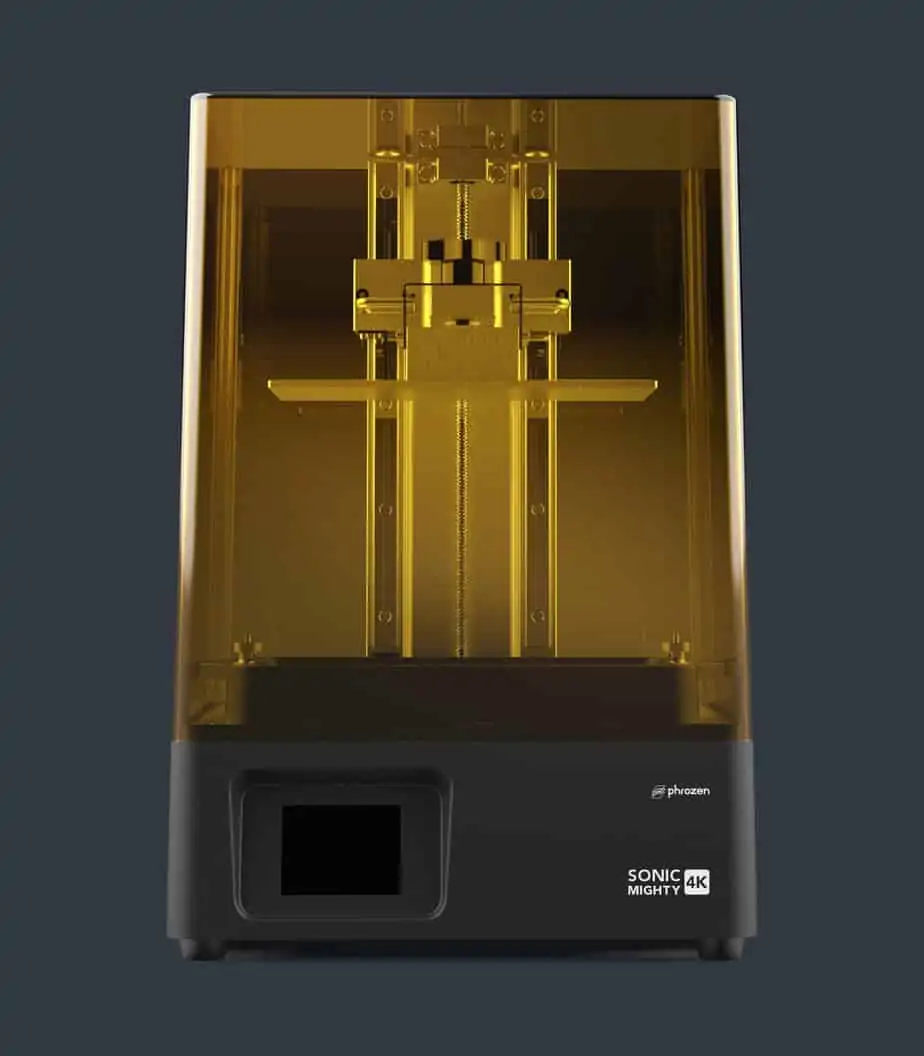 The Phrozen Sonic Mighty 4K has a build size of 7.9 by 4.9 by 8.7 inches (200 by 125 by 220 millimeters) and a 4K monochrome LCD that measures 9.3 inches (236.2 millimeters). This 3D printer gives you everything you want: fast prints, large build volumes, and a budget-friendly price tag.
Everything about this 3D printer is a breeze. Setting it up is fast, as you don't have to assemble this printer. What's more, you can easily level the print plate.
However, there are a lot of trade-offs when it comes to materials in order to keep the price down. You only have USB connectivity, the sometimes wonky and unresponsive touch display, and a plastic resin vat.
Read our full Phrozen Sonic Mighty Review.
Pros
9.3-inch LCD will give you bigger prints
Fast and detailed prints
The print plate is easy to manage and handle
Cons
You might run into some problems fitting the resin vat
The touch display is not very responsive
Anycubic Photon Mono X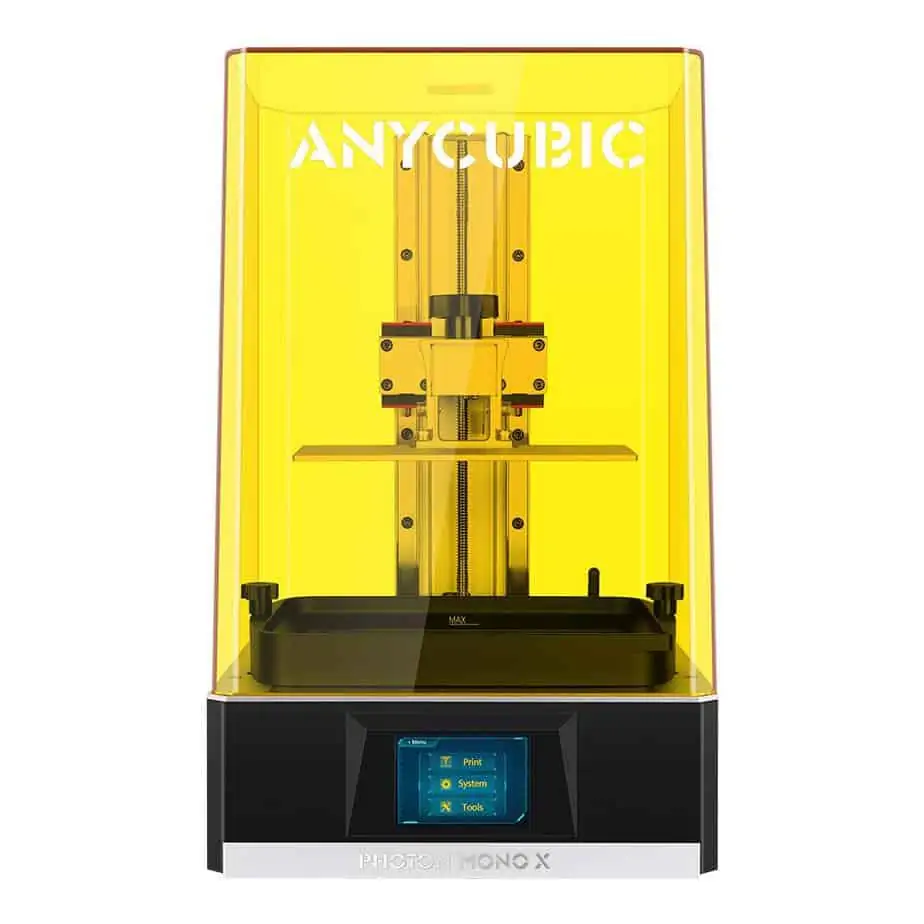 The Anycubic Photon Mono X is another MSLA 3D printer with a large build volume at 7.6 by 4.7 by 9.6 inches (192 by 120 by 245 millimeters). Like the rest of our recommendations, it has a monochrome 4K screen.
What's more, it has a metal build and a great user interface. It has an intensity control that allows you to tone down the strength of the UV lights if you want to extend the lifespan of the 8.9-inch (226.1 millimeters) LCD screen.
The Z-axis is also very stable, using a combination of the anti-backlash nut and dual linear rails. Print quality is outstanding as well, with details on your prints coming out really clear and defined.
However, the Anycubic Photon Mono X falters with the Photon Workshop. The slicer can be very time-consuming, as you will have to save any model that you've previewed, even if you don't want to print just yet. And you can't use just any slicer with this printer.
Pros
Promises fast printing times and big prints
Details are outstanding on this printer
Easy setup
Cons
The recommended slicer is not a joy to work with
It can be more expensive than other similar printers.
Side-by-Side Comparison: Peopoly Phenom and the Alternatives
Let's make it easier to choose the perfect 3D printer for your needs by pitting the Peopoly Phenom against the alternatives:
| | | | | |
| --- | --- | --- | --- | --- |
| | Elegoo Saturn | Phrozen Sonic Mighty 4K | Anycubic Photon Mono X | Peopoly Phenom |
| Price | $499 | $549 | $560 | $1,999 |
| Dimensions (inches) | 11 by 9.4 by 17.6 | 11 by 11 by 17.3 | 10.6 by 11.4 by 18.5 | 17.8 by 14.3 by 30.7 |
| Weight (pounds) | 27.6 | 17.6 | 23.6 | 92.6 |
| Build volume (inches) | 7.6 by 4.7 by 7.9 | 7.9 by 4.9 by 8.7 | 7.6 by 4.7 by 9.6 | 10.9 by 6.1 by 15.7 |
| Panel (inches) | 8.9 | 9.3 | 8.9 | 12.5 |
| 4K? | Yes | Yes | Yes | Yes |
| Resolution (pixels) | 3,840 by 2,400 | 3,840 by 2,400 | 3,840 by 2,400 | 3,840 by 2,160 |
| XY-axis resolution (microns) | 50 | 52 | 50 | 72 |
| Z-axis positioning accuracy | 0.00125 mm | 0.01 mm | 0.01 mm | Not listed |
| Printing speed | 30 mm/h | 80 mm/h | 60 mm/h | Not listed |
| Bed leveling | Semi-automatic | N/A | Semi-automatic | Manual |
| Touch display size (inches) | 3.5 | 2.8 | 3.5 | 4.3 |
| Compatible with 405nm UV resin | Yes | Yes | Yes | Yes |
| Recommended slicer | ChiTuBox | ChiTuBox | Anycubic Photon Workshop | ChituBox |
| Windows | Yes | Yes | Yes | Yes |
| macOS X | Yes | Yes | Yes | Yes |
| Linux | No | Yes | No | Yes |
| File types | STL, SLC, OBJ | STL | STL | STL, OBJ, AMF |
| USB | Yes | Yes | Yes | Yes |
| Ethernet | Yes | No | No | Yes |
| Wi-Fi | No | No | Yes | No |
As you can see in this comparison, the three alternatives pale in comparison to build volume. Because of its wider and taller print area, the Peopoly Phenom has a print volume of around three to 3.7 times bigger than the three alternatives.
It also has a bigger monochrome LCD screen and a touch display that's responsive and bigger than the rest. However, with a manufacturer's price of $1,999 and the fact that this printer is almost always not available, you might want to choose among its alternatives.
Price-wise, you'd like the Elegoo Saturn, but it has a relatively smaller build volume than the Phrozen Sonic Mighty 4k and the Anycubic Photon Mono X. But if you're not always printing big models, then you might want to give the Saturn a whirl.
Your next best bet is the Phrozen Sonic Mighty 4K which has the biggest LCD among the three alternatives. However, you may get turned off by the trade-offs you will see in this machine, such as having a plastic resin vat and a touch display that you'd have to poke hard to respond to.
The Anycubic Photon Mono X is cheaper than the Peopoly Phenom and still delivers huge prints that finish fast. However, the recommended slicer program, Photon Workshop, is not as intuitive as ChiTuBox, which the other printers use.
Between the slicer and the more expensive price tag, you'd be better off choosing Elegoo Saturn or Phrozen Sonic Mighty 4k if you cannot find the Peopoly Phenom on sale.
Frequently Asked Questions
Question: How do you adjust the settings for different resins when printing with Peopoly Phenom?
Answer: For the most part, you will need to adjust the setting, including the exposure times and LED power, that will suit the type of resin that you have. Peopoly keeps a document detailing the minimum settings for some resins, notably theirs and Siraya Tech resin.
If the resin you have is not listed there, you can get answers from the community.
Question: What You Should Know About Resins Used for Peopoly Phenom
Answer: Peopoly Phenom accepts 405nm resins. However, there are some considerations that you should know.
The printer allows for big prints. As such, it has a huge surface area that can lead to more peel force.
The stronger the peel force, the likelier your print will be pulled from the bed, and you'd have more broken supports and a loose base. As such, Peopoly recommends choosing resins that will be appropriate for big prints. The company has come out with its own resin, Deft, which is great for bigger 3D printers to make it easier.
Peopoly also recommends layer height between 50 to 60 micrometers.
Question: what's the difference between MSLA and stereolithography?
Answer: SLA and MSLA have many similarities. For one, instead of melting plastic filaments with fused deposition modeling, MSLA and SLA use ultraviolet light to harden the resin.
However, SLA uses a laser to solidify the resin and usually taking time to work on each element of each layer. As such, it can take a lot of time to finish your model.
MSLA uses a masked liquid crystal display to do the work. As a result, an MSLA 3D printer can harden the entire layer rather than working on different elements of that layer.
That little difference means that an MSLA printer delivers more accurate and faster prints, while your models also have a smoother finish.
Question: What are the non-negotiables when you're choosing an MSLA printer?
Answer: MSLA printers right now are delivering fast print times because of the use of monochrome LCDs. When MSLA machines first came out, they had colored LCDs that were widely available and cheap.
The problem is colored LCDs were notoriously slow. Monochrome LCDs are more expensive, but printing times were a lot faster.
Aside from looking for monochrome LCDs, make sure that you get 4K resolutions as well. Given the same printing area, 4K resolutions result in better details than LCDs with HD or SD resolutions.
So any 3D printer worth its salt will have a 4K monochrome LCD on board. What makes one printer perfect for you will depend on:
The build size
Compatibility with third-party resins
The slicer used
Your budget.
Peopoly Phenom: Should You Buy It?
The Peopoly Phenom comes with a hefty price tag at around $2,000. But because of its huge build size, fast printing times, and excellent print resolutions, you might want to seriously consider investing in such a machine. For one, you can print huge models without having to divide them into several parts.
The fact remains that the biggest flaws of this 3D printer don't lie in the machine itself. It's the fact that it's not always available.