There are three main components that you need for 3D printing: the filaments, the 3D printer, and the slicing software.
There are several slicing programs available right now, but two of the most popular are Slic3r and Simplify3D.
Main Differences Between Simplify3D vs Slic3r
The Main Differences Between Simplify3D vs Slic3r are:
Simplify3D is ideal for beginners, whereas Slic3r is geared towards professional and advanced users
Simplify3D's upgrades are few and far between, whereas Slic3r is constantly being upgraded
Simplify3D costs $150, whereas Slic3r is free
Simplify3D is not compatible with Linux machines, whereas Slic3r is
Now let's delve deeper into the differences between Slic3r and Simplify3D.
Slic3r Overview
Slic3r is an open-source slicing software that is very popular with 3D printing enthusiasts. It may be free, but it has some of the most useful and powerful features available today.
Like all slicing programs, Slic3r whittles down your models to different layers and then translates these layers to a set of instructions called G-code. Your 3D printer will then receive these instructions and accurate print what you want.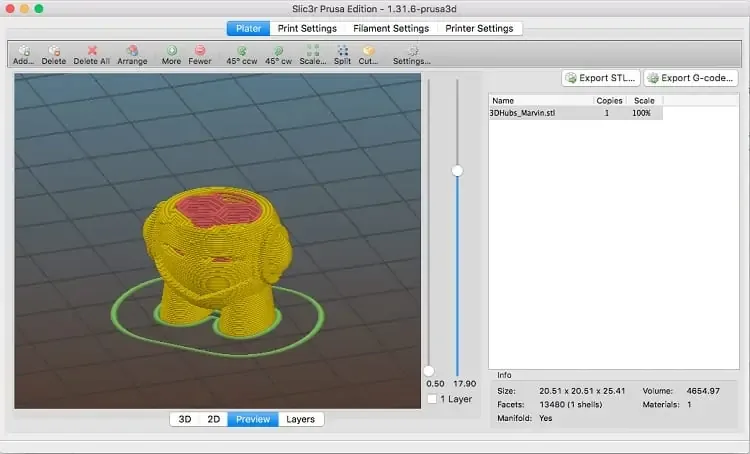 Interfaces
Slic3r has three different user interfaces. There's the desktop app, the command-line tool, and the libslic3r. Each one of these interfaces has its own functions and features.
Slic3r Desktop App
The desktop app allows you to turn your models into g-code and gives you a preview of the toolpaths. It also allows you to easily configure everything, plus get personalized g-codes with conditional logic.
The app also allows you to print on several machines at the same time, or send commands to OctoPrint. With the use of modifiers, you can get customized regions with their own set of settings.
What you'd like about Slic3r's interfaces is that it's very minimalist with no unnecessary frills. You see the most important settings, configurations, and features all on one screen.
The command-line tool is one of Slic3r's strongest plus points. The entire program is fully usable through the command line and it gives the ability to do almost all the things that Slic3r can do, so it's easier to do batch and custom operations.
For instance, you can generate g-code in batches, export SVG slices. You can also use the command-line tool to convert between several file formats, and manipulate your 3D models.
If you want to create customized applications that work with Slic3r, you will appreciate the libslic3r. This C++ library helps you handle 3D models from opening them, to repairing, transforming, and then converting to another format. You can even create G-code in different formats and generate infill patterns.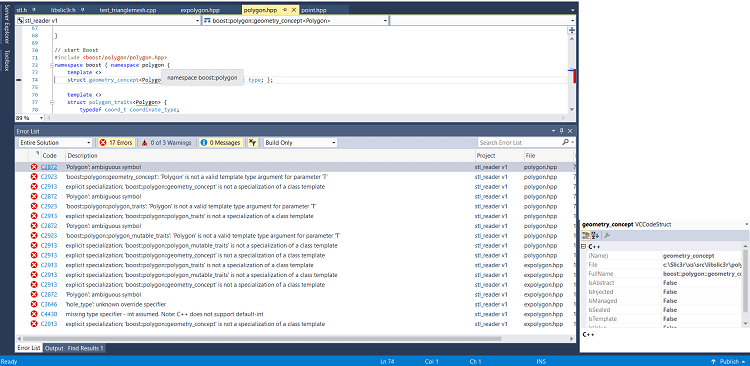 Slic3r Features That You Should Know
Slic3r is compatible with a wide range of 3D printers, including Reprap, Lulzbot, Ultimaker, Makergear, Makerbot, and some DLP printers.
With Slic3r, you can easily customize settings from your objects. The print settings help you customize the layers and parameters, set adaptive slicing, and even use a skirt and brims with your project.
Meanwhile, it can also control the filament settings, including the cooling and temperatures necessary for each type of printing you're going to do. It also allows you to control the retraction speed and length, as well as several other parameters.
The printer settings will allow you to control the extruders and even setup connectivity options.
What You'd Like About Slic3r
Slic3r has a wide range of features and functionalities that you will find necessary when 3D printing. It has a no-frills user interface that helps you focus on the more important features and settings. What's more, they have tooltips or quick help that gives you tips on what each parameter or value does, and how you can configure it.
Compared to others, Slic3r creates G-codes at a much faster rate. You don't have to wait for hours for even the most detailed models you have. What's more, this program can read a wide variety of formats, including STL, OBJ, or AMF. It can then output it in SVG or G-code files.
There is also no need to install this program. You just download and run it, and that's it. You can use it on any computer running on Linux, Windows, or macOS X.
Lastly, the biggest draw for Slic3r is that it's open-source, plus there is a very committed community behind it. This means that it quickly and continuously improves.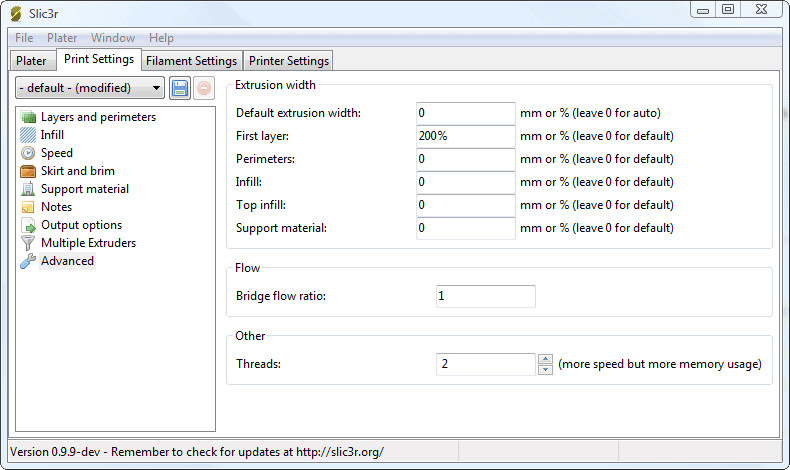 Other advantages
What other features are there?
You can generate a base flange for your 3D printing projects, which makes it adhere to the build plate more securely. You can also easily remove the base flange after you're done printing.
The program allows you to work with several objects with its plating features. But you can opt to print one object at a time.
Slic3r can also control fan and print speeds that will guarantee that every layer cools down before the next layer is printed on it.
If you're using multiple filaments and machines, you can manage all of these using Slic3r.
What Can Be better
Slic3r doesn't have presets for even the most popular filaments or printers. Having these presets should make it easier for you to tweak the settings for these devices or materials.
Simplify3D Overview
Simplify3D is another slicing program that translates your model into instructions for your 3D printer. The company promises that you will get better prints using their software because your 3D printers get better instructions.
This program works with a wide range of 3D printers, so there is a good chance you can benefit. If you're not sure, you can check your 3D printer's compatibility here.
This wide range of compatibility will also help you if you have two or more 3D printers. You no longer have to learn different slicing software or switch from one program to another. You can just use Simplify3D for all your machines.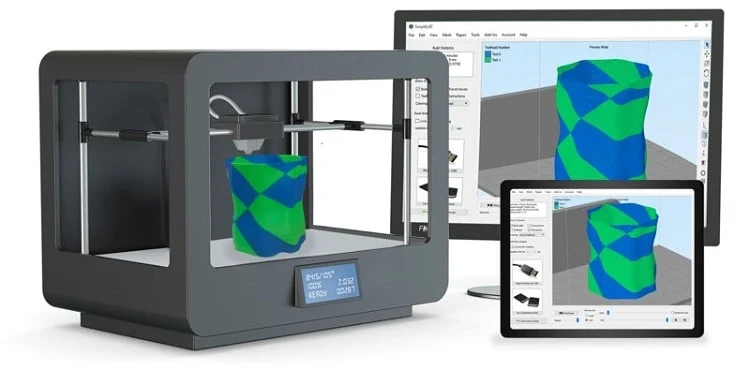 Simplify3D Features
With Simplify3D, you can:
Simulate your prints in advance so that you can see what your 3D printer will be doing without wasting filaments. You can see how each layer is printed, so you'd have an idea if there is going to be something wrong with your print. The pre-printing simulation will include settings, sequences, and exact speeds. You don't only avoid failed prints, but you also save time.
Create better support structures that help to get the surface quality your print needs for complex designs. You don't have to worry because these support structures are easy to remove once you're done. The best thing about this is that you don't have to worry about where to put these support structures: Simplify3D will these support structures should be located. You can also customize the positioning, add more supports, and remove those that you think will be useless.
What You'd Like About Simplify3D
Simplify3D has several resources that you can use to improve your 3D printing or get ideas. For instance, it has a blog that includes learning resources, design ideas, and others. Thye also has a community-led forum and official tech support.
You will also love how easy it is to install, to use, and set everything up. Not only do they have customer support, but they also have visual guides that can help you. This is a fast and reliable software that has powerful features. It also has an excellent visualization that can help you see how your printer will print out your design so that you can adjust and correct any issues before printing.
What's more, you can download profiles for more than 100 3D printers. If you're using a printer without a readily available profile, you can just add your own easily.
Overall, this slicer software helps you get top-quality and accurate 3D prints. And even with all the features and tweaks that you can do, the program is intuitive and easy to figure out. They also have excellent support and documentation and customizable supports.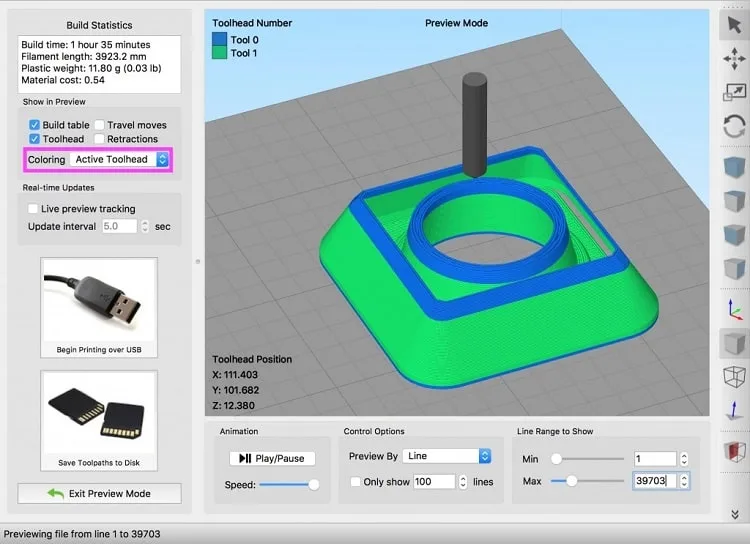 What Can Be Better
While this software does a lot of things and does it exceptionally well, it is not free. You can buy it for $149. Similar programs are distributed free. Other programs are paid, but not as expensive as Slic3r. For instance, SelfCAD is available for around $10 per month while KISSicer can be used for free or with a $35 payment.
Comparing the Simplify3D and Splic3r
Simplify3D is an excellent slicing program that can be used by total beginners right through advanced and professional users. Slic3r is pretty much a tool for advanced and professional users.
Slic3r has a steep learning curve and it may be a bit confusing to figure out, but ultimately it's a free program with a vibrant community. Simplify3D requires you to pay $150 to use the software.
There is also about the issue of upgrades. While Splic3r gets fast, continuous, and free upgrades, Simplify3D doesn't. For a time, the upgrades for Simplify3D were too slow in coming, or too insignificant.
Version 5.0 was also planned for 2019. It didn't come to pass, plus the planned upgrade was supposedly a paid one. Slic3r, on the other hand, started off with faster upgrade releases and tapered off. Nevertheless, the people behind this program has been updating almost daily.
Lastly, if you are using a Linux machine, Simplify3D won't work for you as it's only for use with Mac or Windows PCs. Slic3r, on the other hand, works with Linux, Windows, and Mac.
Frequently Asked Questions
Some of the questions we get about Slicer programs are here.
1. What Is G-Code?
G-code is a programming language that everyone involved in computer numerical control machining. In short, g-code is the language you use in computer-aided manufacturing, including 3D printing. It's how you tell a 3D printer how to do what you want.
There are many variants of g-code, which would explain why it has several file extensions such as:
G-code is written uniquely depending on the machine it's used for. For instance, Ultimaker Original uses RepRap, while Ultimaker 2 uses UltiGCode and Ultimaker 3 uses Griffin.
This video will introduce you to the basics of G-code.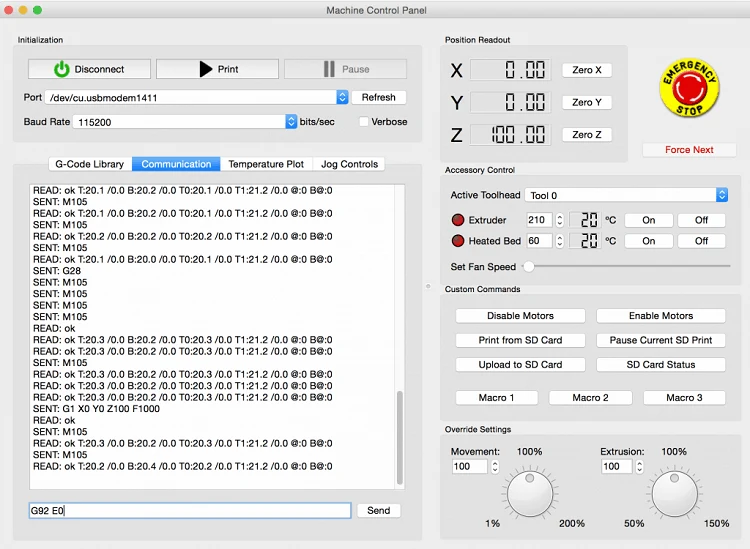 2. What is a slicing program?
A slicing program is one that cuts your 3D models into slices or layers. When each layer is done, the program will then interpret it in G-code.
As you know, G-code is a set of instructions that tells your 3D printer what to do, where to position the tool head and make sure that your prints follow the settings.
3. What should you look for in a 3D slicer software?
There are several variables that you should consider when looking for a slicer program:
Standard Triangle Language import speed: Helps you save time when doing complicated models on a slow computer
Viewer: Your chosen program should display your printable file and you should be able to zoom or turn the image in any which way you want.
STL repair: The slicer program should be able to tell you that there are errors in your model
Easy to use: Make sure that your slicer program is very intuitive and easy to use.
Preview: Make sure that your 3D slicer software will be able to tell you how long it would take to print your 3D models, as well as the materials used.
Support: You should be able to get onscreen help, as well as rely on the community for some assistance and answers to your questions.
Splic3r vs Simplify3D: Which One Should You Use?
There are advantages to both the Splic3r and Simplify3D. They are both capable and very powerful slicing programs. However, that's just the problem: it would seem that as far as features and functionalities are concerned, they both deliver. Simplify3D, however, does offer slightly more features and functionalities that other programs do not, including Splic3r.
But you pay $150 for Simplify3D while you get Splic3r for free. Plus, Splic3r is continuously updated with new features and bug fixes. That is something that you don't get with Simplify3D.
Also, the truth with slicer programs is that they're only as good as the amount of time you put into fine-tuning it. For instance, if you have been using Splic3r for a year and you switch to Simplify3D, then your prints will probably go back to a lot of failures and look pretty bad. That being said, it's better to go for a free program and improve on it, than buy one and do the same.
The only downsides to Splic3r are that it doesn't have custom supports, and it doesn't give you a preview on the duration and materials used in your print.
The bottom line is that Simplify3D is a good program that has an outstanding set of features and equally helpful documentation. It would have been a whole lot better if it were free, or at least cheaper than the current $150 price tag it has. On the other hand, Slic3r might be free but it also has leading-edge features that you cannot find elsewhere.
Other CAD Options for 3D Printing