Slicing programs are very important when you are into 3D printing. You should choose two things very carefully: your 3D printer and the slicing program that you use. There are several options when it comes to slicers, and each one has its charms and pitfalls.
Two of the most talked-about slicers out there are the Ultimaker Cura and Slic3r. These open-source programs both have a solid community behind them. They also offer an excellent set of features that you wouldn't expect a free program to offer.
Which one is better for you?
Buy 3D Modeling Software | Autodesk
From beginners to professionals, Autodesk has 3D modeling software designed to meet your needs.
Check Price
We earn a commission if you click this link and make a purchase at no additional cost to you.
Main Differences Between Ultimaker Cura vs Slic3r
The Main Differences Between Ultimaker Cura vs Slic3r
Ultimaker Cura has two layouts — recommended for beginners and custom for more advanced users, whereas Slic3r uses categories and sub-categories to organize its settings.
Ultimaker Cura allows for easy positioning and rotation for your models, whereas Slic3r's movement icons are quite difficult to master.
Ultimaker Cura gives you a lot of model information, whereas Slic3r only tells you the length of the filament used.
Ultimaker Cura allows you to remove supports where they are not needed, whereas Slic3r has yet to include this feature.
Ultimaker Cura has hundreds of printer settings profiles ready for use, whereas Slic3r will require you to source your printer's profile and import them into the system. Either that or you input them manually.
Ultimaker Cura: Everything You Need to Know
Originally developed by David Braam, Cura had its start as open-source software. It was maintained by Ultimaker and its users. Ultimaker eventually hired Braam. According to a 2019 Manufactur3D report, Cura has half a million unique users every month. The software assists more than 1.4 million prints a week.
Knowing that Cura is a pet project of one 3D printer brand, you might be concerned that your 3D printer might not be compatible with the software. Put those fears to rest because Cura works with several other brands.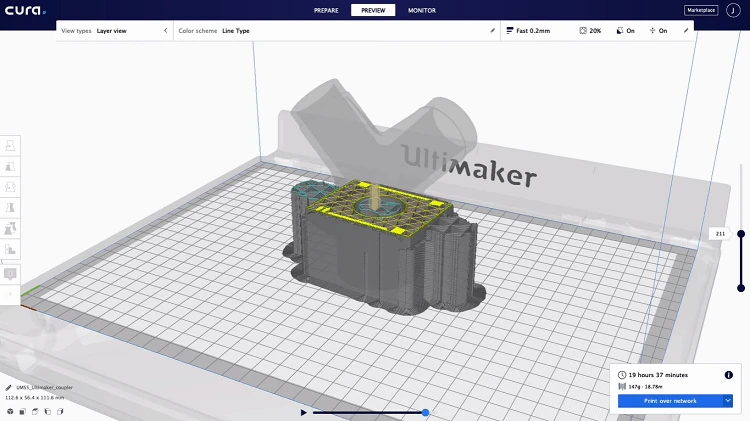 How Does Ultimaker Cura Work?
Ultimaker Cura slices your models into layers and then creates a list of instructions called g-code. The g-codes are printer specific and can immediately be sent to your 3D printer for manufacturing the prints. What's more, these profiles are tested by experts, so you can be sure that you have the right settings without worrying about it too much.
Cura works with some of the most commonly used 3D formats:
It can also work with image files such as JPG, PNG, GIF, and BMP.
Ultimaker Cura: Features
With Cura, you are using a very powerful and features-packed slicing engine.
Easy to use. Cura promises that you can prepare your prints with just a few clicks. You can choose one of the recommended profiles, but you can also go into custom mode if you want a high level of control over your prints.
Easier workflow. You can integrate it with your CAD software, such as Siemens NX, SolidWorks, or Autodesk Inventor​.
Plugins now allowed. Cura now accepts plugins that you can use to enhance your 3D printing experience. These plugins are duly rated by the community.
The thing with Cura is that it's constantly evolving and new features and functionalities come out every so often.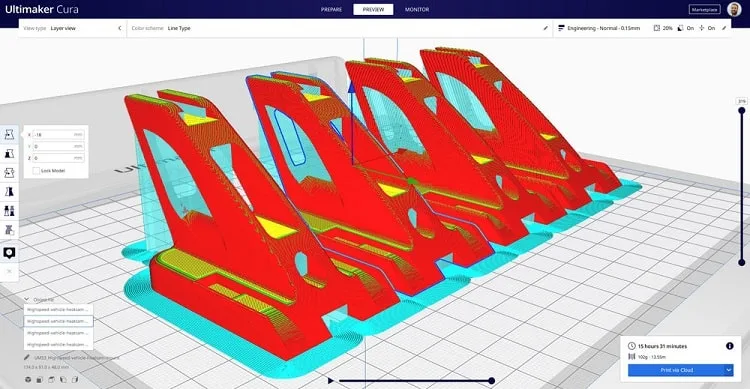 What You Would Like About Ultimaker Cura
Cura works with almost all 3D printers out there, with ready to use profiles. But what makes it better is the fact that you can tweak every parameter such as the perimeters, density, padding, supports, layers, and others, before printing.
You can also change the g-codes even in the middle of printing. Plus, it's free to use.
Ultimaker Cura: What Can Be Improved
Ultimaker Cura can be quite a memory hog. It requires four gigabytes of RAM. Even then, there are reports that the program can take its time when loading large files. Further, it can crash and stop working in some instances.
Plus there are some parameters that require some trial and error because Cura doesn't really explain how you should modify them.
Further, there are complaints that the printing time estimates are inaccurate, sometimes missing the mark by 10 to 20 percent.
Ultimaker Cura: The Bottom Line
If you're looking for a slicing program that allows you to work with a wide range of file formats, and even repairing your models when necessary, then you should really look at Cura.
More than that, it gives you pre-tested profiles for beginners while giving you the freedom to tweak the parameters so you can control just about everything. It also supports plugins, making the printing process more customized for your needs. Lastly, it's free and allows you to do some dual printing.
What You Need to Know About Slic3r
Slic3r is yet another open-source slicer program that transforms the layers of your model into g-code. You can use the desktop app to do this, with a visual preview of the tool paths.
Slic3r gives you a great degree of control will the advanced configuration management and the custom g-code with conditional logic. You can even print on multiple machines all at the same time.
There is also the command-line tool that allows you to generate g-code in batch mode and export SVG slices. You can use this tool to cut, repair, and transform the models you want to print and even convert one file format to another.
But the biggest plus factor for Slic3r is the libslic3r. This library helps you create custom applications that will allow you to handle and manipulate 3D models, such as repairing and transforming them.
These applications will also allow you to slice vector data, generate g-code in a variety of formats, create infill patterns, get estimates on the printing time, and even add connectivity options such as being able to send g-code over a serial port.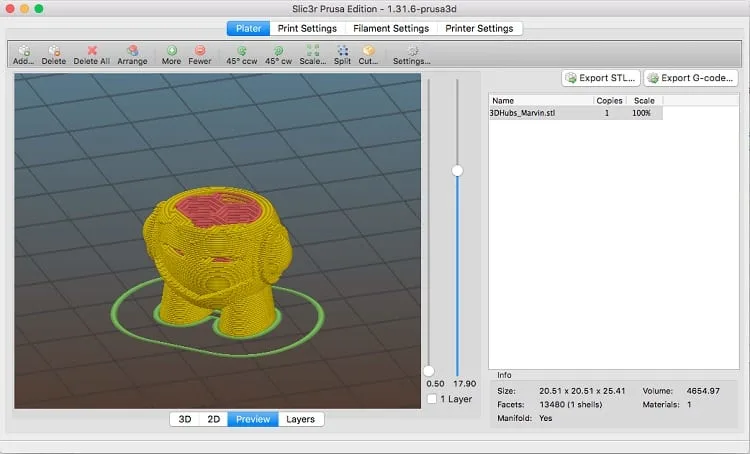 Slic3r Features
Slic3r is compatible with a wide range of 3D printers including those from Makerbot, Ultimaker, TAZ, MakerGear, Mach 3, and Rostock. It can read STL, OBJ, and AMF files, and can give you g-code and SVG output files.
Slic3r is an open-source program that has no dependencies. You can run it on macOS X, Linux, and Windows. You only have to download it and run it. You can use Slic3r to print with multiple extruders, that way you can have one extruder printing the main object, another doing the supports, and yet another doing the infill.
Other features you can expect from Slic3r include:
Using brim for better adhesion, which uses a base flange around your printed object. You can just remove the flange later on.
Micro layering that helps you save time and improve accuracy
Built-in plating interface where you can place objects via drag-and-drop, and then scale or rotate them as necessary
Automatic creation of supports
Cools down your 3D printer by regulating your fan speed and print speed. This guarantees that every layer cools down enough before the next layer is put on it
What You Would Like About Slic3r
If you are new to the world of 3D printing, there is something to be said about Slic3r's efforts to make everything easy and simple. They have an online manual that you can consult if you have any problems from downloading to making your first print, to getting the configurations down.
Beginners will appreciate the software's beginner mode with fewer options to think about. Meanwhile, advanced users will also love the level of control they have.
Slic3r works fast, even if you have a slightly older and slower computer. What's more, the program will only re-calculate the affected areas when you change a setting. For free software, it has a lot of features and functionalities that you will love.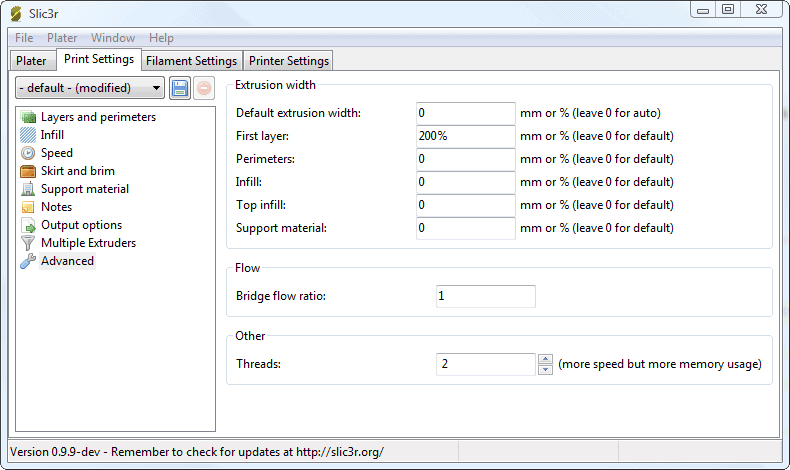 What Can Be Better
Slic3r doesn't have estimates for both materials used and print time. Further, because of the overload of features, it's going to be easy for newbies to get lost and overwhelmed using this program.
The Bottom Line on Slic3r
Slic3r is an excellent and free slicing program that has advanced features for everyone to enjoy. It makes preparing your model a whole lot easier and makes printing faster. What's more, it's supported by a vibrant and helpful community that makes upgrades a whole lot faster with very few headaches involved.
The Slicing Program Showdown: Comparing Slic3r and Ultimaker Cura
So you're probably wondering which slicing program is the best for your needs. Both Slic3r and Cura have a ton of features that can help you get the most out of your 3D printing, with fewer headaches. What's more, both are free.
If you're having a difficult time deciding, here are the areas where you should focus.
1. Profiles
Ultimaker Cura is known for the wide assortment of profiles it has that makes it possible for you to get the best settings for every print. If there are profiles not available on Cura, the manufacturer can send their own profile settings and you can upload it to Cura.
Slic3r will require you to manually enter printer settings if you don't have the profile on hand.
Because of this Cura is more ideal for those people who have numerous 3D printers from different manufacturers.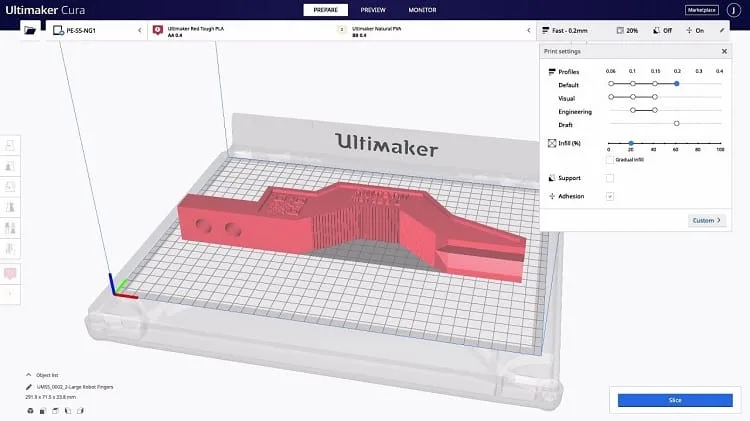 2. Information About Your Models
Getting information about the filament usage, material costs, and print time can help you keep track of your consumables, or assign costs to a client.
Cura gives you the print time, the filament used, the print cost, and the time break down. All of this information can help you optimize the settings to reduce costs and print times.
Slic3r only gives you the filament used by length.
3. User Experience
Ease of use has always been Cura's main selling point. With the ready-made profiles, it is very easy for even the greenest of beginners to use. That ease of use carries over to the interface: Cura makes a solid effort to be user-friendly and it guides first-time users, as well.
Cura has a beginner-friendly layout that you can choose. They also have the custom tab for more advanced users, allowing them to tweak a variety of settings.
What's more, it's easy to move and position a model in Cura. When you select a part, the scale, rotation, and movement tabs are highlighted. You can move or rotate the model in 15-degree increments. Cura also allows you to remove supports where they are not needed.
On the other hand, Slic3r's user interface presents the settings in tightly organized categories, and these categories are further broken down into different subheadings. With this layout, users are presented with settings in bite-sized and easy to understand chunks, rather than overwhelming them with the features and possibilities.
What's more, moving and orientating your model with Slic3r can be a pain. The rotation icons need a bit of getting used to. Unlike Cura, you can rotate your model at any angle. There is no way for you to remove supports
Further, Cura can handle large files faster than Slic3r.
Frequently Asked Questions
To better help you decide on whether to go with Ultimaker Cura or Slic3r, we answer some of the most often asked questions about 3D printing and slicing programs.
1. What are slicers and why do you need them?
A slicing program turns your 3D model files and your preferences into G-code. In short, you will need a slicing program, or slicer, to create a set of commands that your 3D printer will use to print your objects.
G-code tells your 3D printer where to go along all the axes. G-code commands also include instructions for the servos, the leveling sensors, heaters, and other components.
An excellent slicer will help ensure that you get the best quality and good resolution for your 3D prints.
2. What are the things that you should consider when choosing a slicing program?
Some 3D printing experts are saying that you should really invest time in choosing a slicer software because the quality and accuracy of your prints will depend on these programs. In short, using the right slicer software will either make your 3D prints look great or ruin the look and quality of your prints.
But how exactly do you choose a slicing program? First off, you should choose how easy it is to use. There are several options out there and each one is geared towards different users. For instance, there are slicers that are best for beginners such as Cura, Craftware, and SelfCAD.
Some are good for intermediate users and enthusiasts, such as Repetier and KISSlicer. Expert users would like Slic3r or IceSL.
Another consideration will be the features and functionality offered. This criterion is tightly associated with how involved the community is. A vibrant community means that upgrades and new features are fast and continuous. What's more, if there is a feature that you would like to have, you can always ask the community.
Aside from that, you will want to get a slicing program that already has the features you need. There is no sense in using a program and hope that the community or developer comes out with the features you want soon when another program already offers that functionality.
Other considerations that you should have include:
Price. There are open source and free programs that you can use and this doesn't mean that it's bad. In fact, some of the best slicing programs out there are free. However, there is an allure to using programs that you pay for. For one, there's a good level of support for these programs.
Platforms. Some slicing programs work just about anywhere: on Windows PCs, Mac machines, or Linux devices. What's more, they don't have too many dependencies. Others work only for a specific platform.
Compatibility with your 3D printer. If you already have a 3D printer, it might help you save time if the slicing program you have has a settings profile for your printer. This way you get to avoid having to manually enter your printer's details, which could take a long time.
3. Are there other slicer software out there?
When you are choosing between Cura and Slic3r, you might want to compare both to other slicing software out there. As we have hinted above, there are a lot. But which ones are worth considering?
OctoPrint is more than just a 3D slicer, it allows you to monitor your 3D printer from your smartphone or desktop computer. you can even use plugins and webcams to make the job better. The 3D slicer program it offers uses CuraEngine.
MatterControl is a one-stop-shop where you can do everything to print a model without using any other program.
Simplify3D is an excellent slicer for professionals. It is compatible with just about any 3D printer and has ready profiles for each one. There are a lot of things that you can do with the program, including importing, scaling, and repairing your 3D models. Simplify3D is very intuitive to use and you won't get overwhelmed by the number of features and functionalities it offers.
Ultimaker Cura vs. Slic3r: Which One Should You Choose?
It is not an exaggeration to say that you can choose either Ultimaker Cura or Slic3r and still get the best slicing program available right now. These two represent the best out there and both are free. There is literally no reason why you shouldn't pick either one. However, if you look at the nitty-gritty, you will find that Cura does some things better than Slic3r.
The biggest draw with Cura, however, is for beginners. Having ready-made settings profiles, a more intuitive user interface, and fast regular updates put it above Slic3r. In these areas, it's easy to recommend Cura over Slic3r or every other slicing programs out there.