Elegoo Mars Review: Pros and Cons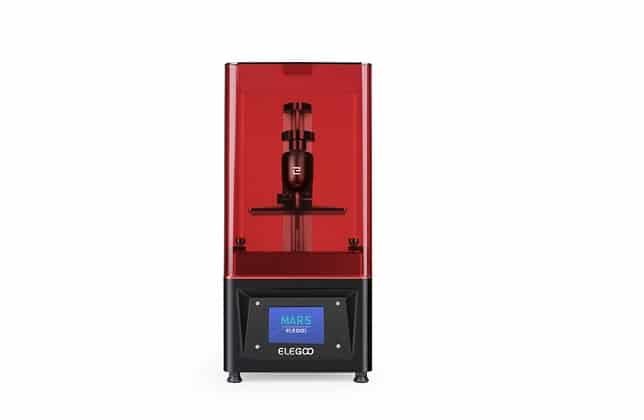 The rise of 3D printers has been quick. In the UK alone, 17 percent said that they will buy a 3D printer. This is probably the reason why there are several manufacturers right now who are offering their own 3d printers.
The ELEGOO Mars is one of the more popular recommendations with its incredibly low price and excellent print quality. This 3D printer is also very easy to learn and a very compact design.
What other things should you know about ELEGOO Mars? And are there alternatives if you're not impressed with the ELEGOO Mars? Read on and find out more about this 3D printer and whether it is the perfect one for you, or if you should keep looking for something else.
What Is the ELEGOO Mars UV Photocuring LCD 3D Printer?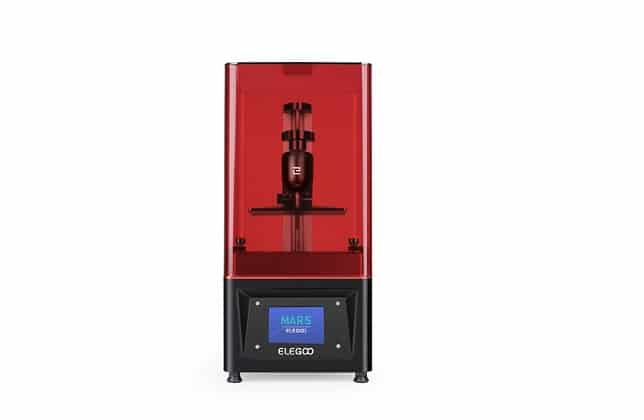 When you buy a budget 3D printer, you kinda expect it to suck. After all, the most common tradeoff for getting an affordable printer is that the quality is often compromised.
Not with ELEGOO Mars, though. This affordable 3D printer does not scrimp on the quality of the prints. It looks great too.
ELEGOO Mars is a photocuring LCD 3D printer that uses photopolymer resins to create the prints you want. The low-priced printer promises high-quality prints because it does not use fusion deposition modeling. FDM is when the 3D printer uses hot plastics that are pushed out of extruders for your prints. FDM printers produce smoother surfaces on your prints that are also more detailed. The problem is that FDM printers can cost quite a lot.
ELEGOO Mars cures the resin to create the prints you want. As such, it does not use the expensive FDM technology and you can buy this printer for around $370.
Specifications and Design
But how is the print quality? To say that these are some high-quality output that can rival prints from more expensive devices will surely not be enough. Let's look at the specs.
ELEGOO Mars measures 7.87 by 7.87 by 16.14 inches (200 by 200 by 410 millimeters) and it has a build volume of 4.7 by 2.6 by 6.1 inches (120 by 68 by 155 millimeters). This 3D printer is a bit on the small size, which can be good or bad depending on how you view it.
The small size means that the printer does not take up a lot of space, so you can be more flexible when deciding where to put it. But the smaller build volume would limit the size of the prints that you can have with this printer.
The ELEGOO Mars has an aluminum base with an orange cover. It does not look like most other 3D printers, with their boring black or white build.
At the front of the base, ELEGOO puts a sensitive touch display that allows you to tweak the controls and settings for your prints. There is a USB port at the back, which is where you put in the flash drive that contains the print files.
Printing with ELEGOO Mars
Aside from being the little printer that could, ELEGOO Mars also prints differently than other printers. We are used to seeing printers with extruders pushing out plastic filaments to create 3D models.
ELEGOO Mars has a vat of resin and the build platform is dipped repeatedly into it. Ultraviolet light will cure the resin layer by layer. So as the build platform goes in and out of the resin tray, another hardened layer is added to it.
What You Will Like About the ELEGOO Mars UV Photocuring LCD 3D Printer
The ELEGOO Mars comes to you already set up. Plus the box already has everything you need to print your first 3D model. That includes the printer, enough resin, gloves, filter funnels, masks, wire cutters, measuring cups, flash drive, and scraper, among others.
Not only that, the ELEGOO Mars has a pretty smooth printing process. That is everything is easy to do even right down to how easy it is to take out the resin tray and put it back.
It is clear that this 3D printer has been thoughtfully designed, so there is no need to push and pull with force worrying about breaking some part or another.
What You Might Not Like About the ELEGOO Mars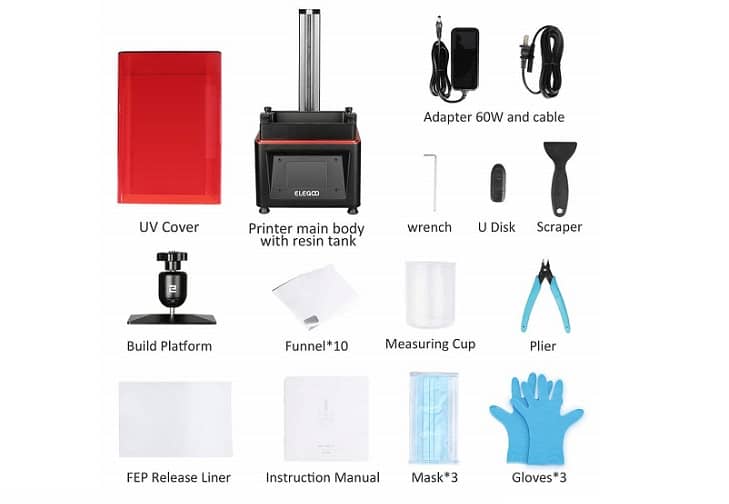 One thing about the ELEGOO Mars that you might find bothersome is this 3D printer makes a loud beeping noise when it starts and finishes a print. You cannot turn it off and it can be pretty annoying.
Another thing is that the consumables can be expensive. ELEGOO manufacturers their own resins, which are available in two volumes: 500 and 1,000 grams (17.6 and 35.3 ounces) and can cost anywhere from $1.13 to $1.60.
And that's just the resin. You will also need to stock up on gloves because it is not safe to touch the resin without wearing them. Then you also need more filter funnels. Further, you might not like how this 3D printer allows you to do smaller sized 3D objects because of its smaller build volume.
ELEGOO Mars: The Bottom Line
If you have been wishing for a budget-friendly 3D printer that does not produce garbage 3D prints, then the ELEGOO Mars is the answer to your prayers. This affordable 3D printer produces high-quality prints and it does not look cheap at all.
There is a lot of things that go for it as well. The intuitive user interface with its large 3.5-inch, 2560 by 1440 pixels 2K high-definition touch display, makes it very easy to use.
There is a very simple process from setup to printing, so you don't have to be a techie to learn how to use this device. If you're looking for a budget printer or just want to try resin printing, this it the best 3D printer for you.
Pros
A budget-friendly printer that produces high-quality prints
Easy to use with minimal assembly required
Eye-catching design that melds aluminum and an orange cover
The very simple printing process
Compact size
Cons
Accessories and supplies can add up to the cost
High-pitched beeping noise that you cannot stop or deactivate
Smaller than the typical build volume
Alternatives to ELEGOO Mars UV Photocuring LCD 3D Printer
With dozens of 3D printers out there, the ELEGOO Mars has a number of excellent competition. If you are looking for a similarly affordable 3D printer that doesn't hurt your pocket, here are some alternatives.
1. X-one2 3D Printer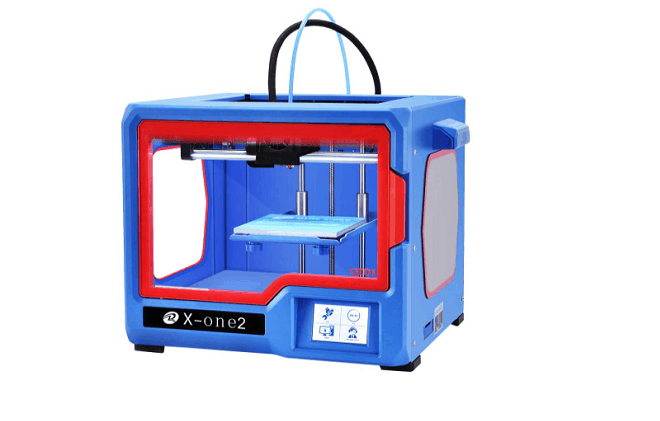 If you are looking for an even more affordable 3D printer, then you can check out QIDI Tech X-one2 3D Printer.
This printer is pretty much plugged and play and you can start using it the moment you get it out of the box. It is an FDM printer with a single extruder and can work with different filament types such as ABS, TPU, and PLA. It also comes with a 3.5-inch touchscreen that allows you to operate the printer and set its configurations easily.
What's more, it has the features that you would expect from other similar but more expensive printers. It has an enclosed build that helps to keep the temperature constant while keeping dirt, dust, and curious fingers out of the printing area.
It also comes with a heated print bed, which allows you to print with PETG or ABS filaments. It also allows for third-party filaments to be used when you are printing.
However, this printer only gives you a printing size of 5.5 by 5.5 by 5.5 inches (139.7 by 139.7 by 139.7 millimeters), which is significantly smaller than the ELEGOO Mars' already tiny build volume.
Pros
Affordable
Simple operation, just feed the printer some filament and start printing
Cons
2. Comgrow Creality Ender 3 3D Printer Kit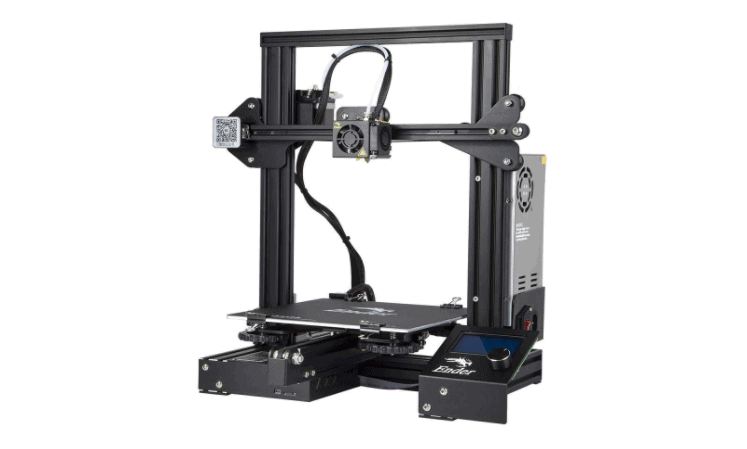 The Creality Ender 3 has several excellent features that make it well worth its low price. For one, you can resume printing after a power outage. It also uses an advanced extruder that lessens the possibility of failed extrusion and plugging risk. It is also very quiet and durable.
This fully open-source printer has its source codes available to the community, allowing anyone to make changes and improve the product. What's more, this printer gives you a build volume of 8.7 by 8.7 by 10 inches (220 by 220 by 250 millimeters).
However, the low price and the decent build volume has some tradeoffs. First, you will need to assemble it. While the whole process is quite easy to do, especially if you follow the manual or find a good YouTube tutorial, it will still take time.
Pros
Very affordable
Precise printing at more or less 0.1-millimeter precision
Open-source
It is possible to get high-quality prints
Easy assembly
Cons
Difficult to level
You need to manually calibrate the printer
You will need to assemble this 3D printer kit
3. QIDI TECH Shadow 5.5 S 3D Printer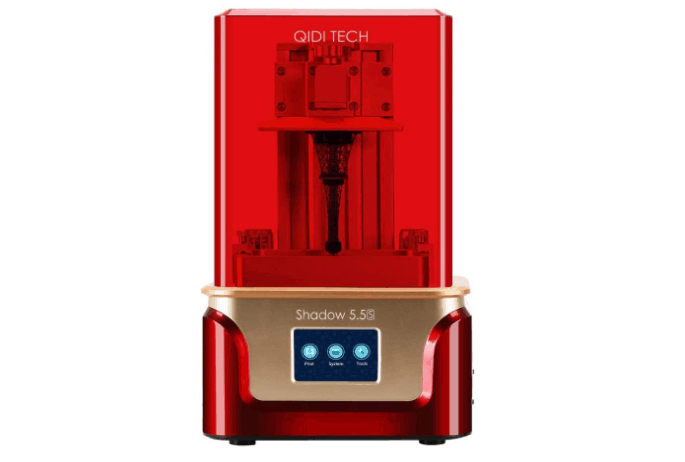 If you would like a non-FDM printer and get something that works with resins, then check out the QIDI TECH Shadow 5.5 S 3D Printer. This 3D printer sells for around $150, making it much more affordable than an ELEGOO Mars.
What's more, this 3D printer looks great with its tempered glass construction in red and gold. The Chinese manufacturer might have been going for a bit of an Iron Man look, but that should not be too much of a complaint.
The QIDI TECH Shadow 5.5 S 3D Printer has a build volume of 4.52 by 2.55 by 5.9 inches (115 by 65 by 150 millimeters). It is able to print with resolutions of 2,560 by 1,440 pixels and you can use third-party resins with this printer.
That means you get excellent details on your 3D prints, and the printer works quietly. Two air filters inside the build chamber infuse the fumes with activated carbon, so there is less stench coming from the resin. However, there are complaints about the printer arriving with dings on the body.
Pros
Great for beginners because of the included instruction
The air filtration system can fight the stench that normally comes resin printers
High-quality prints at a very attractive price point
Cons
Quality control issues with the printer, with some components arriving dented, beat up or broken
The company does not provide any customer service
FAQs
1. What is FDM printing?
Fused deposition modeling or fused filament fabrication is when your 3D printer extrudes melted material to form your 3D object. FDM technology is the most commonly used in 3D printing, and most people will encounter FDM 3D printers first before any other technology.
FDM technology has some benefits, such as lower costs and a wide range of materials you can use with it. It is also faster because you don't have to do a lot of post-processing.
2. What is stereolithography?
Stereolithography, or SLA, is a type of 3D printing technology that uses resins to create your model. Unlike FDM, which pushes melted materials out of the extruders, SLA printers use light or lasers to cure resin: turning it from liquid to hard plastic.
FDM printers have their extruders and filaments, while SLA printers have their light sources and vat of resin.
SLA printers often produce stronger models that are water-resistant or waterproof. These 3D printers are also very precise and accurate, with very fine details
You can also have a very smooth finish with SLA printers. Not only that SLA printers are typically less expensive than FDM printers and you can use a wide variety of materials with different characteristics. For instance, your resin can hold a lot of secondary materials such as ceramic or glass.
3. What are the things to remember if you are buying a printer like ELEGOO Mars?
There are some precautions you should take when it comes to working with SLA printers in general.
for one, there is the possibility that it will give off a strong odor or stench while printing. This is the reason why you should always find an SLA 3D printer that has good ventilation or air filtration system.
What's more, the resins used for this kind of printer tend to come with a lot of caveats. First, you should wear the right protective equipment.
You will need to wear gloves that are made with neoprene or nitrite. You should also use safety goggles and a dust mask when you are sanding parts of your newly printed object.
Is the ELEGOO Mars UV Photocuring LCD Printer a Good Buy?
On its own, there are a lot of reasons why you should buy the ELEGOO Mars. For one, it is a budget-friendly printer that delivers excellent print quality. It has a sizable build volume that allows you to create sizable prints.
However, if you zoom out and check out other budget-friendly printers, you would find that it is not a novelty that something so affordable can deliver awesome looking and detailed prints. For instance, you can get two FDM printers that are cheaper than the ELEGOO Mars.
The QIDI Tech X-one2, for one, has similar features as the ELEGOO Mars, but it does have a smaller build area. Nevertheless, it is very easy to operate and learn.
If you like an alternative that uses resin, then check out another QIDI product: the Tech Shadow 5.5 S. This 3D printer can deliver a high-resolution print that retails for less than $150. If you are handy with your hands, you can check out the 3Dpritner kits such as the Creatlity Ender 3D Printer. This printer needs some assembly to work properly.
Overall, it is difficult to find a better 3D printer that can combine low costs and excellent 3D prints, with a vibrant community of users who can help you should you hit a snag.
Further read: