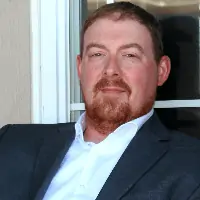 Latest posts by Justin Caldwell
(see all)
The Ultimaker 3 and the Lulzbot Taz 6 are two of the best 3D printers on the market. They both provide consistent print quality, ease of use, and accessibility to both beginners and experts. While they have many similarities, they contain different features that make them unique.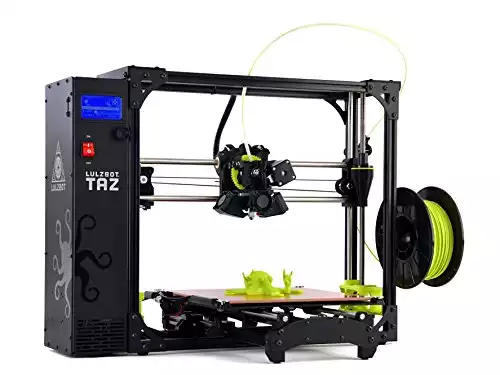 Main Differences Between Ultimaker 3 vs Lulzbot Taz 6
The main differences between Ultimaker 3 and Lulzbot Taz 6 are:
The Ultimaker 3 features two extruders for more versatile printing, whereas the Lulzbot Taz 6 does not.
The Ultimaker 3 does not support a wide variety of speciality filament types, whereas the Lulzbot Taz 6 does.
The Ultimaker 3 has strings of lights running along the inside of the frame to make the print job more visible, whereas the Lulzbot Taz 6 does not.
The Ultimaker 3 has an open design providing a view of your print job from all angles, whereas the Ultimaker 3 print jobs are only visible from the front and sides.
Ultimaker 3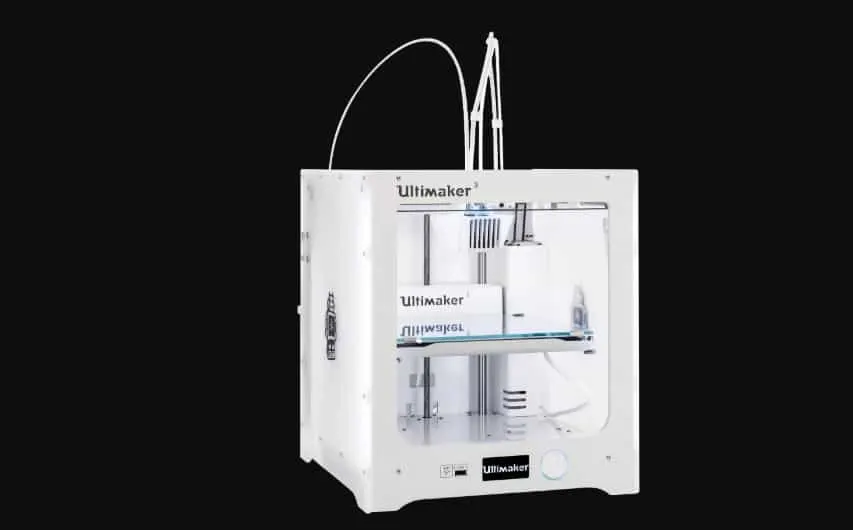 The inclusion of two extruders on the Ultimaker 3 means it's more versatile and flexible than other 3D printers, even its predecessor, the Ultimaker 2+. You can print using two different filament types or colours for more dynamic printing results.
The print quality has also improved and it offers some of the best calibre prints from a fused filament fabrication 3D printer. Of course, all improvements come at a price and you'll pay considerably more for this upgrade.
That being said, this printer is a lot easier to use than complex 3D printers of even higher quality and it uses the conventional plastic filament rather than liquid resin, which can be much harder to handle.
Design and features
The dual extruders make the Ultimaker 3 much more versatile. Other than that, you also have filament feeders, reducing the risk of clogs and jams. Plus, the spool holder is big enough for two filament spools at the same time.
The open front and top with translucent white sides make it easy to check on your progress, although it does require more caution to ensure you don't touch extremely hot components. The interior has a string of lights extending down each side of the front inside edges, lighting your print space, and making it easier to see.
Dimensions are 23.1 x 19.9 x 13.3 inches and it weighs 23.3 pounds. It's about the same weight as the Ultimaker 2+, but with more features, which is surprising.
The build area isn't huge, but it's a decent size at 7.8 x 8.5 x 8.5 inches. The print bed is made of a sheet of glass that automatically heats before each job. You can also automatically level the bed upon startup from the maintenance menu or choose another interval that works for you.
Setup
Setup isn't too difficult, but there are a few steps you need to follow to get it up and running. Run the cable from an NFC socket and the filament spool holder. Putting the build plate in place requires fastening it to the platform with the clips provided.
Next, attach the power cable, turn on the printer, and follow the instructions on the display. The five-line display is controlled with the adjacent dial.
While one extruder comes already installed, you have to add the second one yourself if you want it. It's easy to add and the printer comes with instructions for how to do this.
Loading filament spools on the spool holder is the last step. There is a hole at the bottom of a filament feed gearbox where you need to feed the end of the filament. A gear will grab a hold of the filament and pull it through a long tube to the extruder. The extruder melts it and it comes out of the nozzle.
Repeat this process with a second filament spool into the other gearbox to complete the setup.
Software
The Cura software should be downloaded from the Ultimaker website onto your printer once you get it completely set up. This is open-source software for 3D printers, which means you'll have access to other print plans that other people create for it.
Ultimaker has created iterations of Cura that are specially tailored for all of the printers it manufactures. What you'll find is that the software is open-source, but still designed just right for your 3D printer.
There are different versions of Cura, so make sure you choose the one labelled for the Ultimaker 3. It's easy to set up and use, which makes it great for beginners, but versatile and advanced enough for experts.
Beginners can choose basic settings while experts may want to play around with some more advanced settings to tweak the printer how they like it.
Filament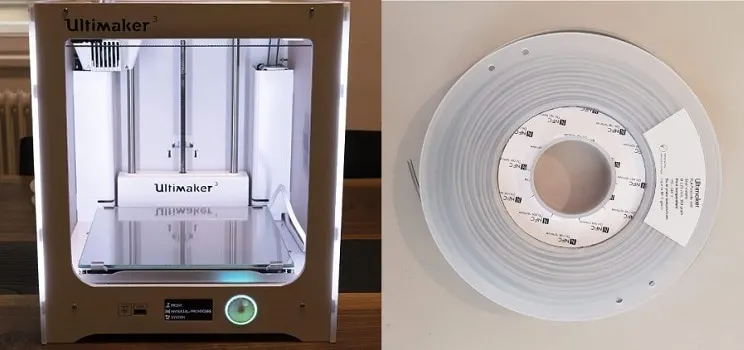 While the Ultimaker 3 takes common filament types like PLA and ABS, they also provide support for other options like nylon, PVA, and CPE. This gives you a wide variety of options to choose from so you can pick the one that's right for your particular job.
Most 3D printers use a plastic filament of 1.75mm thick, but the Ultimaker 3 has enabled the extrusion of their filament to be 2.85mm. The result is better quality print jobs.
PLA, ABS, and CPE come in a huge variety of colours, and nylon is available in black or transparent. All filament spools for the Ultimaker 3 have an NFC chip, which is a really nice feature that allows your printer to automatically detect the colour and type of your filament without you programming or changing any settings.
It will use this information to select the correct temperature profile for that particular filament, which again, results in higher quality print jobs.
While you can use third-party filaments in the Ultimaker 3, you will have to set the temperatures by hand in Cura. While this may not be something you want to do, it's a great option for saving money on filament spools.
The Ultimaker 3 has two types of print cores. It comes preinstalled with an AA print core that's compatible with nylon, PLA, ABS, and CPE. However, it comes with a second AA-type print core and a BB core, either of which you can choose to use for two-colour print jobs. The BB core will only print supports with PVA.
Connectivity and printing
Setup Wi-Fi on your Ultimaker 3 for easy transfer of print jobs. If you don't have access to Wi-Fi, you can hook it up to an Ethernet connection and send jobs that way. You can also use files that are stored on a USB drive.
The Ultimaker 3 comes with detailed instructions on how to print using any of these methods. This is a nice upgrade from the Ultimaker 2+, which could only print from an SD card.
There are four resolution settings on the Ultimaker 3. High-resolution prints at 60 microns, normal is 100 microns, fast is 150 microns, and draft mode prints at 200 microns.
Even at the draft resolution, your prints will look better than on most other FFF 3D printers. It only gets better at every resolution setting after that. However, keep in mind that the better resolutions take much longer to print.
The normal resolution takes about twice as long as the draft resolution. While there may be times when you need higher quality prints and are willing to wait for them, the draft resolution is pretty close to what most other 3D printers come with standard, and it's a fine quality for most things.
While the Ultimaker 3 is equipped to handle dual-extruder printing, before you do that, you need to use the maintenance menu to run a calibration on the XY offset and make sure your print cores are in sync. You can print some test patterns to determine where they line up and then enter those values for the X and Y axes on the display. The printer will then calibrate the cores to ensure they're aligned on your next print job.
Pros:
Excellent print quality and resolution
Easy to use
Accurate printing without mistakes
Two extruders for multicolour printing
Quiet operation
Cons:
Long print times at higher resolutions
Expensive
Read Some Ultimaker 3 Comparisons here: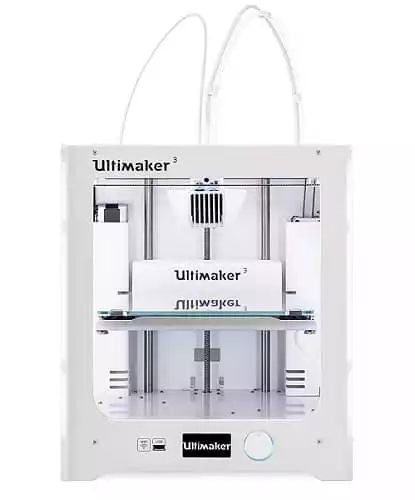 Why Go With the Ultimaker 3? | Matter Hackers
I'll be honest, the Ultimaker 3 is one of my FAVORITE 3D Printers of all time. Not trying to hype it, but it's still the go-to for reliable performance and durability over time. It actually gets BETTER the MORE you use it... Weird!
Check Price
We earn a commission if you click this link and make a purchase at no additional cost to you.
Lulzbot Taz 6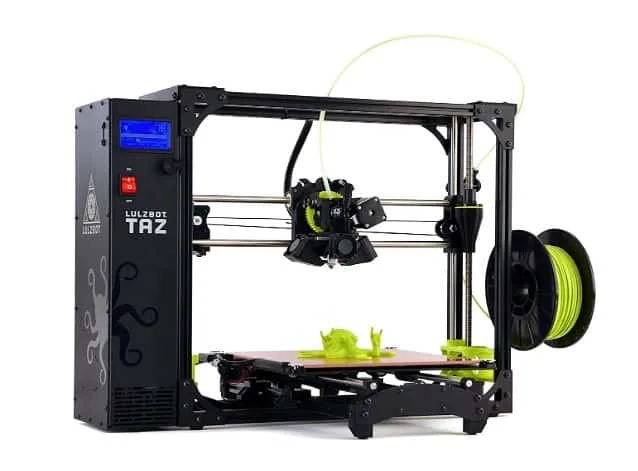 The Lulzbot Taz 6 is a bit cheaper than the Ultimaker 3, but it's still at the upper end of the 3D printer marker. It's another 3D printer that's easy to use and reliable. It also has a relatively large build size, making it a really popular machine for both individuals and professionals.
Design and features
The design of the Lulzbot Taz 6 is relatively minimalistic. It has a black coating over metal, making it sturdy, with steel rods and self-lubricating bushing. The components are made of a lime green material to add a bit of flash.
It's a huge printer with a huge print area, so it's nice to see a minimalistic frame that's not too overwhelming. You can also see your print job from any angle because there aren't any extra components getting in the way. There is a user interface at the top left corner of the printer so it's easy to access but it's not in the way. It only adds to the sleek, sturdy, simple design.
With a huge print volume of 280 x 280 x 250mm, it's larger than the Ultimaker 3. The print bed is made of glass with PEI film. The print bed is heated, so before printing, it will automatically warm to the correct temperature. You'll also enjoy automatic bed leveling.
The Lulzbot Taz 6 is compatible with filament types PLA, PVA, ABS, HIPS, nylon, PETG, polycarbonate, UV luminescent, and plenty of other specialty filaments. The filament diameter is 3mm. To print with the Lulzbot Taz 6, you can use either a USB drive or an SD card. Unfortunately, it doesn't have Wi-Fi or a wired Ethernet connection, so you have to have your files saved on a physical device.
Setup
The Lulzbot Taz 6 comes completely assembled, so the box is on the large size, but it comes with everything you need to get it setup. Upon opening the box, you'll find these items in addition to the fully assembled Lulzbot Taz 6:
Quick setup guide
Hexagon-shaped hot end tool head
4GB SD card
Filament feed tube
Toolkit bag
Needle nose pliers
Ruler
Precision knife
Clam knife
Tweezers
Dental pick
Although it comes with a lot of extra tools, there really is no physical setup required. Just snap all of the pieces into place and begin calibrating.
The documentation included in the box will guide you through all of this setup step by step. Images accompany all instructions so you'll be clear on what to do. It should only take about 30 minutes to get it ready.
Although you do need to mount the Y-axis assembly with screws, connect all of the cables, and mount the tool head, they've made it easy and intuitive with all of the detailed guides. The last step is snapping the filament guide tube onto the side bracket and you're ready to print.
Software
Lulzbot Taz 6 also uses open-source Cura software, so it's both easy to use and expansive. It's accessible to beginners but has plenty of advanced settings for those who have a bit more experience and really want to take this 3D printer on a ride.
The software will recommend printing profiles and filaments based on your job, but you can always customize or override these with your own settings.
The Cura Lulzbot Edition software allows complete user control over infill, print speed, shell, cooling, and a lot more. You can even modify some of these settings mid-print.
Connectivity and printing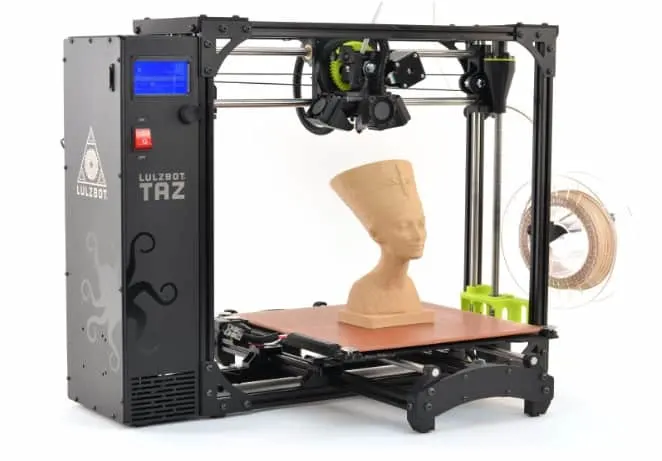 The one downside to the Lulzbot Taz 6 is that it doesn't have any internet connectivity options. There's no Wi-Fi or Ethernet connection port, so you have to use a USB drive or an SD card to transfer your print jobs to the device.
However, you can print using three modes including standard, high quality, and high speed. The standard model offers 0.25mm prints, which is even higher quality than the normal mode on the Ultimaker 3.
High-speed prints have a lesser quality of 0.38mm, which is slightly worse than the 150 microns offered on the fast mode of the Ultimaker 3. The difference between the Lulzbot Taz 6 standard and high-speed modes will be visibly apparent in your finished products.
Pros:
Large build volume
Consistent performance
Easy setup and use
Minimalistic design
Cons
Expensive
Noisy operation
Read Our Lulzbot Taz 6 Full Review Here.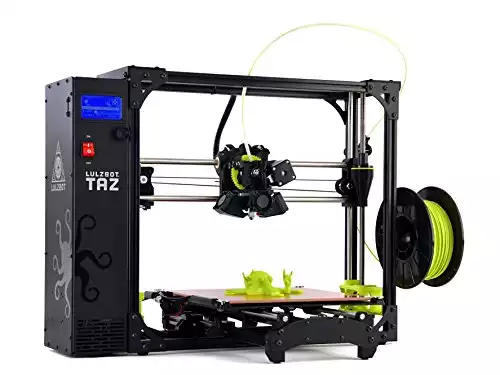 FAQs About the Ultimaker 3 and Lulzbot Taz 6
Is the Ultimaker 3 worth it?
People frequently ask if this or that product is worth the money, and the answer is always the same. You have to make that decision for yourself. It depends on your needs and your budget.
However, the Ultimaker 3 is, without a doubt, a very high-quality 3D printer with some excellent features that make it worth the price if those are the things you're looking for. It's an easy system to use and its performance and reliability are excellent.
Did Lulzbot go out of business?
Surprisingly, this frequently asked question is poignant at this particular time. Despite their superior quality and dedication to customer support, Lulzbot decided to close their doors back in October of 2019.
While they may not be making any new printers going forward, you can still find excellent quality from previous products, and it shouldn't be a reason not to purchase them or give them a try.
What is the best 3D printer?
Both the Ultimaker 3 and the Lulzbot Taz 6 top most lists of the best 3D printers out there. In fact, there are other Ultimaker and Lulzbot models that top most lists, too. They're excellent brands of superior quality, and you can count on any of them to do the job right.
The Verdict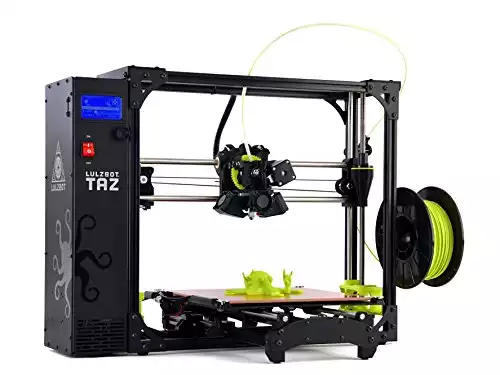 Both the Ultimaker 3 and the Lulzbot Taz 6 are reliable 3D printers of excellent quality and consistency. They use the same software that's easy to set up and use, and they're both great for beginners and experts alike.
The benefit of the Ultimaker 3 is the dual print cores allowing for more versatility in your print jobs. Its normal print mode produces super high-quality prints, but the build volume is slightly smaller than the Lulzbot Taz 6.
The price point of the Lulzbot Taz 6 is more accessible but still high. The benefit to this design is that it's minimalistic and open, so while the Ultimaker 3 does make it easy to monitor your print job from the front and the sides, the Taz 6 makes it easy to see all the way around.
The Ultimaker 3 also can't compare to the number of filament types supported with the Lulzbot Taz 6, so if you need more options there, the Taz 6 is a better choice.
Recommended Reads: